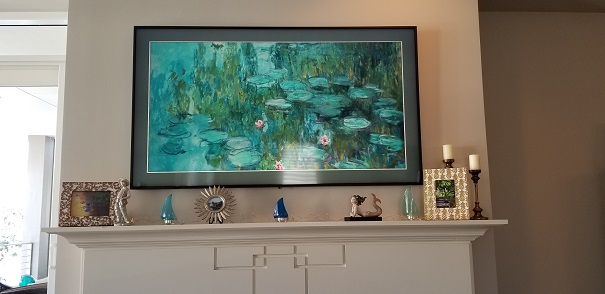 Coronado Samsung Frame TV over fireplace
In the Family Room, we installed in-ceiling speakers as to not detract from the aesthetics of the room. The Frame TV went over the fireplace. All of the surround sound equipment and the subwoofer to provide better low-end bass for movies and music went to the right of the fireplace in a custom cabinet from Salamander Designs. NOTE: DID YOU KNOW YOU CAN HIDE YOUR SURROUND SOUND EQUIPMENT AND ELECTRONICS AND NOT HAVE TO POINT A REMOTE AT THEM TO MAKE THINGS WORK? SEE SOME OF OUR SOLUTIONS TO DO THIS HERE.
The client loved the Samsung Frame TV so much that they opted to add another one in the Master Bedroom. In this area, we hid the components inside a furniture piece below the TV and used a Sonos BEAM soundbar for streaming music and to provide TV/movie audio.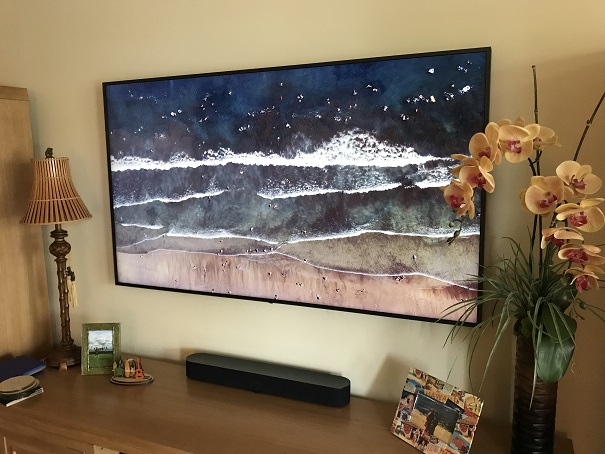 Sonos BEAM underneath Samsung Frame TV
Both areas were controlled with ONE remote that made use and operation simple and intuitive.
NOTE: Today's equipment requires robust and secure WiFi in order to operate correctly. We added one of our Eero WiFi networks with remote monitoring to ensure that everything works properly and to provide our client with secure and fast WiFi. See our article HERE about Eero and Eero Pro 6.
Gear List
Samsung Frame TV X 2
URC MX990 universal remote X 2
Definitive Technology in-ceiling speakers with "designer friendly" small opening
Definitive Technology Supercube subwoofer
Yamaha RXV surround sound receiver
Sonos BEAM soundbar
Eero PRO WiFi units
Salamander Corsica furniture piece (single unit)
Seem complicated? We can install a set up like this in both rooms in roughly 1-2 days including possible needed painting and patching. If you'd like something like this in your house in 1-2 days…give San Diego Frame TV experts Aire Theater Designs a call! The Samsung Frame TV 2021 is coming soon. Stay tuned for our next San Diego home automation project...this is a new build in SantaLuz which incorporates smart home technology, whole-house audio systems, outdoor audio systems and more.