KEF Speakers
One of the tenets we were founded on as a company was the love of music and great sound. Over the years, we've had many speaker companies vie to partner up. Most of the time, we tell them "No" for a number of reasons. However, after demoing KEF speakers, we had to say "YES!". Here's KEF's story and why we are a fan of their architectural speakers, tower and bookshelf speakers and their complete line-up.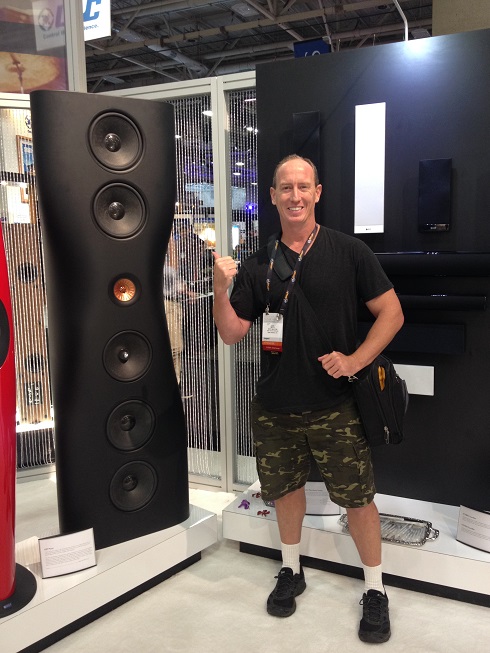 KEF Blade speaker and one of us - CEDIA electronics show
KEF is named after Kent Engineering and Foundry where our story began. Our founder Raymond Cooke was propelled by a love of music and a refusal to compromise, and he leveraged technology at every turn to ensure KEF's position at the cutting edge of audio.
A list of breakthroughs spanning more than half a century shores up that promise; a walk to match the talk. Patents and academic papers alike testify to decades of consistent progress, from the early use of synthetic materials to our Reference Series which determines industry standards to this day. KEF's insistence on excellence is at the heart of a virtuous circle, which attracts the world's most gifted acoustic engineers to join us in the pursuit of good, better, best.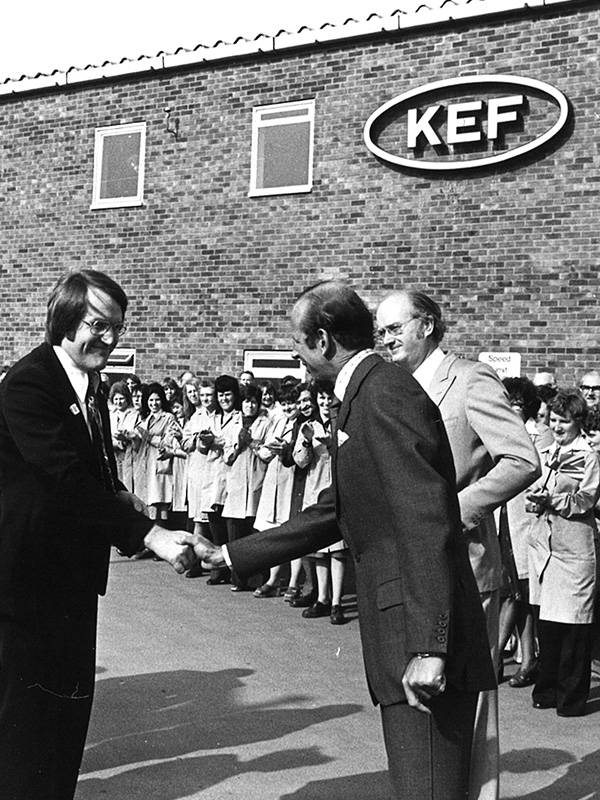 Other technologies developed and brought to the market by KEF have included:
1979 - Driver decoupling which was a revolutionary technique of reducing cabinet coloration via driver mounting techniques
1984 - Coupled-cavity bass loading to provide more bass with a smaller cabinet
1984 - Conjugate load matching to optimize crossover performance
1984 - the "KEF Universal Bass Equaliser" (aka "KUBE") to overcome the unavoidable phase lag present at low frequencies
1988 - Uni-Q...A design of coincident midrange and tweeter drivers that preserve phase integrity and match dispersion between the drivers. This enlarged the optimum listening area, allowing everyone sitting at different spots in the room to experience the same quality sound
2005 - Acoustic Compliance Enhancement (ACE), a technology that enables the same bass performance as a conventional speaker of twice the size
2011 - Single Apparent Source Technology (Blade), a technique of configuring speakers to cover the entire bandwidth of the loudspeaker, enabling all frequencies appear to radiate from one single point.
2020 - Metamaterial Absorption Technology (aka 'MAT'), a complex maze-like structure that absorbs the unwanted sound that comes from the rear of the tweeter, thereby reducing distortion and improving sound clarity.
2021 - Uni-Core, a patent-pending technology that combines the dual force-cancelling drive units into a single motor system with the overlapping voice coils concentrically arranged thus reducing the size of the speaker or subwoofer cabinet.
We are proud to be KEF dealers and sell the following:
KEF Tower Speakers
KEF Subwoofers
KEF In-Ceiling Speakers
KEF In-Wall Speakers
KEF Bookshelf Speakers
KEF Wireless Hi-Fi Speakers
How good do they sound? See our video at the start of this article for a review. We cover and discuss the KEF Q950 speaker pair along with the KEF KC62 subwoofer in this video. End result...our Project Manager Mark bought a pair and he could have anything he wants!
KEF Speakers in San Diego
Looking for someone to talk turkey about KEF? If you are in the San Diego or So Cal area, give us a call and let's see if KEF may be right to enhance your movie and music experience.