4K TV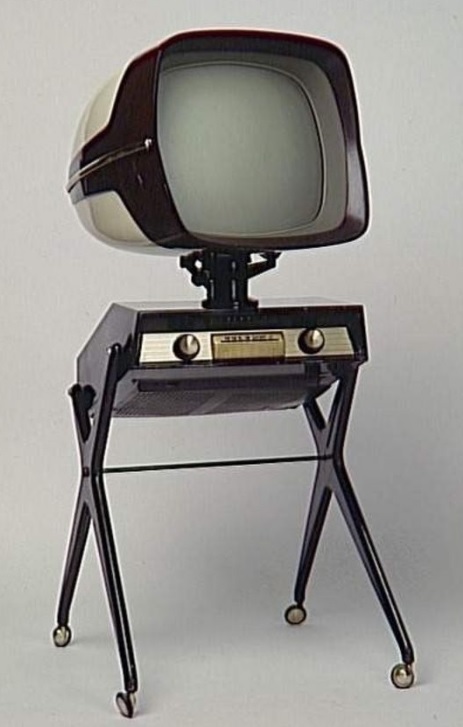 Wow...TV has come a LONG way over the decades. I can't tell if the above is an old timey TV or a new-fangled robot but I think I'd watch it, no matter what it is. Speaking of things to watch in the audio/video industry, TV and specifically today's TVs and projectors have advanced in a big way over the last 10 years. High-definition, 4K, 8K, QLED, OLED, Micro-LED...what's going on here? Looking for the best TV you can buy? See below for some information we added a while back that details what TV might be right for you.
Best Contrast On Today's TVs
Best Contrast: Many of us think of contrast as brightness. However, contrast is actually the ratio between the luminance of the whitest whites and the deepest blacks that a TV can produce. The better the contrast, the greater the range of possible colors. Hate shows like "The Walking Dead" where the dark scenes are basically unwatchable because you can't see anything? Great contrast will give you separation in those blacks and grays which results in being able to see zombies eat humans given the example above. The best contrast is found in today's OLED options. Click HERE for an older article about OLED and why we love it. A couple of awesome OLED TVs are:
Sony XR55A90J, Sony XR65A90J, Sony XR83A90J: These are Sony's OLED offerings in 55", 65" and 83" sizes. Sony also makes step-down models from these which are the XR55A80K, XR65A80K and the XR77A80K.
LG OLED55C1PUB, OLED65C1PUB, LG OLED83C1PUB: These are LG's OLED televisions in 55", 65" and 83" sizes.
Best Off Axis Viewing on Today's TVs
Best Off-Axis Viewing: Got seating or couches that aren't directly in front of the TV? Many flat screens will display a drop in brightness and/or contrast if you aren't directly in front of the television. Got a neck like a giraffe? Same thing. OLED flat screens win this battle as well. The TVs listed above under "Best Contrast" are great choices if you want a fantastic viewing experience with off-angle seating.
Best TV In A Bright Room
Best Flat Screen for Ambient Light: There are a couple of components to consider if you have a room with a lot of ambient light. One is how bright the flat screen television is natively and another is how well the TV does at minimizing reflections. This is a category where QLED and Neo QLED TVs win the battle. Samsung has named their specific LED technology for these TVs as Neo QLED and QLED (we'll get into this in another blog post). These TVs feature backlights behind the panel which allow the television to get far brighter than OLED technology which is limited to the brightness that each pixel can reproduce. Samsung's new Neo QLED TVs have the benefit of using smaller, more numerous LEDs as compared to standard QLED and LED models. This allows better control over colors and specifically blacks. These sets look REALLY good and can achieve blacks that are much closer to OLED with the added benefit of increased brightness and colors. Samsung and Neo QLED win the battle in this category of "Best TV for a bright room". Some of the best Neo QLED TVs are:
Samsung QN65QN900B, Samsung QN75QN900B, Samsung QN85QN900B: These are Samsung's reference 8K TVs in 65", 75" and 85" offerings. They also make their step-down 8K Neo QLED televisions in their QN800B line.
UPDATE - Sony 8K TV!: Sony has released their reference 8K mini-LED TV and it is insane! This is the best LED TV you can buy (in our opinion). This technology will provide higher brightness and the ability to produce better HDR than step-down models in their line-up. These are made in 75" and 85" versions (XR-75Z9K and XR - 85Z9K) and retail for $6999 and $9999.
Best TV For Gamers
Best TV for Gamers: Like video games? If so, you want a TV that can keep up with the fast-motion of your action on screen. We have seen that LG's C1 OLED TV has the least latency and "fastest" panel of any of the televisions that we have seen. We would give Samsung's QN90B model (available in 55", 65", 75" and 85" sets) a close 2nd place.
Best TV For Natural Images
Best TV for Natural Images and Motion Processing: We are all fans of Sony's processing in their higher-end flat screens. We (the team at Aire Theater Designs) all think that Sony's A90 OLED TV produces the most natural colors and motion of any of the TVs we have seen. NOTE: Many of the reviews on sites such as Rtings and Cnet don't seem to get into these elements but we feel that they are important. Ex: If you are looking at a close-up of someone's face, you will see different shades of pink and red (depending on the face) that you just don't see with other brands. Sony's motion processing offers amazing smoothness and accuracy when watching content with fast-action scenes. These two elements cement Sony OLED as the best overall picture we have seen (NOTE: See our update about the Sony Z9K Mini LED TV...we may have to eat our words).
Samsung Frame TV
Best TV that doesn't look like a TV: Samsung came out with a series of TVs called "The Frame" that display digital artwork, have customizable frames and look like a picture when they are off. These things are awesome and a great piece of designer friendly technology. See our article below about the Samsung Frame TV and how it can enhance your decor.
San Diego Samsung Frame TV installation
Nuts and Bolts:
1 - In most cases, you don't need a "smart TV". We get this question very regularly. It is faster, cheaper (due to possible cable additions and added install time) and more reliable to do your streaming with a separate device such as an Apple TV or a Roku streaming player. We will get deeper into this in another post. BTW...all basic televisions these days double as a smart TV so it is built-in whether you use it as a smart TV or not.
2 - "I don't need to pay for 4K or 8K". We have had many clients bring this up in the past as an objection to buying a higher-end flat screen TV. However, when you buy a better television, you aren't just paying for the latest resolution to come to market. Better TVs almost always have step-up enhancements for color, motion processing and other features when compared to lesser models. As long as you are aware of this, you can make your television choice confidently.
3 - We recommend to stay with the "big 3" manufacturers which at this time are Sony, LG and Samsung if you are concerned about warranty or future repairs. With many of the other brands on the market that AREN'T these three, servicing can be downright impossible if you have future issues. This is normally based on how easy/difficult it is for service companies to get parts or get paid for service from the manufacturing company and with other off-brands, this can be a challenge.
Summary: Use the above as your guide to pick the TV that is right for you. There may be compromises in certain areas but as long as you know the pros/cons (ex: OLED vs Neo QLED, QLED vs Neo QLED), you can make an informed decision and have an awesome flat screen for years to come.
Want the best tv you can buy? Let our San Diego flat screen installation experts be your guide...Aire Theater Designs! We sell OLED, Neo QLED and QLED TVs from Samsung, Sony and LG.