Sony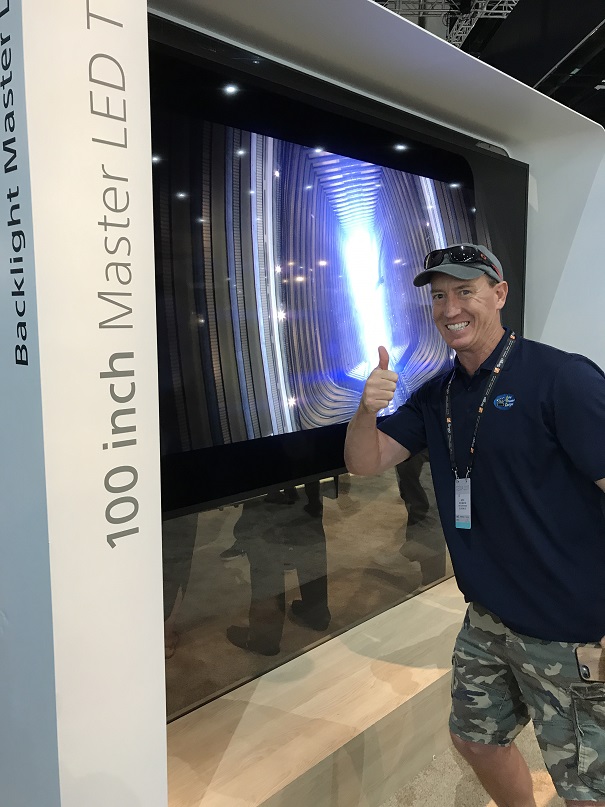 Sony 100" LED TV and we sure are happy about its existence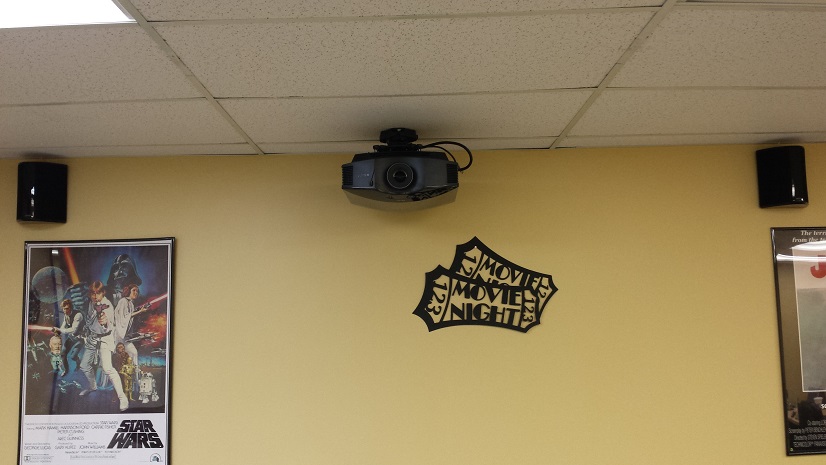 It's "Movie Night" with our Sony projector in one of our offices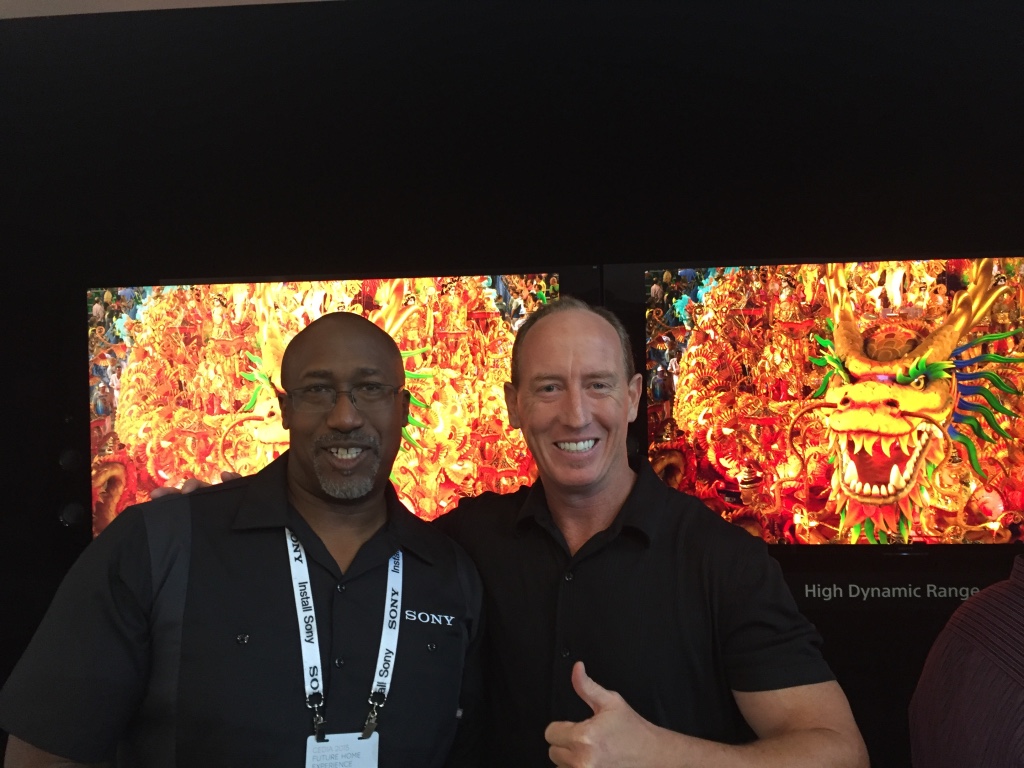 Hanging with Sony - Cedia 2015
Sony...the name is ubiquitous with TVs, video and film so do we need to talk about Sony? We do! We feel that some background is necessary to explain our passion for the brand, why we love Sony and so should you.
It was 1999 and at the Clairemont DOW Stereo location, we were hard at work with engineers at Mt. Soledad. The goal...to show Monday Night Football in the glorious, previously-unseen majesty of HDTV! We had the brand new Sony XBR 34" HD tube TV with an antenna feed hooked up to it and we were doing everything we could to get signal for this unique night. The NFL and ABC were broadcasting the 1st Monday Night Football game of the season in 720p high-definition. When the signal finally came in...SUCCESS! We were viewing football with a clarity that mimicked real life and more. However, do the broadcasters really wear that much make-up and pancake on their faces?
In addition to changing the make-up industry completely, the realism of high-definition and the $8,000.00 34" Sony tube TV changed the way that I and the industry viewed television.
Sony Televisions
For decades, Sony ruled the roost with their amazing picture quality and inventions. They absolutely killed it with the release of their Vega flat screen tube TVs (it was bad marketing...they drew a 3-dimensional "V" so it looked like a "W". This led everyone into stores wanting one of those "Wega" TVs.) . This was the 1st flat screen tube television every created and it had absolutely the best picture of any TV the marketplace had ever seen. Sorry Proton, RCA Proscan and Panasonic...that's just the deal. Sony's TV looked better than yours.
The body of the TV was still gigantic. The 36" weighed 236 pounds and the 40" model weighed 300 pounds! However, the screen itself was flat. All other tube TVs up to this time had a slightly rounded screen and this would distort the image to a certain extent. You were taking a flat image and warping it to fit a roundish screen. With the Sony Vega TV, your flat image finally met a flat screen. The end result was video amazement!
What I found amazing was that at one point, the Sony 36" XBR flat screen tube TV was the #1 selling TV in America. It is very rare where a product that is the most expensive on the market is the most popular. This is like a Bugatti being the #1 car sold or a Rolex (I know there are better watches) being the #1 watch by units sold. However, Sony accomplished this with this $2500 amazing flat screen tube television.
Sony Out Of Business?
About 15-17 years ago...Sony disappeared. Industry guys like myself were wondering "Did they Panasonic themselves out of business?"
Quick aside: Panasonic started the road to zero with their plasma TVs. They had a great looking 42" plasma TV at $5K that was competitive with some of the best out there. They then had the collective idea "Hey...let's sell it for $3K! We'll sell a million of them! We're geniuses! Don't worry about profit as we're losing money on each one...we'll make it up with growth!"
Huh? It was no surprise a few years later when Panasonic exited the plasma TV business declaring that they had lost millions of dollars but by then, the damage was done. The industry was damaged as everyone chased Panasonic trying to hit the lowest price points possible. This affected the entire category of flat screen and plasma TVs including product development, shipping and stunted the entry of better products. Back to Sony.
Sony's amazing TV offerings and front projectors had virtually disappeared. This absence really helped competitors like Samsung and LG get a foothold in the marketplace. As Aire Theater Designs, we virtually forgot about Sony's audio/video products and instead focused on manufacturers who seemed to care about this space and their line-ups.
Sony Flat Screen Televisions
This all changed once I got to see one of Sony's new LCD TV offerings. Their new TVs had an amazing picture and a designer friendly look with a "floating glass" bezel.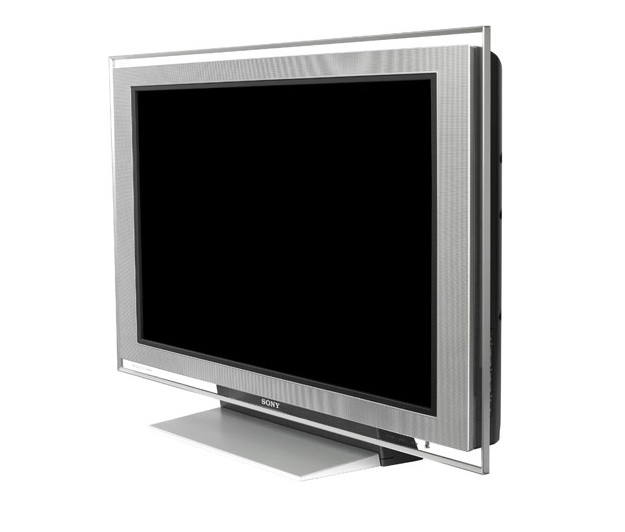 Once we saw these, we were blown away and we were sold. We became Sony dealers and have been selling Sony for the last 15 years. Our take is that Sony owns the cameras, the film processing and their own movie studios so they definitely know a thing or two about video. Sony makes AMAZING:
Sony OLED TV
Sony Mini LED
Sony Video Projectors
Sony QD-OLED TV
Sony Laser Projectors
See our video below that describes some of the best TVs you can buy and that goes over today's TV technologies.
If you're in the San Diego or So Cal area and want the scoop on Sony's best flat screen TVs, give us a call and let us help to determine if Sony is right for you.