URC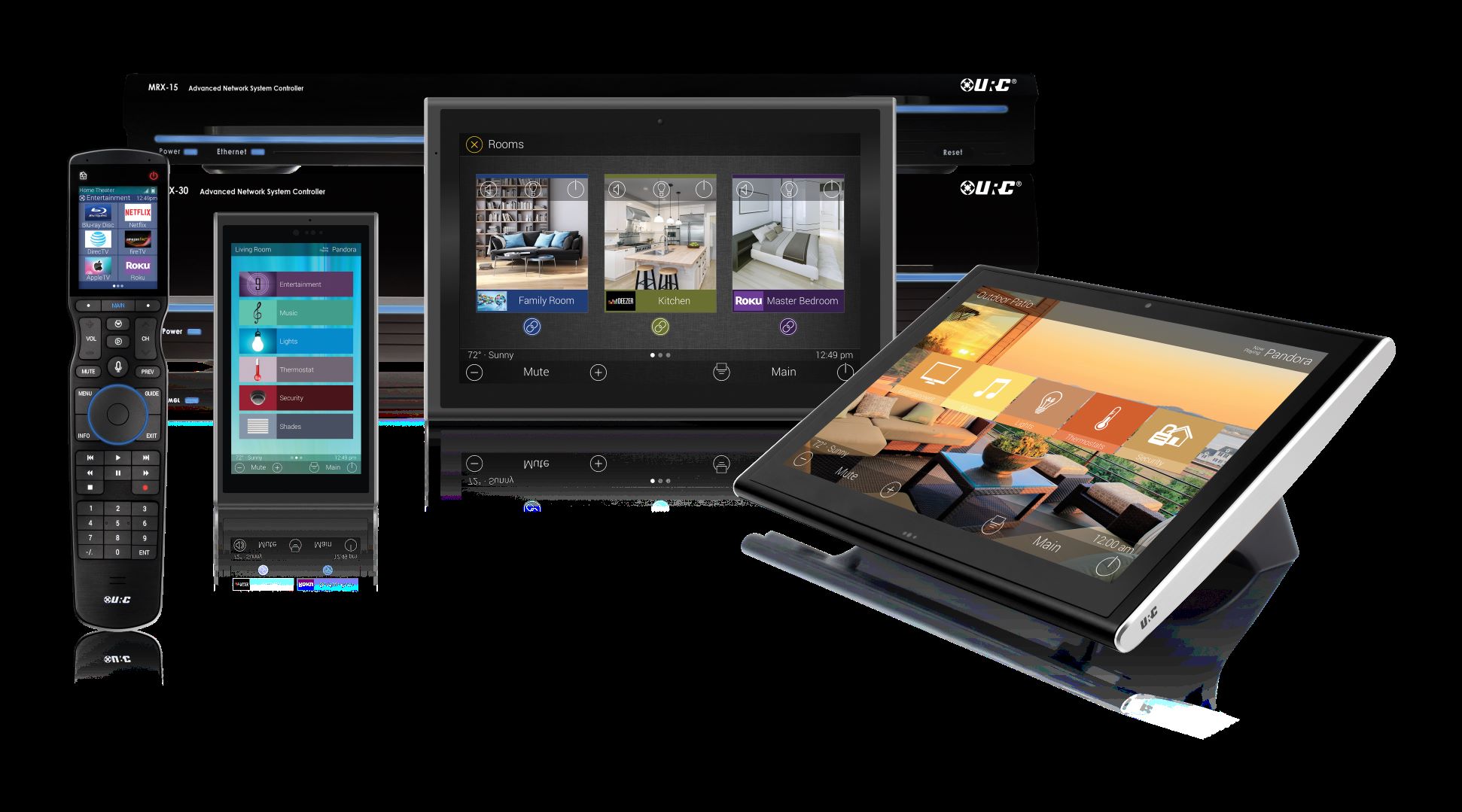 Create your smart home with a URC Total Control or universal remote solution!
"Easy? Who said this stuff was easy?
That might be what you were thinking after you unpacked your new TV, AV receiver, BluRay player, HD satellite box, CD changer, AppleTV, Xbox360, iPod dock, a plethora of cables to connect everything and a half dozen or more remotes to run the show. It doesn't look very easy so far…
That's why we are in business… To make your entertainment system enjoyable and EASY to use!
With today's entertainment systems utilizing four or six or more components, the easy part has slowly faded into the sunset unless you have made the decision to invest in a true control system. When I say "true control system" I mean one that will run ALL of the devices you want and operate them easily. Watching TV shouldn't be difficult...this option makes it simple.
When most people tell me what they want out of their new system, the phrase "easy to use" is always a top 3 item. What the client is really saying to me is "PLEASE DON'T MAKE ME USE 16 REMOTES!!!" We have solutions!
The most popular control system in the Aire Theater Designs arsenal is a one-two punch from the folks at Universal Remote Control or URC. But before I go into the virtues of our most popular control solution I want to tell you who URC is and why we love them.
URC has been making remote controls for more than 20 years. More than likely, you all ready have a URC remote in your home and don't even realize it! URC makes original equipment remotes for several consumer electronics manufacturers out there, including Denon, Parasound, Yamaha, McIntosh, Krell, Samsung and many others. Even the remote that came with your cable box was made by URC!
Now that you know a little bit about the control professionals we like to use, I will get back to the one-two punch I mentioned earlier. The MX-990 and MRF-350 are the pieces that make up our most popular control system. The handheld unit is wand shaped and features a generously sized color LCD display with dedicated hard buttons for volume, channels, numbers, etc, a rechargeable battery and charging stand. The MRF-350 is our little secret that allows your A/V equipment to be controlled in a closed cabinet or from another room all together. That's right; you no longer have to point the remote at anything! Throw in a little custom programming from our top-notch install team and you can hide the 16 remotes that came with everything and you will have an EASY to use A/V system!
I'm sure you're all wondering "how much does this thing cost?" In the course of a year or so you will spend more on aspirin than this control system if you don't get one! (that might be an exaggeration)
So the next time you want to simply watch TV with your awesome entertainment system, just press the button that says "Watch TV" and let the remote do all the dirty work!
Did I mention this can control your lights too? Call us up to find out more!"
The above is a monologue from our Project Manager Danny and sums up URC universal remotes nicely. What remote is best for you? See below.
If you want to control your TV, streaming devices like and Apple TV or Roku, a Blu-Ray player, Sonos soundbar and have everything turn on/off, go to the correct input and never get out of whack...choose one of our "1-way remote controls". This will be something like our MX790 universal remote, MX990 universal remote coupled with a MRF350 base station. This combination controls everything reliably BUT doesn't control smart home technologies such as shades, lights, pool controls, etc. See our video below.
If you want to control your audio visual system AND have smart home elements also behave, this is where URC Total Control comes in. This is URC's step-up line that provides the ability to control smart technology and lets you use iPads, iPhones, tablets and other devices to control the system. We call these "two-way remotes". An example of how smart home installation can enhance your life is:
Scenario: You come home from work and pull into your driveway. Your URC Total Control system knows this AUTOMATICALLY and turns on your driveway lights, your Entryway smart lights, starts heating up the Jacuzzi and starts playing your favorite song from Meatloaf throughout the whole house. WOW! Some of these Total Control components are the MRX10 control processor, the TRC1080 universal remote.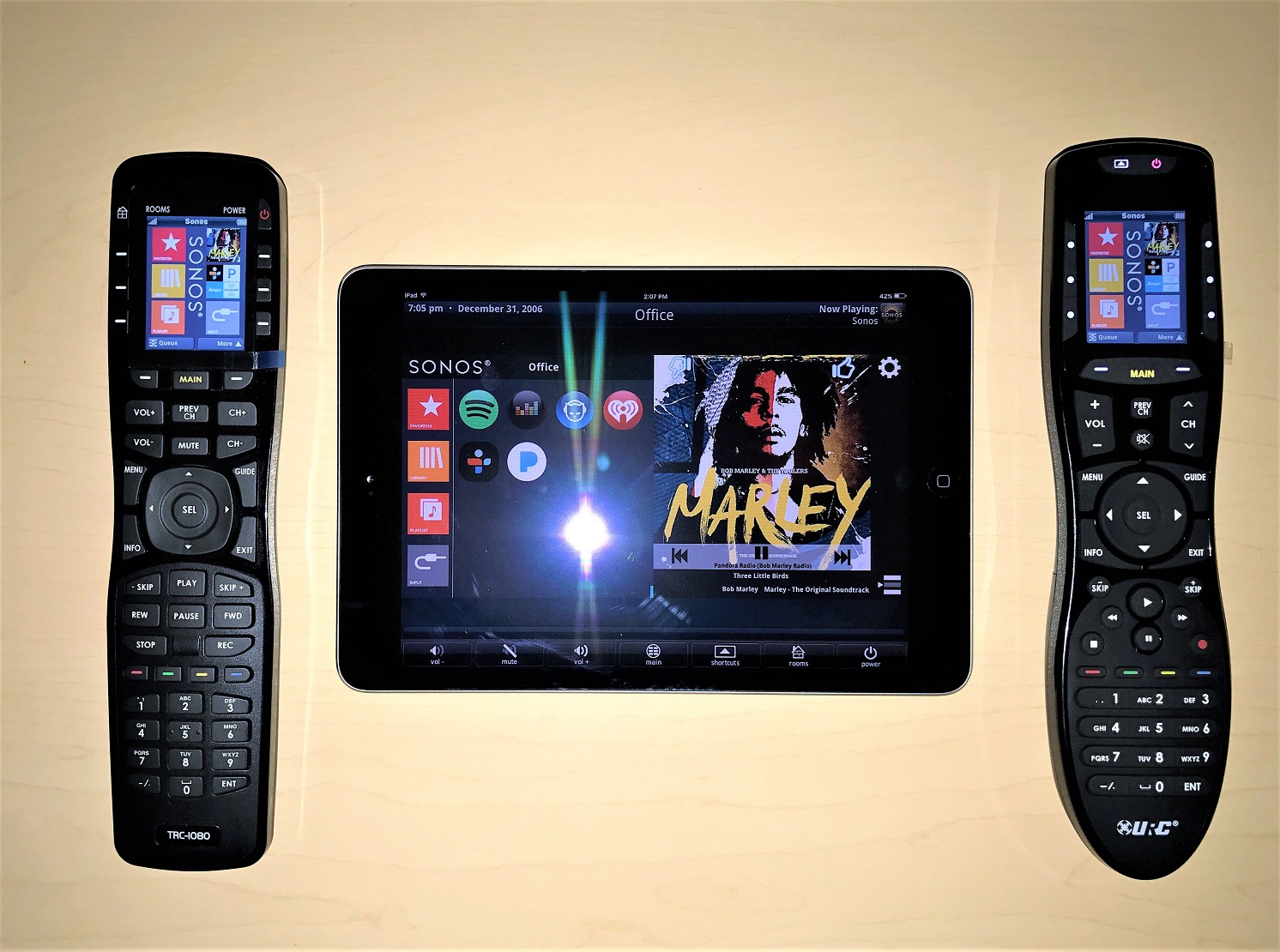 What is the best universal remote?
Savant, Control4, Harmony: If you've done some research, you'll see that there are a lot of universal remotes on the market. Is URC better than Control4? Savant vs URC? Here's a quick take.
Harmony Universal Remote
Harmony: They are out of business. We lean towards NO (we are joking here as they are out of business...absolutely no).
Savant Universal Remote
Control4 Home Automation
Savant vs Control4: These are quality alternatives and would fall into what we call two-way solutions (see our description above). These would be comparable with URC's Total Control line which is their step-up product from their one-way models in their Complete Control line-up. If you are just looking to control a TV, streaming device, surround sound and don't have any need to control other smart home technologies such as smart lighting, shades, pool controls, voice control, etc. then we would recommend saving some $$$ and go with a one-way option (ex: URC MX-990i universal remote paired with a URC MRF-350i base station). This will be very reliable and you won't pay extra for functionality that you may not ever use. If you like the idea of two-way functionality and app control, give us a call and we can discuss why we feel URC Total Control has advantages when compared to the above.
We took a very hard look at bringing on Savant around the start of Covid as we had some free time. After much deliberation, we decided to pass on becoming a dealer for Savant and continue to support RTI control systems. We opted to stay with RTI as both lines offered smart home solutions that we felt were on par BUT you don't have the capability to customize the layout or pages with Savant to the extent that you can with RTI. For truly custom solutions, we felt that this was in the best interest of our clients that would appreciate this functionality. See our RTI segment under UNIVERSAL REMOTES <<< for more info.
Want the best universal remote you can buy? If so, let our URC remote programmers with over 50 years of combined experience show you the benefits of URC, tame your technology and enhance your life with music and video.