Seth Maxton, President
Electronics are complicated! I started this business 12 years ago after noticing that not many local companies provide quality service and assistance with 4K televisions, surround sound, smart home installation, home automation and related products. We wanted our clients to have someone that they can count on whenever today's technology won't behave. You can trust our team and our company. My contribution to the organization is:
Over twenty years of industry experience
B.S. in Business Management
Former regional trainer of sales staff for $800 million/yr company
Multi-unit management experience
Licensed, bonded and insured (#884707)
Holder of numerous industry licenses and certifications
Danny Salisbury, Installation Manager
Hi. I'm Danny. I have been working in the custom audio/video industry for almost 12 years now. All I can say is that I love it. I thoroughly enjoy movies and love music even more. I take pride in my work and always strive to design and install the most professional, clean and easy to use home theater system as possible. One of my favorite things in this field is seeing the excited smile on a customer's face when we design/install a smart home system that is tailored to their needs and is easily used by them.
On a more personal level, I attended UCSB, I love the beach, the desert, the mountains, the gym and occasionally jumping out of perfectly good airplanes. I look forward to designing a home theater system for you!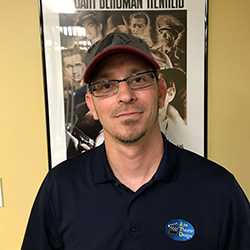 Mark Armstrong, Lead Installer and Programmer
Hi. I'm Mark. I have been working in the audio/video world for 7 years now and before that I had 4 years of electrical experience. I love problem solving. That happens to be a very important part of my job. I get just as excited about fixing a customers problem as they do, especially if nobody else could figure it out.
I enjoy installing the newest and coolest audio/video equipment and smart home technology. Watching a system work flawlessly that we install is our daily bonus. I hope to see you soon!