What is Sonos?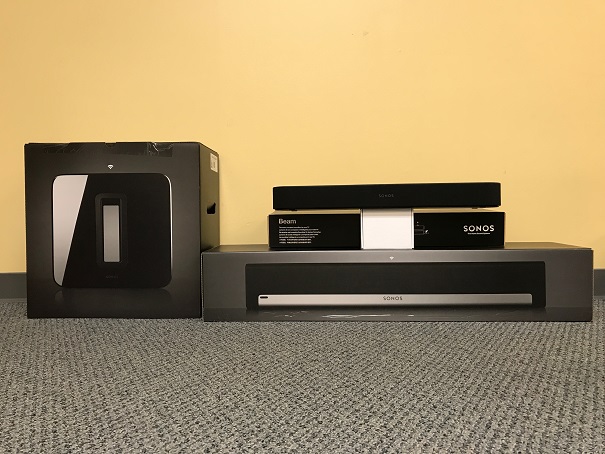 What is Sonos...this is a question that we have gotten a lot lately. It is kind of an anomaly as we get more web hits and video views about Sonos than anything else BUT we also have many clients that are unsure of what Sonos does. In this article, we will focus on what Sonos is, what the products are and answer the question "Do I need Sonos".
IMO, Sonos does a pretty bad job of advertising. In general, your marketing end message needs to explain what your product is and does. People have heard of Sonos but they constantly are asking us:
What does Sonos do?

Is Sonos wireless?

Are there Sonos outdoor speakers?

Do I need a Sonos soundbar?
Let's hit on some of these Sonos questions.
What is Sonos? - What does Sonos do?
Sonos is the brand name of a company that makes streaming audio speakers and solutions. Sonos makes products that either work as:
Stand-alone speakers that are the equivalent of a modern-day boom-box. Instead of having a CD player and AM/FM, they let you access and listen to Internet radio stations and music streaming apps..

Soundbars to augment your TV sound for cable TV, DVD player and streaming video such as Netflix, Amazon, HBO Max, etc.

Amplifier solutions to connect to wired speakers throughout the house and for outdoor audio.

Pre-amplifier solutions to connect to an existing stereo set-up or surround sound system. This allows you to play streaming music through your existing electronics.

Partner-branded passive speakers that are meant to connect to the above electronics. Some examples are outdoor speakers to are designed to connect to the Sonos Amp, in-ceiling or in-wall architectural speakers that make for a flush look throughout the house, etc.
Is Sonos wireless?
This question comes up frequently when clients are asking about Sonos outdoor speakers. The answer is yes and no. Sonos communicates wirelessly via WiFi so that it can get the information for your music choices. Sonos also communicates wirelessly to other Sonos units throughout the house. This allows all of the Sonos units to work in tandem to provide whole-house audio so your music choice is playing through all Sonos speakers in all rooms at the same time. However, Sonos does require a power from an AC outlet to operate.
People often ask if they can buy a Sonos outdoor speaker, put it outside and listen to music. This doesn't work as the units require power and for many applications, a direct connection via speaker wire to a separate pair of indoor or outdoor speakers.
Are there outdoor Sonos speakers?
This is one of the most popular web searches we see on our website! You can get outdoor Sonos sound in a few ways.
Sonos as a component in an outdoor audio system: See our outdoor stereo system <<< article that goes into great detail about outdoor audio installations. This infrastructure has Sonos as a piece of the system. Think of a CD player or tape deck in the past. The Sonos component for this application is the music source where the other amplifiers, speakers and ancillary equipment makes up the rest of the system.
Sonos Amp configuration: Sonos makes a nice little piece called the Sonos Amp. We use this streaming amplifier frequently to power 1-2 pairs of speakers. The design is a lot like you see in the outdoor stereo system link above where you use various types of outdoor speakers. However, the Sonos Amp ends up functioning as the brain and the power instead of using a separate amplifier from a different manufacturer. See our Sonos Amp article here that goes into greater detail.
Sonos portable options: Sonos has come out with some solutions recently called the Sonos Move and the Sonos Roam. These are battery-powered options that communciate via WiFi and Bluetooth. These are meant to be used as portable options to take to the beach, on vacation, to the gym, etc. These are more functional than the old options from Sonos as the smaller speakers Sonos carried in the past had to be plugged into power and only functioned via WiFi. This could be impossible to use if you were in an area without WiFi or a hotspot. With these new portable Sonos speakers, you can connect your phone via Bluetooth and you're rocking!
Do I need a Sonos soundbar
A Sonos soundbar serves two purposes:
a) It provides much better sound and clarity than the speakers in your TV produces.
b) It can act as a music system in a TV room. You can use it as a dedicated speaker to listen to your favorite music services when you aren't watching television.
Most of our clients get Sonos soundbars for "a" above. These soundbars also provide the capability to add a Sonos dedicated subwoofer called the Sonos Sub and a pair of wireless rear Sonos speakers. This option gives you an entire Sonos 5.1 surround sound system to enjoy all of your favorite movies, TV and streaming shows in glorious Dolby or Dolby Atmos surround sound! However, you don't ALWAYS need a Sonos soundbar.
Soundbars typically are used if someone doesn't already have a surround sound system. Typically, soundbars are lower-cost solutions that give you better sound than today's TVs provide at a fraction of the price of a dedicated surround sound set-up (which includes a surround sound receiver and anywhere from 6 to 15 speakers). If you already have a dedicated surround sound system, a Sonos soundbar won't integrate with it easily and in most cases, won't provide you better sound. Got surround sound? If so...no need for a Sonos soundbar.
Hopefully this helps to clear up what Sonos is and how this brand can enhance your life with music. Some of the Sonos pieces that make up the ecosystem above are:
Amplifiers and pre-amp: Sonos Port, Sonos Amp
Soundbars: Sonos Beam, Sonos Arc, Sonos Ray
Portable speakers: Sonos One, Sonos Five, Sonos Roam, Sonos Move
Sonos-branded speakers: Sonos Outdoor by Sonance, Sonos In-Ceiling by Sonance