New Home Wiring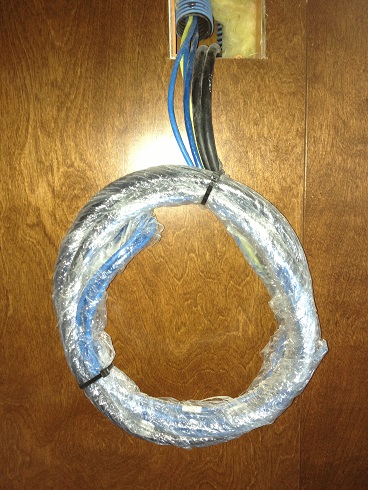 Pre Wiring for Smart Home Installation Project
We think the picture above is pretty special. Why? We'll tell you why. It represents some of the organization and detail that goes into our pre wiring for new homes and existing houses. It is 1 of 156 photos we took that show exactly where each wire was run in the home. We think that plastic and wrap is pretty special as well. Want to see what many competitors cook up for you?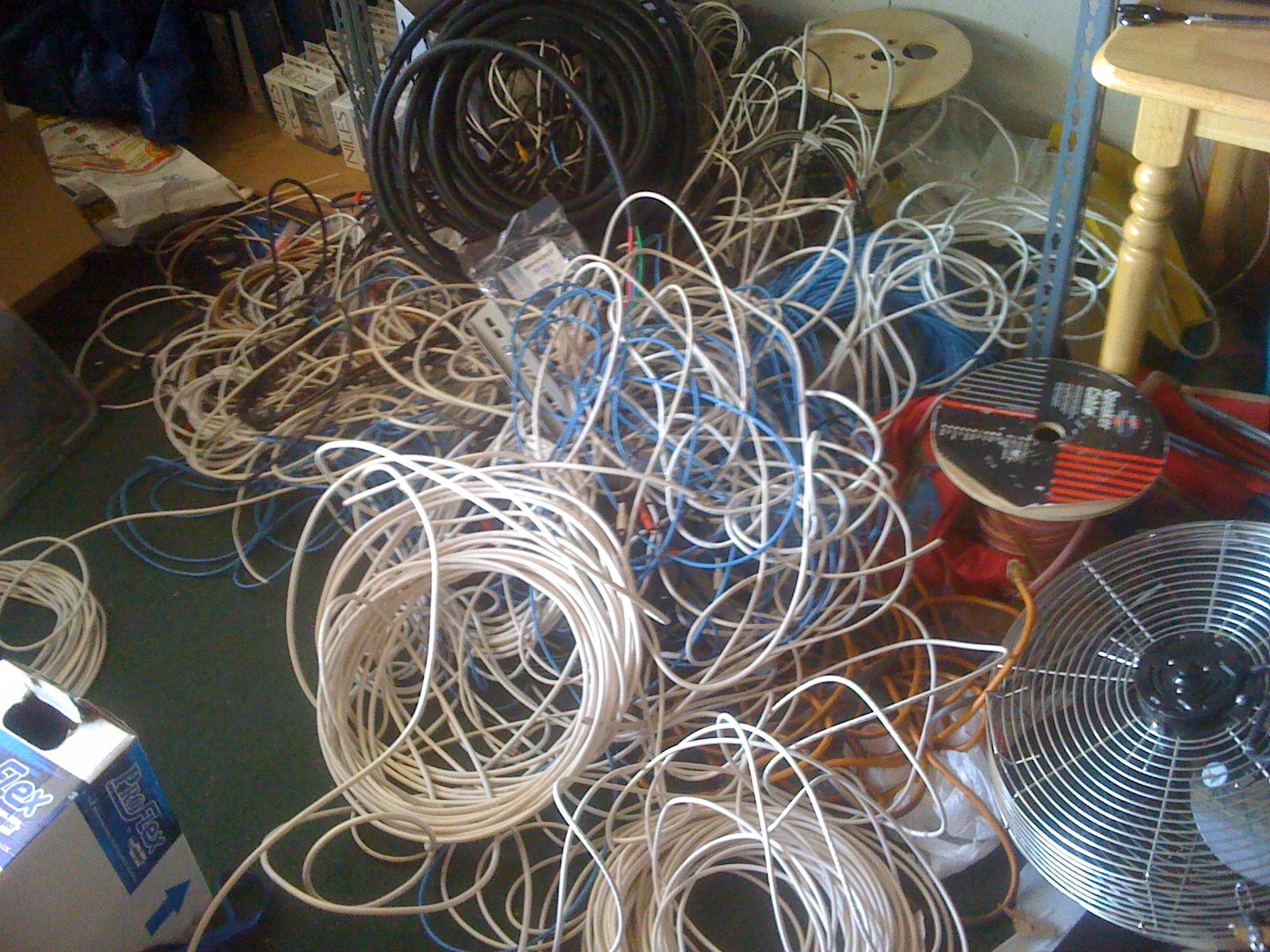 Yikes! You might want to stick with us. Here's some of the elements and trade tips of pre wiring your home for today's technologies.
Smart Home Wiring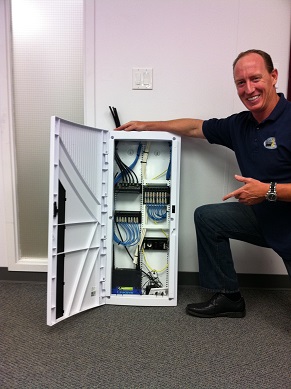 Our fashion model with a structured wiring panel
Smart home wiring starts with a "backbone" of wiring that comes and goes through a structured wiring panel. See above. This wiring design of structured cabling provides the basis of connection for all of your devices that access technology. Smart speakers, laptops, security cameras, pool control, smart shades and smart lighting all rely on this network of cables. During this stage, category cable (called CAT6, CAT5, etc.) goes from a central location where the structured wiring panel is installed to each desired room or area. "But what about wireless?" we hear very frequently. Our take is that wireless is great...until it isn't. With the myriad of elements that can affect WiFi, it is always best to use wired communication when possible. For the fastest speeds and best reliability, you want CAT6 everywhere for your wired home.
"But what about coaxial cable?" This is the cable that has passed a signal to your cable boxes and TVs for decades. Although this is most likely being phased out in the future, we still recommend running RG6Q (the name for coaxial cable) to any areas that will have TVs or computers as this is still being used in most regions to provide the signal for your modem and the picture/sound for your cable boxes or satellite boxes.
When you install smart home wiring...you gotta be smart about it! Our pre wire technicians use proper techniques and procedures to ensure that this crucial wiring isn't bent or damaged. This is important to ensure that you get the highest speeds and/or quality from your Ethernet, video and audio signals. Labeling, keeping structured wiring away from AC lines, use of J-hooks to minimize wire stress, high-quality cabling for all pulls...these elements and more make for a successful end result.
Whole House Audio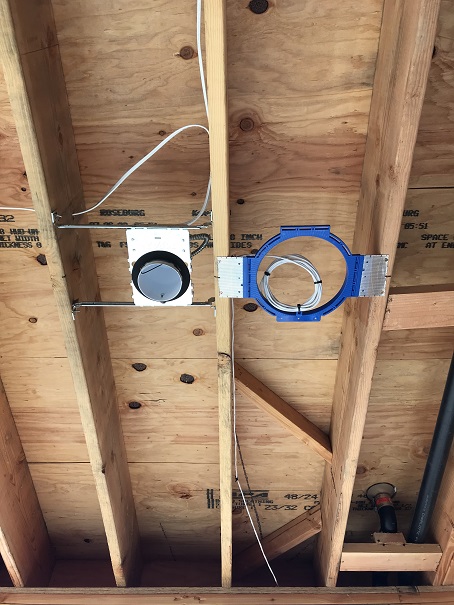 Santaluz whole house audio installation
The speaker ring in the picture above is one of MANY in the home on a recent smart home installation project. On most of our new home wiring jobs, we wire the house for speakers for both the interior and for outdoor audio. Some basics regarding whole house audio installations are:
1 - Speaker rings (like pictured above) are a great thing! These make it so the speaker wire can be found easily AND ensure that you don't need to cut the drywall to install the in-ceiling speakers after you have already moved in. You've been dealing with a mess for months...you don't want another one! Not sure what kind of speakers you want to choose once you are about to move in? No problem! One of our vendors (Origin Acoustics) makes speaker rings that fit multiple sizes and price points of in-ceiling speakers. This ensures that whether you want a $200.00 speaker or a $2000.00 model, you can choose once the house is completed.
2 - AV headend: When we pre-wire a home for whole house audio and other technologies, all of these wires go to a central location. This location is different than the one notated above where we discuss structured wiring panels. This area, termed the "home run" or "head end" is sometimes located in a closet, in a Family Room where there is some form of audio cabinet or hidden in a room or area that is out of sight. Some provisions that are important for this home run area are adequate electrical needs (typically 1-2 20A dedicated circuits), cooling as today's components run warm and enough space to handle all of the components plus any new technologies that you might add in the future.
3 - Protected space: This should be an area that is free from dust and moisture. It should also be a room or space that doesn't double as a storage area for toys, tools, etc. or you might find that wires get unplugged or the equipment gets accidentally damaged.
4 - Outdoor speaker wiring: We always recommend to run outdoor speaker wiring in underground conduit. If you don't, your resident rats and gophers will thank you for the delicious snack. Any conduit should be a MINIMUM of 1" with sweeping bends instead of hard 90 degree elbows. In-ground or above ground access boxes should be in place for every 270 degrees of pull. NOTE: Check out our detailed "outdoor speaker installation" video below:
5 - Flat screen wiring: We recommend pulling HDMI cables to TV locations when at all possible. You will want to pull a number of CAT6 cables along with the HDMI cable. NOTE: Many companies will attempt to lower the cost on the pre-wire by passing on this HDMI pull. What they don't tell you in many cases (we know because we've seen it too many times to count) is that you will need to buy a kit AFTER the wiring job called an HDBaseT HDMI extender kit. It normally costs much more than the HDMI cable. PRO TIP: Run 2" conduit to TV locations to provide flexibility for future wire pulls. This is very helpful in locations where you can't easily retrofit a new wire.
Network Wiring and Computer Wiring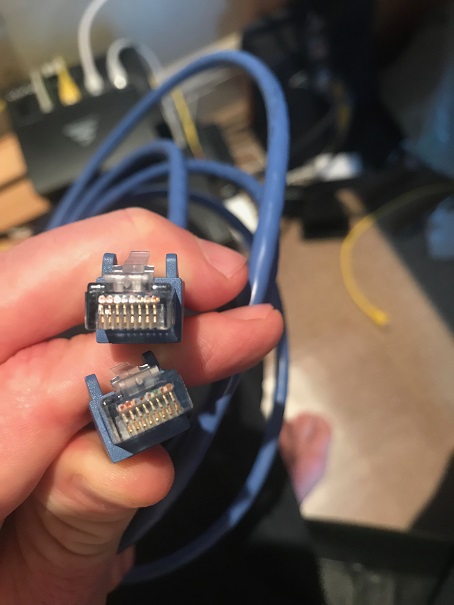 These things get you on the Internet and provide streaming enjoyment
We recommend running CAT6 or CAT7 wiring to any areas that will have network-connected technology. This is the more modern format of category cable on the market today (CAT5 should not be used for modern networks and systems). Some of these rooms and areas are:
- AV Headend for whole house audio
- Pool equipment
- Office computer
- Printer locations (NOTE: Printers are notorious for having WiFi issues. These problems go away when they are wired with CAT6 or CAT7)
Some other locations where CAT6 or CAT7 runs are important that may not be as apparent are:
- Phone lines (cut down on RF radiation from cell phones and have a reliable option in bad cell areas)
- Motorized shade locations (these provide power and signal to the motors)
- Guest homes or ADUs
- Garage door equipment
- Wireless access points to provide whole house WiFi
- Demarc (demarcation) run from the edge of the home to the home run/structured wiring panel
Cable Wiring for TV and Internet
Remember that cable that comes out of the wall that you hook up to your TV to get cable? It's still important. We use RG6Q coaxial cable to get a signal from the cable company to our modem and most cable companies still use RG6Q to provide a signal to each cable box. Got satellite TV? RG6Q brings the signal from the satellite to the TVs in your house.
"RG" stands for "Radio Guide". It's military spec that isn't really important. The "Q" in RG6Q is. It stands for "quad shielded" and means that the cable has multiple forms of insulation that filter out RF and EMF noise. This maximizes the integrity of the signal and cuts down on noise and signal loss. Signal loss = spotty Internet, bad picture and sound and cable boxes that lock up constantly. Boooooooooooooooooo.
Many companies will try to save themselves a few bucks by installing RG6 instead of the superior option that is RG6Q. We only use the right tool for the job on our pre-wires and in this case, you're getting RG6Q everywhere you need it.
Project Management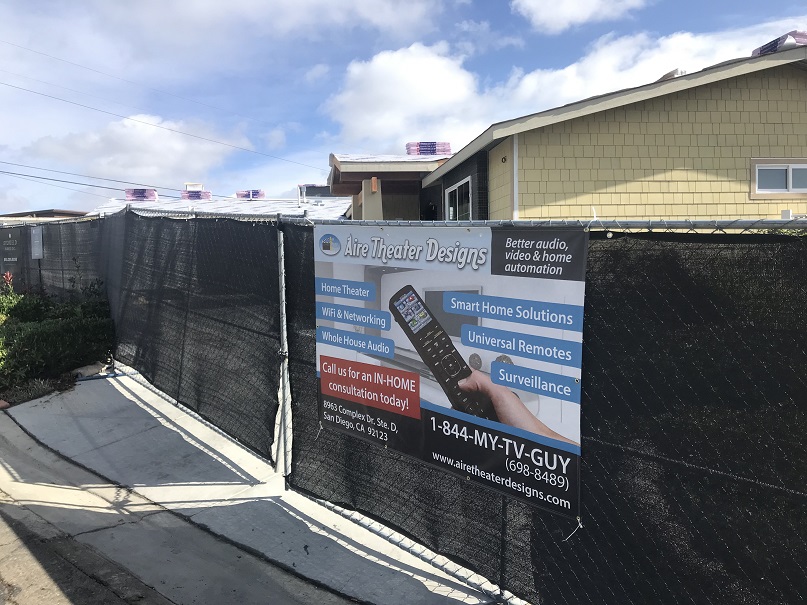 Point Loma whole house wiring installation
For your smart home wiring project to go smoothly, a lot has to happen for your technology contractor to get this right. See below:
Documentation
We take copious pictures and videos of every wire on our projects. This ensures that nothing is missing afterwards. How do wires go missing? Ask drywall guys that don't pay attention, electricians that don't pay much mind to what they are cutting, insulation guys that need to go to lunch so they cut corners, etc. Our process ensures that your project goes smoothly and if hiccups occur, they can be easily remedied.
Proper planning
For life to go smoothly, things must be planned. The same applies to your wiring installation. We will stay in touch with your contractor and trades throughout the project to ensure that everything happens in a timely manner and to schedule. We typically have these pre-wires laid out on a calendar of weeks or months to ensure that there are no surprises and that we don't get this line:
Bad Contractor - "Hey...can you guys wire the 7000 square foot house tomorrow? Drywall is going up in 2 days."
Design
Wiring projects like this don't happen automatically. Professional design and planning need to take place to make sure that your new home is wired correctly, that nothing is missed and so the project is budgeted correctly. We have been doing this for 17 years. Experience is a virtue.
Prewire San Diego CA
You can probably tell from all the above that there is more to this process than wire A goes to wire B. Looking for help with your pre-wire San Diego? Let our prewire and smart home wiring experts help to ensure that your project goes smoothly, to budget and to plan.