Home Theater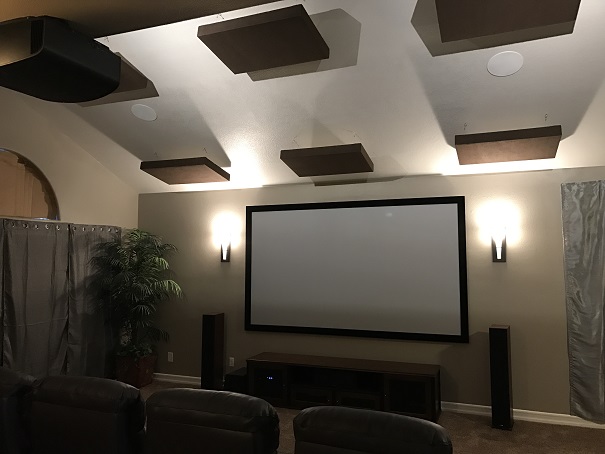 Media Room with 4K Sony projector, Monitor Audio speakers and acoustic treatments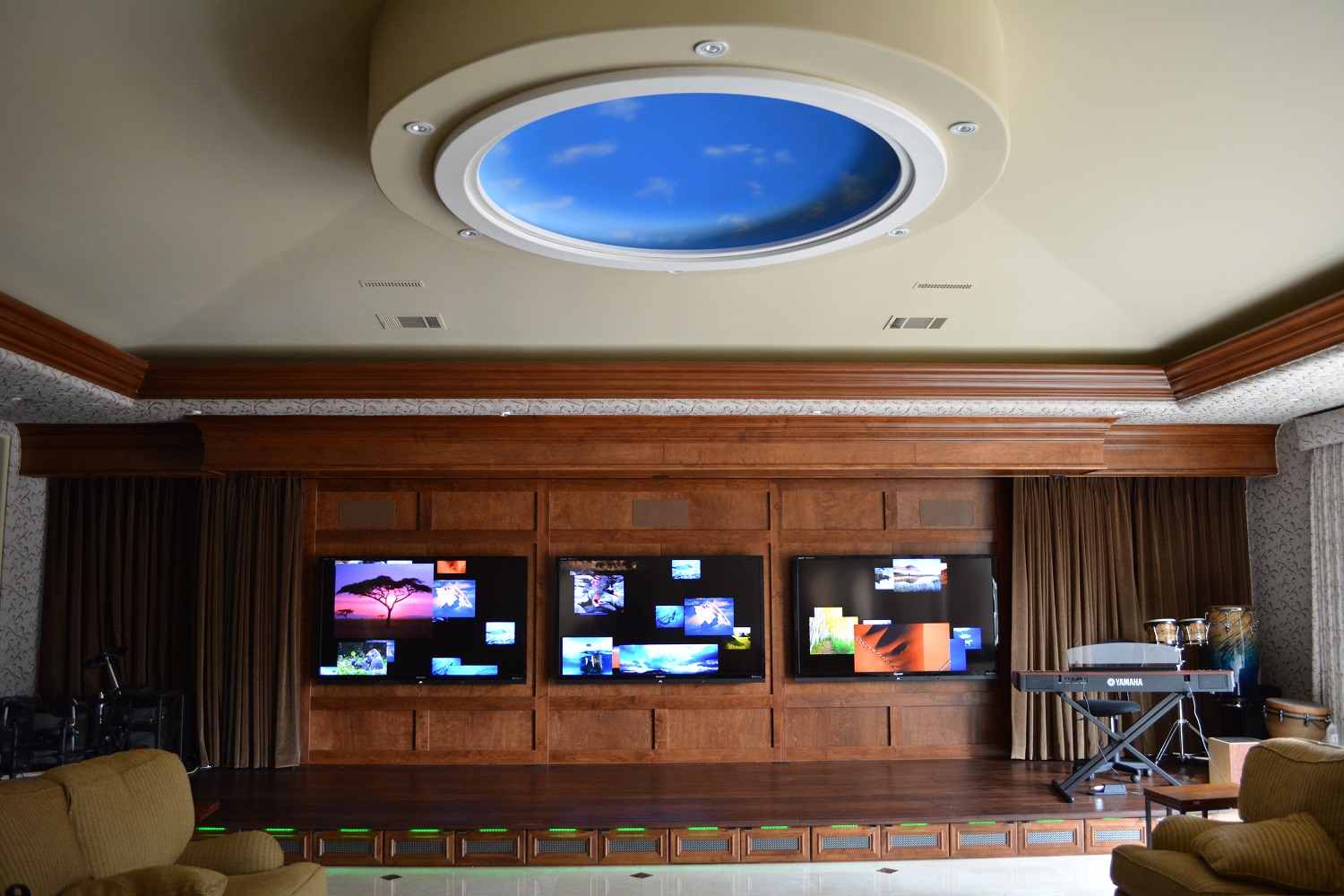 Home theater room with drop-down projector, motorized projector screen and flat screens galore for daytime use!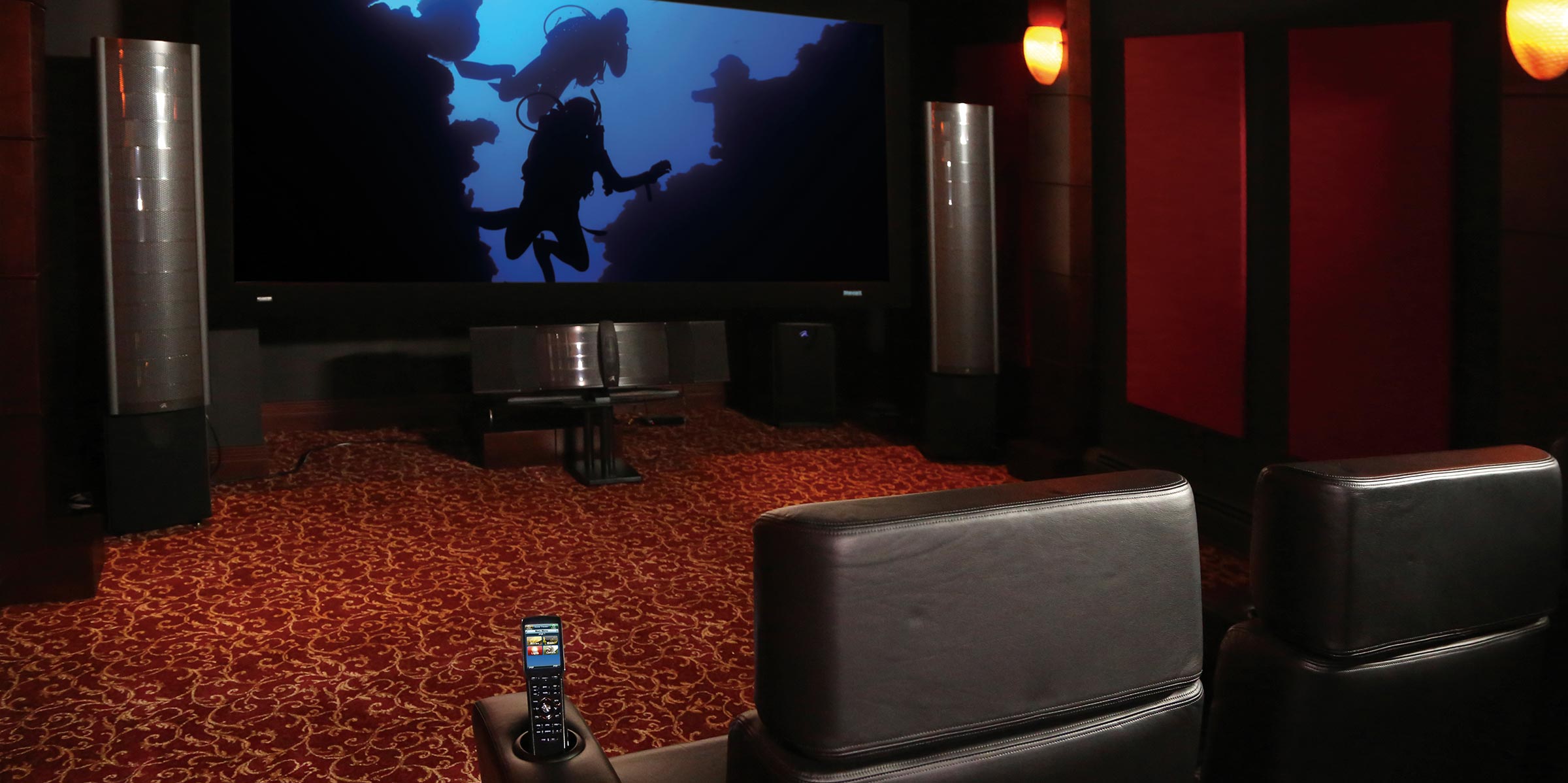 Dedicated home theater with Martin Logan tower speakers, acoustic treatments, home theater seating and no sticky feet
"Home Theater" installations vary vastly in their definition and scope. For some people, getting a "home theater" means adding a $200.00 soundbar to their TV. For other people, a "home theater installation" means just that...a six-figure, dedicated home theater package just like you experience at the movies with a projector, BIG projection screen, theater seating and crazy Dolby Atmos surround sound. Most of our installations these days are a hybrid featuring a common living area that functions for day-to-day living as well as an enclave to watch your favorite movies or streaming shows with enhanced surround sound equipment.
Below are some of the elements, steps and products that make up today's different styles and scopes of home theaters.
Flat Screen Installation
For most people, this process starts with a TV on the wall. TVs can be installed on flat, tilt, pull-out or mechanized brackets. This portion can seem simple but there are many elements to consider that our flat screen installation experts can narrow down in a jiffy. Here's one example of many where dealing with a professional home theater installer (like us) can save you time and money.
Last week a new client reached out to us. This client has a 1990s-style niche in their wall where the niche is quite deep and made to hold a built-in furniture wall or an older projection TV.
Client: "I called (the retailer that rhymes with Chest Guy) and they came out and said we had the reframe the wall, drywall it over, paint it and then we could mount a TV."
Our professional installer: "The guy from Chest Guy should be publically shamed. We can install one of our long-reach pull out brackets at the back of the space and the TV can then be pulled out horizontally and hang even with the front of the niche/wall space. Whadda think?"
Client: "That sounds great! Why didn't they mention that?"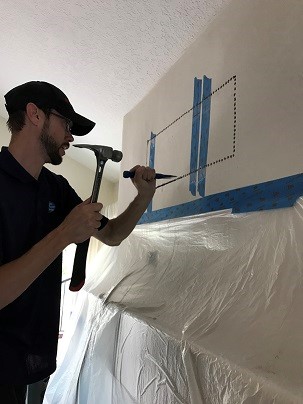 Flat screen installation - Drilling 72 holes in stone to ensure a clean cut
Well...we've done this a few times. Thousands in fact. After you do something 1000s of times, you pick up on many different ways to do things faster, smarter and cheaper. The above element is just one thing to think about with flat screen installations. Got the right spec of HDMI cable? Did you run CAT cable to the TV AND enough of them? How will you power-cycle the TV? Got surge protection? Should I run conduit? How does this mount on stone? Etc, etc, etc. If you go with us, you don't need to worry about all of the above.
Surround Sound Installation
Many home theater installations add the amazing element of audio to the room. In our opinion, from a budget perspective, good sound and quality audio makes the biggest difference in your overall home theater experience. Watching the Tyrannosaur in "Jurassic Park" with tiny TV speakers? That thing ain't scary...it's just an overgrown lizard. However, that same scene in the theater brings that frightening, gigantic monster to life and makes you feel something, not because the screen is bigger but because of the emotions and feelings that deep bass and good audio can evoke. You need that.
Surround sound installation can take many forms ranging from soundbars, in-ceiling or in-wall speakers, tower speakers and many other designs. Typically, bigger is better. To be less vague, we've written these articles below.
A meeting with one of our surround sound experts prior to installation is a great thing. We can go over options that you might not know exist, discuss construction elements you might not be aware of (ex: Did you know that speakers installed in the ceiling on the 1st floor are audible on the 2nd floor? Don't worry, we've got a fix for that) and design the perfect surround sound set-up to meet your aesthetic, performance level and budget.
Dedicated Home Theater Installation
Now we're talking! The addition of a true home theater is an incredible space for the family or movie-loving individual to get the best movie and music experience possible. However, when building a dedicated home theater or media room, there is a lot of design and planning needed for the project to go smoothly. There are electrical needs for the components, cooling needs for the equipment, throw distances needed for screens and projectors, acoustic treatments for speakers to sound their best, riser builds needed for chairs...and the list goes on.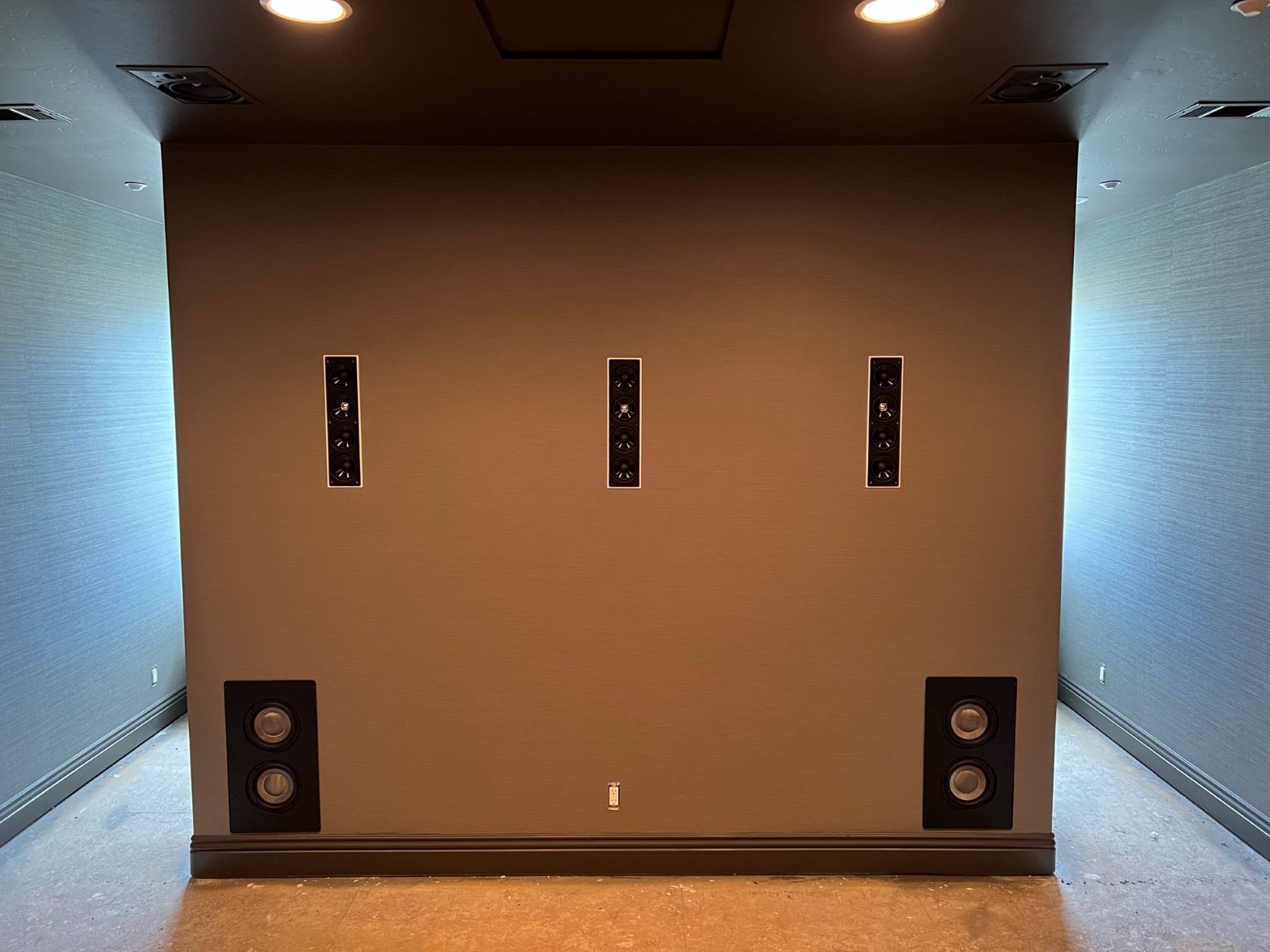 Poway theater room being finished as we speak - KEF speakers will be behind an acoustically transparent screen
Let our home theater designers take care of all of the elements mentioned earlier...not to mention deciding on the 1,000,000 choices of projectors, screens, speakers, amplifliers, cables,etc. Think of us as the home theater doctor. We will prescribe a solution once we get to know each other. You'll tell us what's ailing you...we'll advise you of what is possible today, what the costs are and how it will fit into your budget and lifestyle. Once we both come to a solution...we get to work. Easy!
How To Schedule A Home Theater Installation?
It all starts with a phone call or an e-mail! Give us a call, describe your scenario and let our home theater designers and audio experts get to work on providing the best technology solution for you!