Origin Acoustics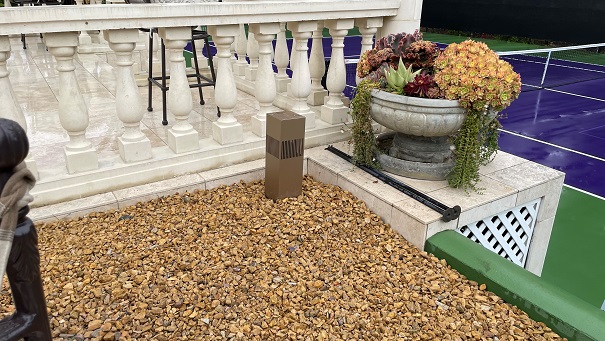 Origin Acoustics outdoor speaker masquerading as a light fixture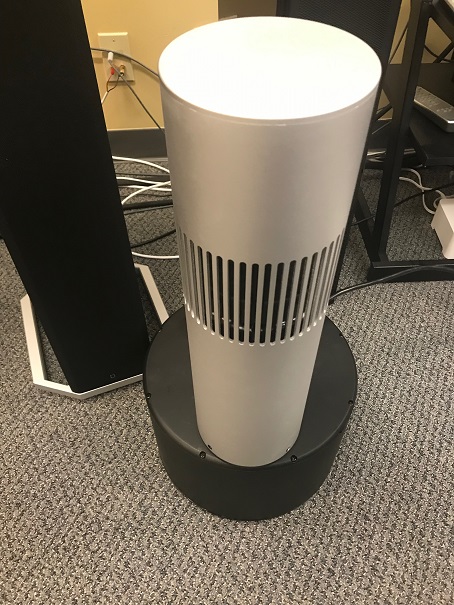 Origin Acoustics Bollard outdoor speaker when it isn't in the ground - It's like an iceberg with the substantial portion hidden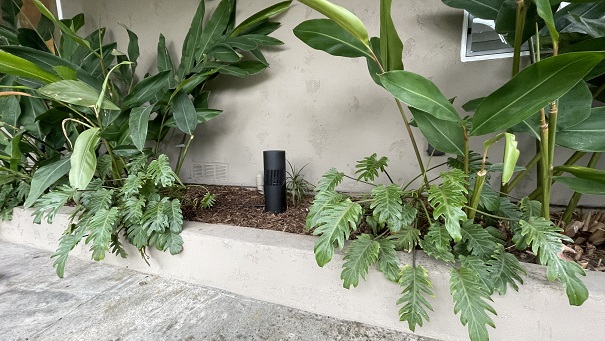 Outdoor audio with another color option from Origin
Long ago, a man created a speaker company called Speakercraft and it was good. He raised it up to the pinnacle of success, sold it for $58 million and then retired. However, you know what they say about retirement...either retire with your partner or you'd better have some hobbies. Now we don't know the particulars but we're going to assume he got bored because this man, Jeremy Burkhardt, dusted off his thinking cap, got to work and created a new speaker company called Origin Acoustics! All of the research, know-how and connections he made in the 25+ years previous went into the creation of this new entity. Is Origin Acoustics good? Well...after we tested many of the designs and models, we were proud to bring on the line and we are now San Diego Origin Acoustics dealers! Here's a few of the reasons that we made this decision.
1 - Outdoor speaker options: Isn't it great to live in Southern California and San Diego where a bad weather day is 56 degrees? Right now in Nunavut, Canada it is -27 F. As you can guess, we don't sell too many outdoor audio systems there. Here? Outdoor audio video systems are fantastic and you can use them almost every day of the year. Origin Acoustics has pioneered some designs that sound awesome and that look extraordinary! The pictures above are from some of our Origin Bollard speaker installations. These "Bollards" are named after bollard posts or lights and mimic many outdoor lighting fixtures. Origin also offers many types of landscape speaker options as well as conventional outdoor speakers that are your standard box design. See below for some information about these.
Outdoor speakers and outdoor audio installations
2 - Options for ALL types of homes: Many brands of architectural (meaning in-wall or in-ceiling) speakers play it safe. They've got a couple models within a pretty restricted price range meant to satisfy a good percentage of the public. However, what if you want ROCKING sound that provides incredible detail and life-like presence? What if you have a 225' yacht and want marine speakers everywhere for your boat? What if you want to build a dedicated theater? Origin Acoustics offers custom solutions for all of these different needs and varied clients to ensure that they can help you out whether you're Homer Simpson or Elon Musk.
3 - Flexibility: Let's say you are building a new house. With almost every other speaker brand out there, you have to decide on the speakers you want before drywall goes up. If you've ever been involved in building a house, you know you have 327 decisions to make and you may not want to decide on this element just yet. With Origin Acoustics, we can install rings in the ceiling that allow you to pick the $200.00/each speaker or the $2000.00/each speaker once the house is ready for music. This flexibility in speaker choice can be very helpful for your budget and your sanity.
4 - Customer service: One of the things that made Speakercraft great was that they understood the business and how to take care of the customer. Speakers out of stock? We'll upgrade you at no cost. Speaker went bad? We're sending you a new one. Feel free to hit the old one with a hammer. They understood that customer service goes a long way. This adage and train of thought has migrated along with Jeremy and Origin Acoustics. These tenets along with a lifetime warranty on their speakers encompass a great support mechanism for you as an owner and for us as Origin Acoustics dealers.
Want to see how Origin Acoustics speakers can enhance your life with outdoor audio, indoor music and acoustic alchemy? Give us a call and let us show you why we love these guys!
Aire Theater Designs - 8963 Complex Drive Ste. D - San Diego, CA 92123