Audio Visual Installation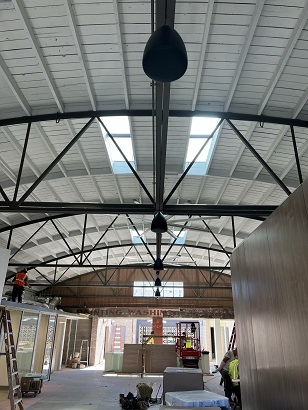 Commercial audio visual installation in La Mesa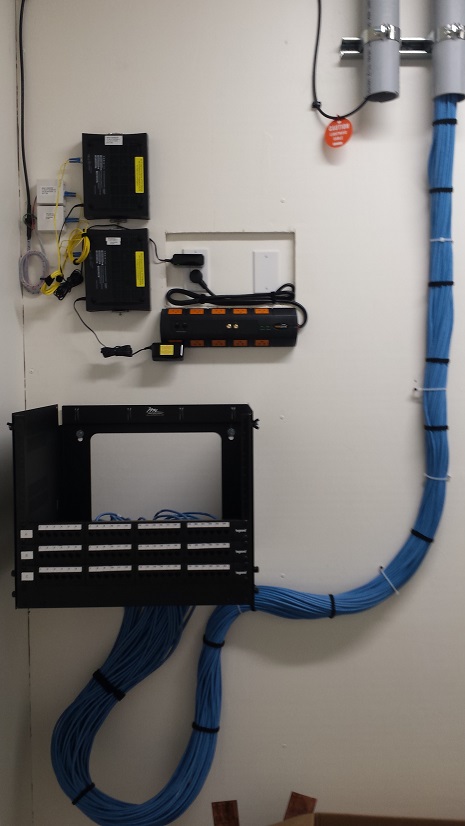 Clean audio visual prewire in commercial building - Encinitas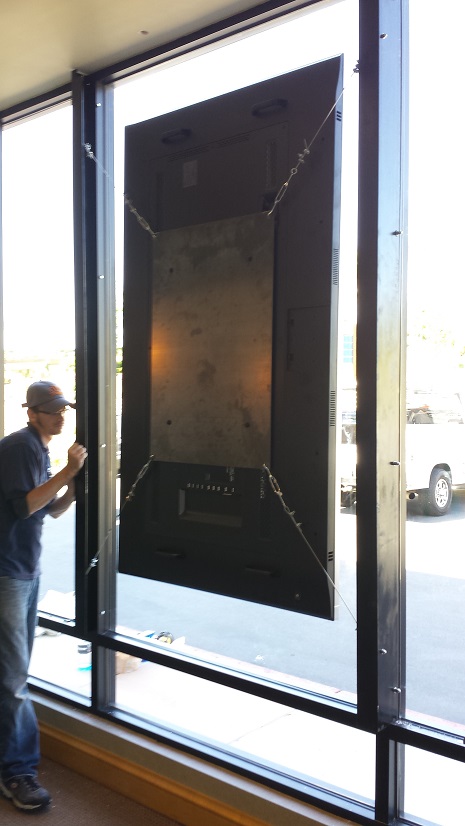 85" digital signage with custom audio visual installation
The phrase "audio visual installation" is normally used in context with commercial applications. We'll hit on both commercial and residential installation aspects as you may have found this article be searching for one or both of these installation needs.
Commercial Audio Visual Installation
Commercial audio visual installations typically have very different elements than audio video installations for the home. Some of these differences include:
Commercial Audio
Commercial locations or businesses typically have different layouts than you would find in the home. We are currently finishing up a commercial project in La Mesa that has 18' ceilings, 5000 sq. ft and glass and metal beams everywhere. This project has much different acoustic needs than you would find in a 18' X 14' living room.
The 1st picture at the start of this article shows what we did to fill this space with audio. 70V audio applications typically make sense for most commercial spaces. See HERE for a description of 70V audio. Companies like ours are a great resource when it comes to designing the proper technology to mesh with the look and acoustics of the retail or commercial space. We've got a lot more options than you would find at your local big-box retailer and in the case above, our "floating" pendant speakers and pendant subwoofers combined with Crown amplification was the ticket.
Digital Signage
In most commercial environments, you aren't watching a standard TV and enjoying cable TV or the like. The needs for the commercial installation may be digital advertising or digital signage. In the 3rd picture at the start of this article, an 85" TV is providing digital signage for a dentist's office. These options require planning and some creativity that is frequently different than you find in the residential setting (in this instance, we built brackets out of metal plates and mounted the TV sideways to fit)
Commercial Network and Commercial WiFi
Care and planning must be used when designing WiFi and networks for commercial spaces. Did you get a virus on your computer at home from clicking on the wrong link? Try having 50 people that might do this in a commercial setting. Commercial WiFi can be difficult to design due to the building materials in these spaces, number of users and devices, WiFi roaming issues due to the property size, etc. In almost every commercial setting, you will want to deal with someone who designs networks specifically for this type of environment. NOTE: You may want to have an on-site network administrator as well depending on the nature and size of your business. Do you have a 24/7 operation, over 10 employees, POS systems, etc.? If so, the basic router that you buy at Target isn't going to do the job or give you the network insights that you will need to troubleshoot any problems that may and will arise.
Residential Audio Visual Installation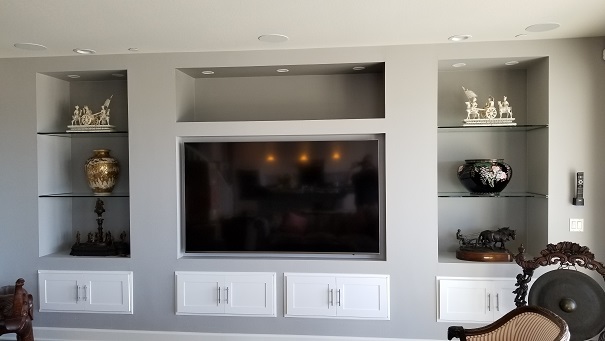 Residential audio visual installation with in-ceiling speakers, 4K TV, smart lighting and home automation
There are a number of our peers that have switched from residential audio video work to commercial audio video and a few of these guys state unequivocally that they would never go back! Why? This residential stuff is hard! Here are some considerations for today's AV installations for the home.
Smart Home Technology
This smart home technology gets touted by ads on TV and blog posts as "It's easy! Just buy an Amazon Alexa and your whole house will be automated!"
Wrong.
There is a dance between the smart home devices such as Alexa that act as the communication device, the smart processor that acts as the brains of the operation and then all of the smart devices themselves. If one of these devices isn't behaving then it is possible that none of this smart home stuff will work. These devices can misbehave due to many issues including bad firmware, bad software updates, incomplete updates, locked-up components (unplug it, wait 30 seconds and then plug it back in) and user-error.
Our commercial friends have to deal with very few of these issues. Maybe that's why they want to stay where they are.
Residential Installation Considerations
With commercial audio visual installations, typically the client isn't there and in most cases, it is just the AV installer, miles of wire and some stuff to hook up. Piece of cake. In client's homes, it's a different deal.
Don't knock over that 14th-century vase on top of the speaker.
The dog just performed an unmentionable on our work blanket.
I've got two kids tackling me while I'm trying to show you how to use the remote.
There are 16 cats, there are tile floors and no one has cleaned the floors for a year. Imagine sticky floors of the theater X 100.
These are all things we have run into previously. Not everyone is cracked up to deal with these situations. In addition, when working in clients' homes, courtesy dictates that you leave the place as clean or cleaner than you left it. Many "professionals" can't do this. The plumber that last visited us left about 150 fingerprints on my attic cover. With only 10 fingers, I have no idea how he accomplished this. With us, you'll see 0 fingerprints when we're gone.
Follow Up
I loved the old days of audio visual installations. There was no such thing as all of the problems I alluded to earlier. You just dusted the equipment once a year or so and you were golden. Fast-forward to today.
If you are installing some form of smart home technology or home automation, you will need to deal with your smart home company again. This is just the nature of today's business. If you go to our YouTube page, you will see that we have literally hundreds of thousands of views from people that didn't deal with us that are looking for answers to their audio visual questions. On the flip side, smart home installation companies need to have provisions in place to be able to deal with the troubleshooting calls that WILL come. If these businesses don't have these elements in place, they will fail you as a support mechanism and most likely, they won't be around for long.
Pro Tip: Make sure the company you deal with has a website, has employees and a brick-and-mortar or office presence. These points go a long way in showing that a company can support you down the road. If they don't have these basic elements of professionalism in place, what's the chance of them having the other stuff lined up to help you in the future?
Need Audio Visual installation in San Diego?
If you're looking for audio visual installation in San Diego, we can help! Give us a call and we can discuss your commercial audio visual or residential technology needs.