Araknis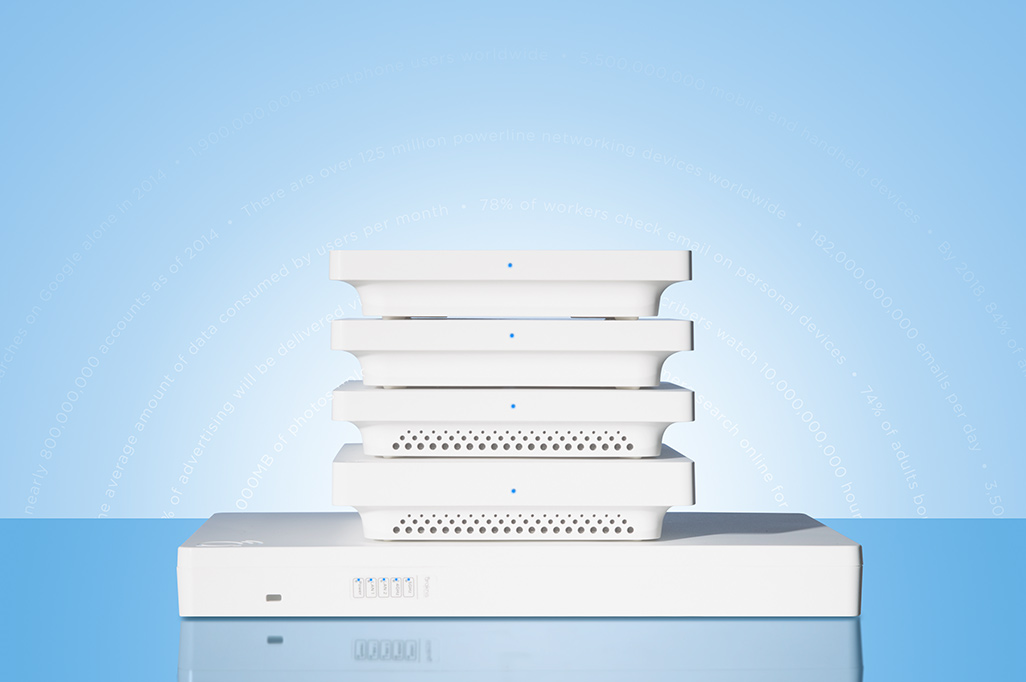 Araknis Access Points Deliver Robust and Fast Wi-Fi
You know what the best Wi-Fi is? It's Wi-Fi that you don't have to think about. If you have Wi-Fi on the brain and you aren't one of our WiFi installers it's probably because you have slow Internet, bad Wi-Fi or other Internet problems. The Araknis product line along with one of our Internet installers can ensure that of your 99 problems, bad WiFi ain't one.
Araknis Network Products
If you read our Episode product description HERE, you'd know how visionary the founder of Episode and Snap AV was. Snap AV ALSO founded Araknis and Araknis is part of the Snap AV technology family. Guys like me LOVE Snap AV due to their constant focus on technology, research and their customer service. Many companies tout customer service but Snap AV is like no other in our industry. This goes a long way to provide instances like:
Customer Service > "Oh...you have a bad access point? Let's just swap it."
Research > "Hmmm...looks like that Russian Hacker is at it again. We need to get on this security patch ASAP."
Technology > They have their VP on industry websites asking guys like us "What would make your jobs easier? What would make the product better?" Many times these are the types of insights that fuel innovation. It seems simple but how many VPs from other companies do you see doing this?
When you have a malfunctioning part that is causing bad Internet, intermittent Wi-Fi, etc., you just want it handled. Our experience with Araknis has been exemplary as they do just that. Got a problem? They fix it. Not everyone does this. NOTE: Stay tuned for a future video where we kick and punt another company's defective network products. They didn't acknowledge issues for years and by the time they did, it cost us thousands of dollars and loads of time. Punting their access points will be our short yet sweet reward.
Araknis Routers
Complete with an SFP Fiber port, multiple LAN ports, and gigabit WAN port, the 310 series 1U rack-mountable router can handle large networks up to 500 devices. Araknis includes the advanced remote management capabilities of OvrC Pro. See below why OVRC was another leap forward by Snap AV in foresight and technology.
OVRC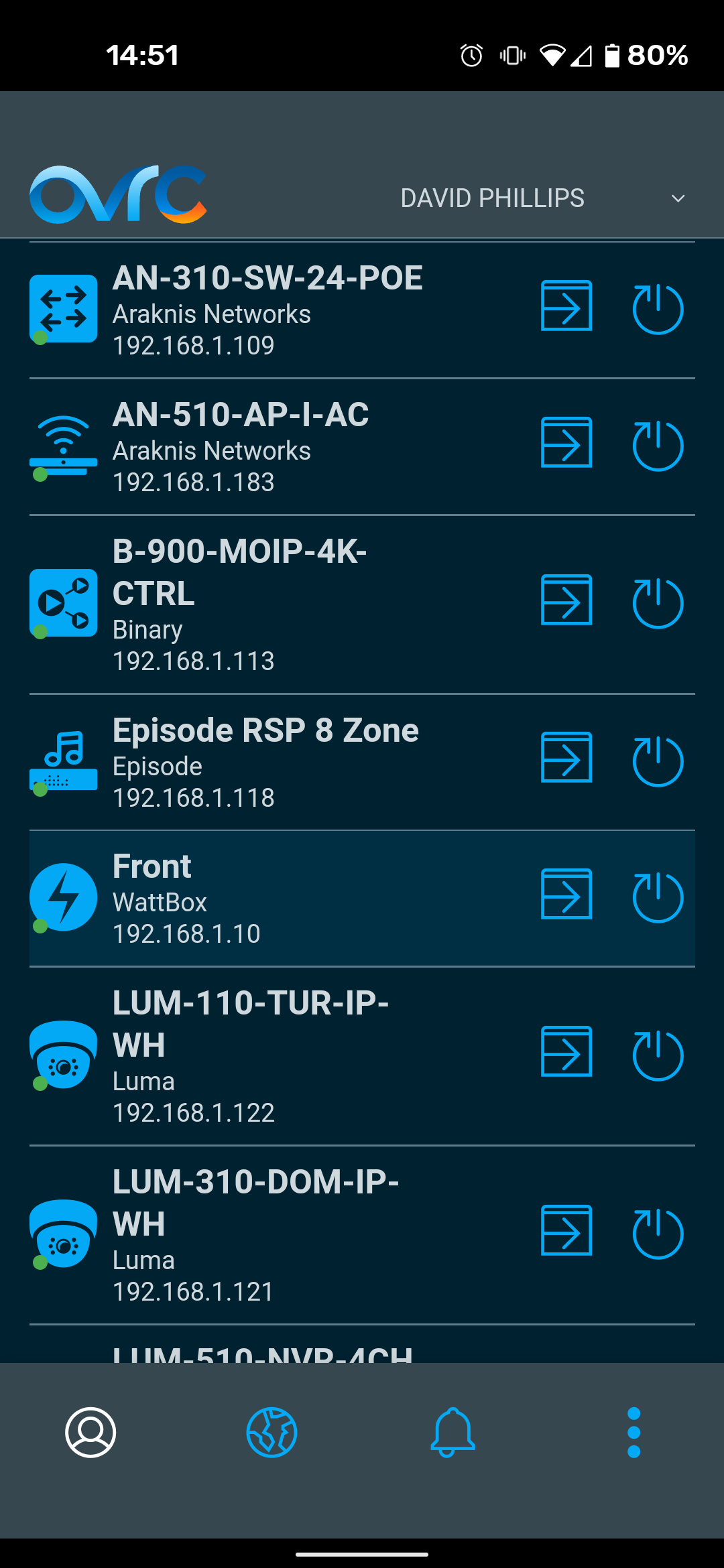 OVRC app showing devices on-line, off-line and status
Pre-OVRC phone call
Client: "I got no Internet!"
After trying 40 things on the phone, you go to their house and determine that client had turned WiFi off on their phone and everything else in the house worked fine. The Internet was actually up. 3 hours wasted.
Modern phone call with OVRC
Client: "I got no Internet!"
Us: "Let me take a look at something (20 seconds later). It looks like your Internet is up, your speeds are great and almost every device is connected. What doesn't work?"
Client: "My phone!"
Us: "Can you go to the Wi-Fi settings and turn them on? Do you have Internet now?"
Client: "Holy Smacks! You are a genius! I gots me some Internet!"
The ability of OVRC to see things from afar and let us fix client issues at the touch of a button has totally changed the way our industry operates. Remote reboots, real-time notifications, remote firmware updates, etc. This insight makes life easier for us and our clients. Keep your technology working reliably and securely with OVRC-enabled products.
Araknis Access Points
Araknis vs mesh systems. "Why should I buy that expensive Araknis stuff over this Eero mesh system?"
We can tell you tons of reasons but here's a couple.
You know what has thousands and thousands of hits on our Youtube page? People looking for answers as to why they can't connect DIY or legacy devices to their mesh systems. Most of today's mesh systems have no way to differentiate these bands (see our videos and articles for explanations) so when people attempt to network their smart lights, Roomba smart vacuum or other devices...no worky.
Having separate Wi-Fi bands makes this process simple. If you want to connect a legacy device, you connect to the legacy Wi-Fi bandwidth (2.4Ghz). Problem solved!
On a related note. 820 Series Access Points bring Wi-Fi 6 to the Araknis family! Wi-Fi 6 (6Ghz) is the latest standard for increased speed, coverage, and capacity for today's Wi-Fi demands. Wi-Fi 6 uses OFDMA (orthogonal frequency-division multiple access) to optimize bandwidth, thereby reducing congestion and improving speeds. Installing a Wi-Fi 6 Access Point in your networks extends the battery life of Wi-Fi 6 connected devices and protects your clients with the latest security modes.
Sensitivity to WiFi
Many people experience issues with Wi-Fi and are sensitive to these bandwidths. This malady called electromagnetic hypersensitivity can be a nightmare for people that feel its effects. What do you do if you are affected but still need Wi-Fi?
One of the benefits of better-level network products like Araknis is that we are able to go into the access points and turn the broadcast strength down. You don't have this capability with mesh networks like Eero, Google Mesh and others. This theoretically can help with sensitivity and is important for the next listed benefit.
Wi-Fi Hand-Offs and Seamless WiFi
Many people have large homes and properties. If you are one of them...congratulations! One issue with having a large home aside from your staggering property tax is the ability to walk around your home or property and be able to effectively make phone calls or video calls. Ever have people say that you sound robotic or does your picture drop on Zoom calls? If so, you need Araknis.
Better networks allow us to tailor the signal strength of the access points so there is a superior hand-off when you go from one access point to another. Today's mesh networks have problems with this as their access points always broadcast at maximum strength. This causes your device to get frequently confused as it doesn't know where to attach. If it could talk, it might say, "Do I talk to the WiFi extender in the Garage or the Kitchen? I can't tell". This problem is minimized with better networks and superior access points.
Araknis Switches
A switch is kind of boring so we won't elaborate. Araknis makes switches for residental, commercial or enterprise needs. However, all of the Araknis switches have OVRC and this is cause for celebration. See above.
Araknis Installer in San Diego
After reading the above, we think you may be as excited about Araknis as we are. Well, maybe not AS excited as we are WiFi installers but we're pretty sure you'll be happy. TRUE STORY THAT HAPPENED WHILE I WAS WRITING THIS PIECE: We had been receiving OVRC notifications after one of our clients got solar installed. His network has been cutting out literally every day since they put it in place. We were able to let him know before his dropping network turned into a giant mess...like when you are about to give a Zoom call to 50 people and UH OH...no Internet. OVRC saved the day again.
Looking for Araknis installation in San Diego or So Cal? Give us a call and see how we can make your WiFi and network installation a breeze.