Universal Remotes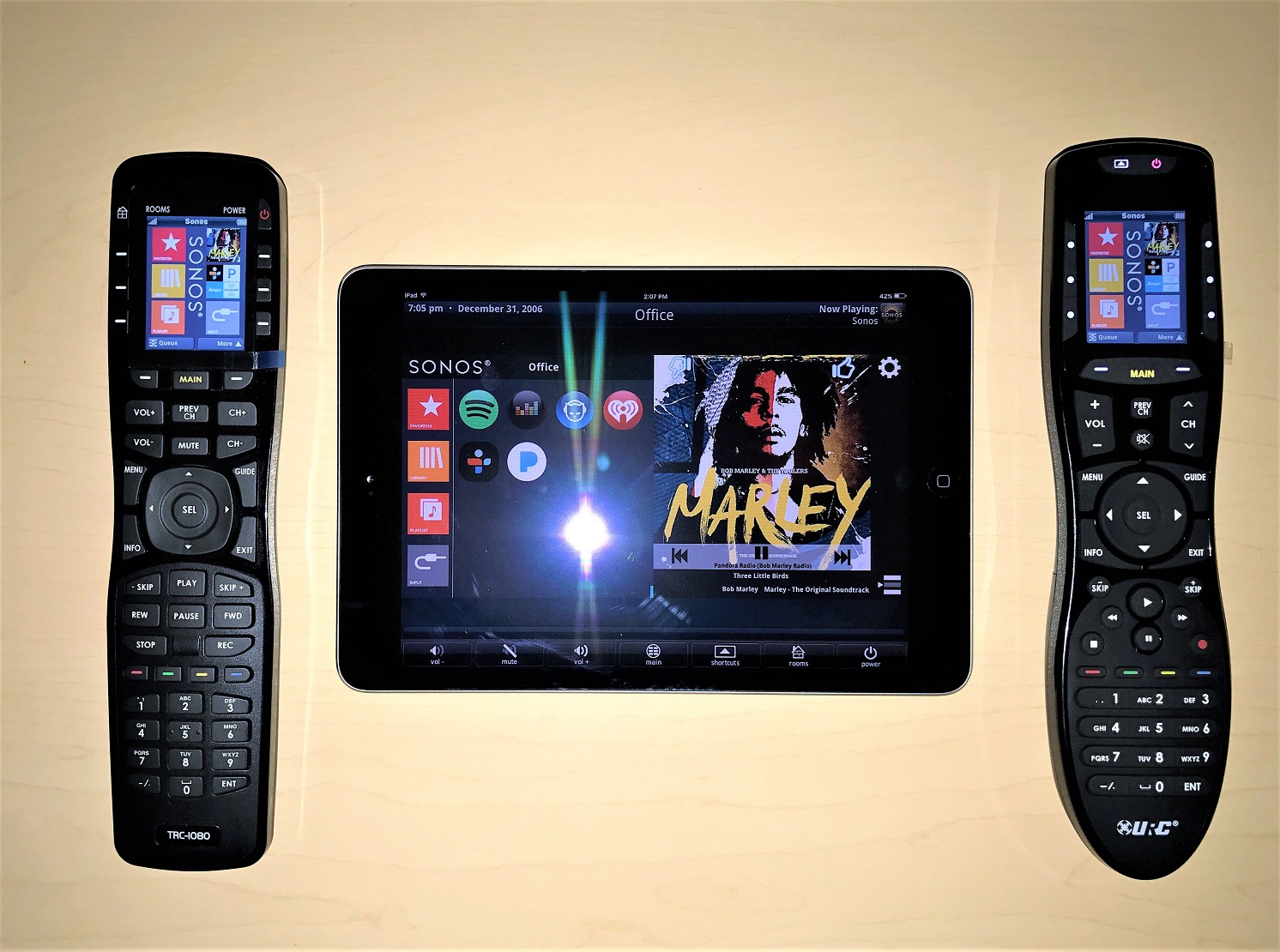 URC Total Control universal remote with iPad universal remote capabilities
Danny S./Aire Theater Designs Remote Control Programmer:
"Easy? Who said this stuff was easy? That might be what you were thinking after you unpacked your new TV, AV receiver, Blu-Ray player, HD satellite box, CD changer, AppleTV, Xbox360, iPod dock, a plethora of cables to connect everything and a half dozen or more remotes to run the show. It doesn't look very easy so far… That's why we are in business… To make your entertainment system enjoyable and EASY to use! With today's entertainment systems utilizing four or six or more components, the easy part has slowly faded into the sunset unless you have made the decision to invest in a true control system.
When we say I "true control system", I mean one that will run ALL of the devices you want and operate them easily. Watching TV shouldn't be difficult...this option makes it simple. When most people tell me what they want out of their new system, the phrase "easy to use" is always a top 3 item. What the client is really saying to me is "PLEASE DON'T MAKE ME USE 16 REMOTES!!!" We have solutions! Our most popular control systems in the Aire Theater Designs arsenal are technology solutions from the folks at Universal Remote Control or URC and from RTI."
Why Do I Need A Universal Remote?
Simple Technology
Danny's monologue above brings up the main reason for many of our clients. If you have a number of electronic components and you want them to go to the right input, sound mode, power state, etc. with one touch and to NEVER get out of whack...a universal remote is for you. As one of our clients said, "I just want to get home from work, touch a button and have my TV work." For you, Mitch, a universal remote is your friend.
Hidden Technology
Did you know you can hide your electronics inside a furniture piece, a closet or a storage area so the technology is out-of-sight? A universal remote paired with a control processor or RF base station can do this! This designer friendly technology helps your home aesthetic look more like Architectural Digest instead of Best Buy.
Cool Technology
It's pretty cool to be able to go outside, touch a button on your phone and start rocking to some Iron Maiden. It's definitely cool right before leaving work to press a button on your iPad and come to home to a 100 degree jacuzzi that was 79 degrees before you pushed the button 30 miles away. It's Fonzie-level cool to pull into your driveway and have your lights turn on, have your pool start heating and have the Beatles start playing through your whole house audio system...without doing anything!
Universal remotes and their control processors can add these capabilities to your smart home.
What Is The Best Universal Remote?
To us, the best universal remote is one that works...every time. There are some models on the market that claim to provide this reliability and that fail miserably. The big names out there are Harmony, URC, Savant, Control4 and RTI. We chose to support URC and RTI and have done so over the last 15 years+ (25 years for URC!). Here's our rationale: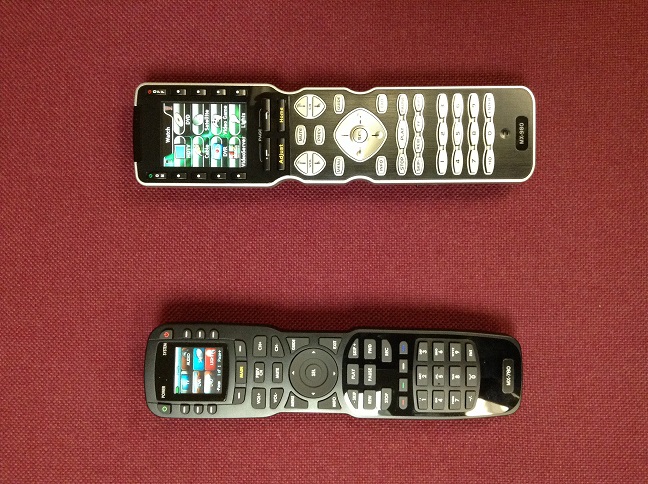 URC
URC has been making remote controls for more than 30 years. More than likely, you all ready have a URC remote in your home and don't even realize it! URC makes original equipment remotes for several consumer electronics manufacturers out there, including Denon, Parasound, Yamaha, McIntosh, Krell, Samsung and many others. Even the remote that came with your cable box was made by URC!
URC also makes basic solutions (what we call "one-way remotes") and more advanced smart home solutions that we call "two-way remotes". If you have a basic set-up with a TV, soundbar, streaming device and a cable box, you most likely don't need to pay the added expense for products and programming that you find with Savant, Control4 and URC's step-up line called Total Control. A solution like the below is a great option.
URC in our opinion is very reliable AND allows us to "see" your remote programming from afar. This lets us better serve you if there are needs for troubleshooting in the future. We have well over a thousand URC systems in the field in the San Diego area and with this number of smart homes, the need to troubleshoot remotely (hey...there's a pun!) is very important for our sanity and your satisfaction.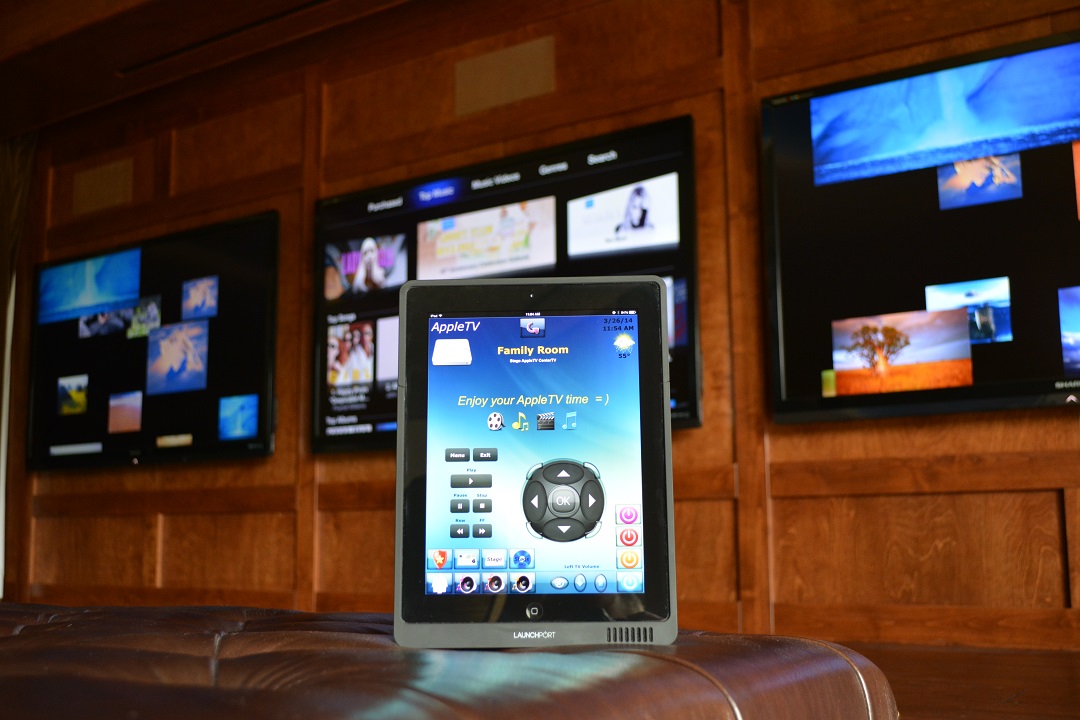 RTI
Founded in 1992, RTI is a leading innovator in the control and automation industry and has won numerous awards for hardware and software products. We like RTI for a couple reasons.
1 - Solid Build and Longevity: We were having a conversation a while back and we commented our our existing RTI projects "just work" and we rarely if ever get call-backs for servicing, defects, etc. The attention to detail and build quality is very apparent when you hold an RTI universal remote. They are solid, robust and have beautiful design.
2 - Functional Codesets: What the heck does that mean? If you have ever purchased a universal remote and the system didn't turn off when it was supposed to, got out of whack with half of the electronics on and half off or presented other issues, it most likely didn't have great codes. Great codes (or what we call discrete codes) allow us to program your RTI remote so the system can't get out fo sync, even if the audio/video gremlin visited and turned everything to the wrong input, sound mode and power state. Your 112 year old great-grandmother will love RTI as it makes it EASY to enjoy your technology.
3 - Smart Homes and Smart Home Installation - Today's smart homes can have a lot going on. RTI is very advanced and allows us to program a myriad of smart home technologies to work in tandem. End result...you get technology that is enjoyable and simple. See the article below about one of our RTI programmed smart homes.
https://www.airetheaterdesigns.com/blog/item/232-smart-home-installation
Wondering about Savant vs Control4? Maybe you need an RTI programmer in San Diego? Questions about Harmony remotes (they went out of business, by the way)? We are San Diego universal remote control programmers and experts with literally thousands of solutions provided and programmed for our So Cal and San Diego clients. Give us a call and let us explain our one of our universal remotes can tame your technology and bring order to your digital life.