Home Automation San Diego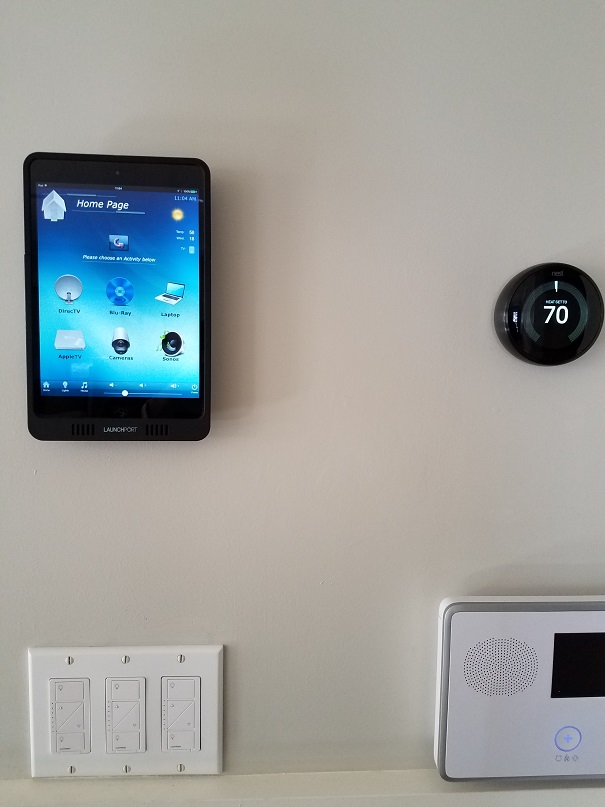 San Diego Home Automation installation with Lutron Caseta lighting, RTI universal remote app and Nest thermostat
The term "home automation" is very common today. However, depending on who you talk to, the definition of home automation can have many meanings. Here's our take on this category, how to get some for yourself and some of the pieces and parts that make up smart home systems and this technology.
We'll cover three types of home automation solutions. These will be:
Home Automation DIY
These are products for people that would like to install some of these smart home technologies on their own. We love DIY! (with limits…see below) so we carry many of these products for this reason.
Home Automation Installation LIGHT
These technology solutions provide home automation solutions for audio, video, lighting, climate and more.
Home Automation Installation GENIUS
This type of installation is truly intuitive where your home environment changes automatically as you move from room-to-room…read on!
Home Automation DIY
What's great about DIY smart home products is that they are prevalent now whereas 5 years ago this category didn't exist. Some of these solutions offer price-points 1/10th of what they used to be. This allows you to experience comforts such as front door cameras, whole-house lighting control, whole-house music, room-to-room intercoms and more. Some of these brands and solutions are:
Sonos: This wireless music solution provides a ton of today's music apps, easy set-up and good sound utilizing your existing WiFi.
http://www.airetheaterdesigns.com/blog/itemlist/tag/sonos
Lutron Caseta: This whole-house lighting control allows you to control the lights in your house ALL with a single touch. You can also have your lighting system do things like automatically turn on when you pull into your driveway, turn on/off at specific times of the day and more. Click below for more details.
Nest Thermostats: Hate coming home to a 90 degree house in summer? Like the idea of turning your AC on BEFORE you get home? Nest thermostats allow for this! They also help to save money by automatically turning off when no one is in a specific area.
Yale or smart home doorlocks: Want to open the door for a babysitter or houseguest while you're at work? How about knowing when people go in-and-out of a particular door? Add Yale WiFi locks for some awesome home automation capabilities!
Here are some of the possible issues with Home Automation DIY products.
WiFi Network congestion: Most smart home DIY products utilize WiFi to communicate. The more products you have, the more difficult is for ALL of your WiFi devices (including iPads, computers, etc.) to communicate. Optimizing your WiFi network is crucial if you want all of your WiFi devices to play nicely.
Capabilities: These products are inexpensive and are meant for a here-and-there DIY solution. Got one door that you'd like to add a WiFi lock to? Sounds great! Got 20 doors? Not a good solution. Want to add 100 wireless Lutron light dimmers? Don't go DIY. These solutions are NOT meant for large homes and encompassing solutions.
Lack of robust WiFi network: Your off-the-shelf or cable-supplied modem/router is not a god choice if you want to cover your home with DIY solutions. See our blog post about better WiFi networks.
Home Automation Installation LIGHT
This is the type of Smart Home installation that we perform for most of our clients. This makes up solutions such as universal remotes that control your surround sound and TV, seamless whole-house lighting control, whole-house music, climate control, etc. The big difference between Smart Home DIY and Smart Home Installation LIGHT is that with the latter, all of these Smart Home elements work in tandem. See below for the main advantages:
Elements work in tandem: Smart Home DIY elements are all separate apps. If you like opening 10 different apps to control your house, DIY may work for you. However, if you prefer (which most people do) having ONE screen that allows you to access Lutron lighting WHILE controlling your audio/visual system WHILE seeing who is at the front door WHILE controlling your Nest thermostat, our installed smart home solution may be for you.
Robust smart home products: The products that we use for our Smart Home solutions are typically more robust and better-built than the DIY counterparts. This provides much better reliability that DIY products can't match.
Better CONTROL: Ever have a universal remote that doesn't work? That's one difference between a DIY product and an installed, professional model which works EVERY time. All of our home automation nstallation products are engineered with control protocols. These allow us to program these devices to behave correctly. This helps to simplify your audio, video and home automation devices. See post below for details.
Harmony vs URC universal remote
Home Automation Installation GENIUS
Home Automation Installation GENIUS systems are truly a smart home where your house (equipped with our programming and products) "knows" what is going on as you go from room-to-room. Do you and your significant other like different music? Your Smart Home knows this and turns on different music for each of you as you enter the room. Want your TVs to display art when you walk in the room and turn it off when you leave? How about when you pull up in your driveway, your favorite music comes on, the temperature and lighting changes and the Jacuzzi jets turn on? Home Automation installations at the GENIUS level do this and more.
Home Automation GENIUS installations also use one app to control all of your household systems. Do you want to go in-and-out of your audio/video app to control your TV, lighting app for your whole-house lighting control, security app to see your CCTV cameras, pool app to turn your Jacuzzi on, etc.? If you have a Smart Home GENIUS installation, you don't have to.
Home Automation Dealer in San Diego
Looking for a San Diego Home Automation company? We've installed these types of home automation products in thousands of homes since their inception! If you are in the San Diego or So Cal area, give us a call and let our home automation experts guide you in your quest to have the smartest home on the block.