2 Channel Stereo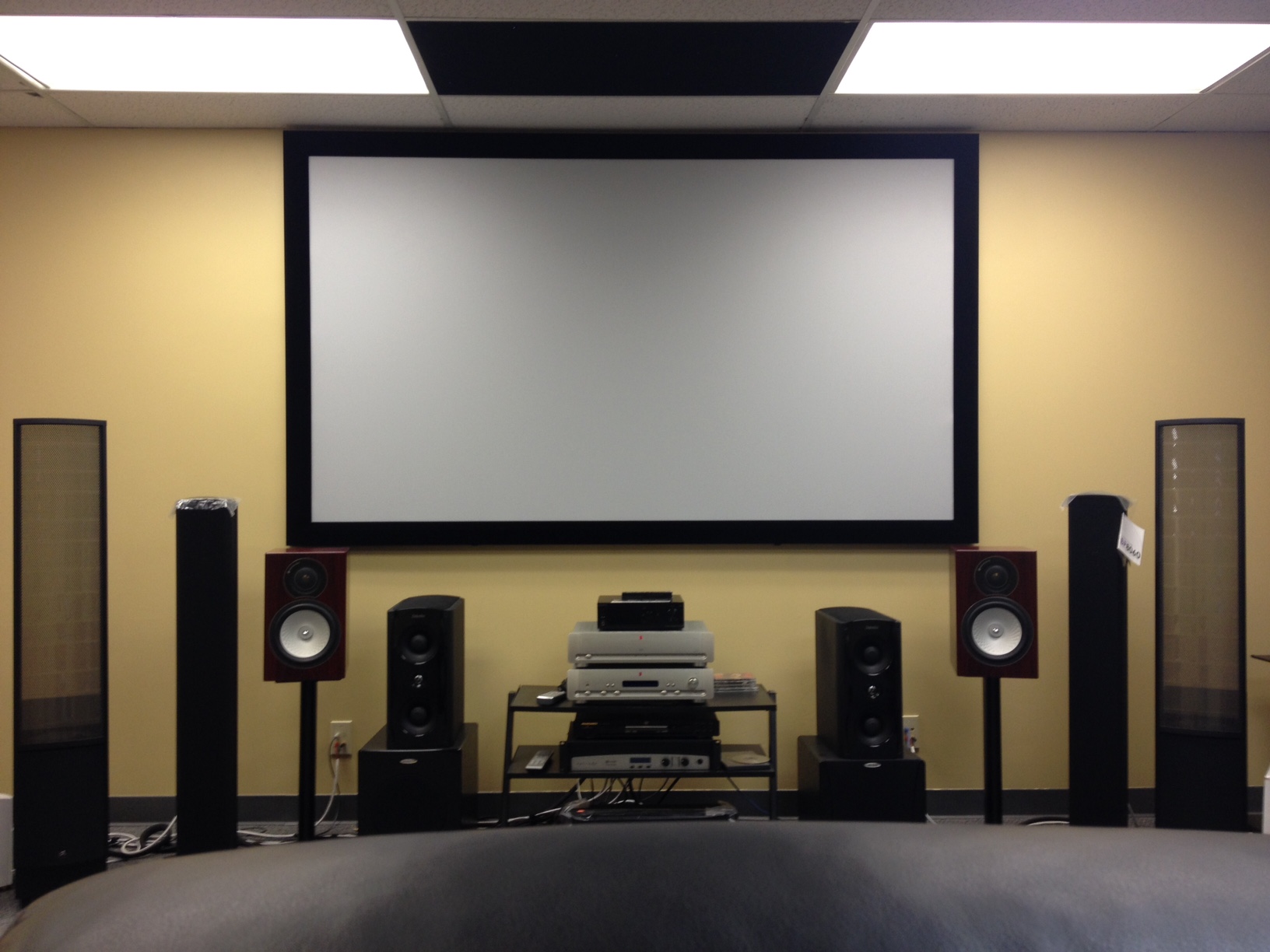 Acoustic alchemy brought to you with 2 channel stereo by Parasound, Martin Logan, Marantz, KEF and more!
My first stereo...it was a gigantic Kenwood rack system that I bought from a neighbor who got it in Korea while serving overseas in the Marines. As a young college student, money was tight but thanks to winning the "Burger King" scholarship, the funds were available to get this wonderful gift of music. Oh...that money was supposed to be for my education? Books Schmooks!
In retrospect, this purchase 33 years ago probably led me to where I am today in my role as the President of an audio company. Thanks Burger King!
With good stereo equipment and the proper set-up, the physical structures of the speakers such as tweeters, drivers, crossovers and the rest melt away. What you hear are details and qualities that you may not known existed in the recording. You can hear sounds coming from spots in the room where there are no speakers...magic! If you close your eyes, the experience can be more akin to listening to your favorite artist live as opposed to hearing the sound from speaker boxes and electronics. This ability for good stereo systems to paint a soundstage and an "image" of your musical artist is what converts many people into audiophiles or if not that, keeps them in the music business 33 years after getting their first Kenwood stereo.
The amazing ability of music to evoke emotions, stimulate the brain in unique ways and to enhance our lives is why we at Aire Theater Designs are so passionate about 2 channel stereo. Below are some of the elements of 2 channel stereo systems and some tips to get the best stereo system possible for your money.
Tower Speakers and Bookshelf Speakers
We carry tower and bookshelf speakers from:
Monitor Audio
In general, bigger speakers sound better than smaller ones. There are arguments about offloading the low-end bass energy to separate subwoofers and using smaller speakers BUT we don't subscribe to this philosophy. That design can provide great sound but we feel that if you want the best audio experience...go BIG.
What tower speaker is best for 2 channel stereo? That depends on a lot of things. What is your room like? Do you have carpets, hardwood floors, tile? Do you have lots of reflective surfaces in the room such as glass tables, marble countertops or laquered woods? Is your space rectangular with 8 foot ceilings or does it have angles, peaks, raised ceilings, etc.? The room can dictate if a speaker will sound boomy, tinny, edgy or wonderful.
What type of sound do you prefer? One of my audio peers and a best friend loves music and purchased Polk Audio's reference tower speakers for himself. I disagreed with his choice. The Polk models at that time had a very uncolored, neutral sound. I prefer a speaker with a bit more edge or treble accentuation. My preference isn't right or wrong...it's just right for me. Fortunately he didn't have to listen with my ears so he remained happy with his selection. Pro tip: If you listen to Speaker A and your gut says you like it better then Speaker B...go with your gut! It can be easy to labor over the decision as to which speaker sounds best. Your initial reaction is typically the right one.
Electronics
Your electronics consist of the amplifier, pre-amplifier, integrated amp, stereo receiver or AVR (audio/video receiver) that will act as the brains and the muscle to provide your speakers with the needed power and source selection for your listening experience. We carry electronics from:
Marantz
Parasound
We are firm believers in using the right tool for the job. You amplification and pre-amp stage (the brain) will make differences in the sound and typically the better the piece, the more your components get stripped away and the closer you get to hearing your content live! There are matches with electronics that make sense in relation to your speaker choice. Let our stereo experts help you in this regard.
Audio Sources
Your audio sources will be the "things" that provide the content. This might be a music streamer from Heos or Yamaha, a turntable, good ol' AM/FM or a CD player. We carry audio sources from:
Heos
Yamaha
Marantz
High-resolution sources such as lossless music streams from Deezer, Tidal, Qobuz have become more and more popular. With the advent of music streaming, people realized how BAD most music streaming sounded. There was then a growing wave to get streaming music on par with CD quality and higher. We now have these options available and they sound fantastic.
Another popular category are records and turntables, Remember those? Many of our clients are adding turntables to their systems to appreciate warm, smooth sound and to enjoy the experience of reading the cover art, enjoying the process, etc. Some of our turntables double as art pieces as well. Check this out.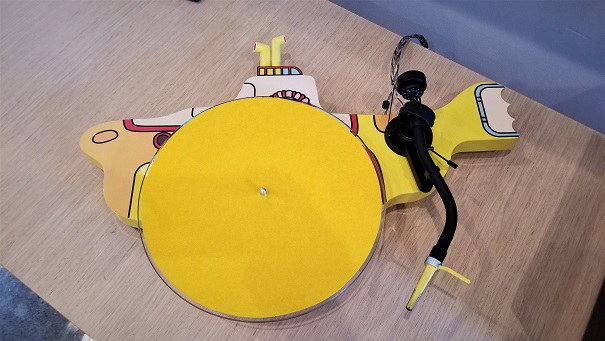 The Beatles "Yellow Submarine" by Pro-Ject turntables - La Jolla whole house audio installation
Acoustic Treatments
You may have had a friend ask "So...how do your new speakers sound?" You probably haven't had the same friend ask "So...how does your room sound?" HUH? Rooms can sound good or bad due to many elements. The room characteristics mentioned above under Tower Speakers and Bookshelf Speakers cover many of these points. You can get a room sounding better by deadening reflections, absorbing unwanted frequencies or diffusing sound. We can accomplish this with acoustic panels and treatments by various manufacturers or with our custom process.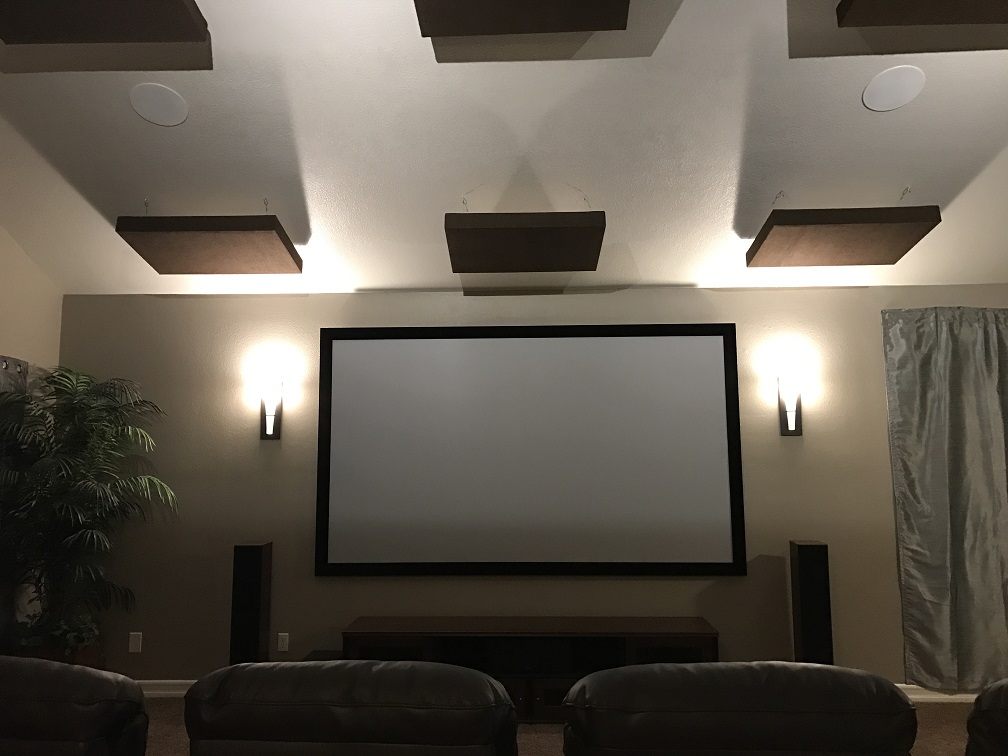 Acoustic Treatments in Temecula Home Theater Installation
High End Audio Store in San Diego
You can literally spend millions of dollars on speakers and electronics if you have the dough and the desire. We here at Aire Theater Designs would thank you thoroughly if you opted to spend these millions with us. However, just buying high end audio equipment doesn't necessarily make for the best sound possible. There is a lot of know-how that goes into making your listening room or media room sound fantastic. To capture high end audio, you want the right pairing of components, the right acoustic treatments and the right set-up. Here's some tips to make your existing or new stereo system sound its best. See our video below.