Planning: Planning is crucial for these types of projects. There are a few things that we see as a must with these types of outdoor audio projects.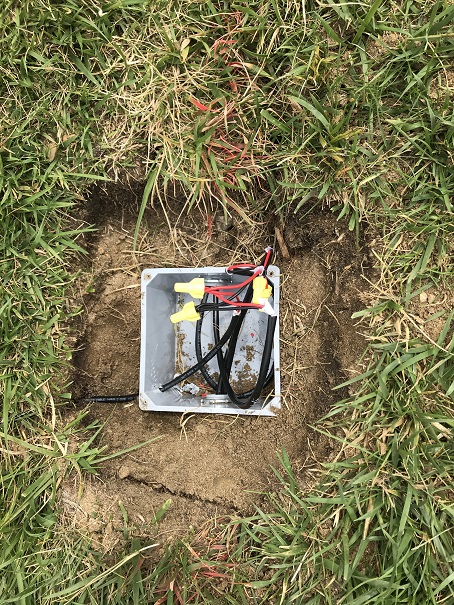 Conduit for audio wiring
Although there is outdoor speaker wiring termed "direct burial", it doesn't prevent certain types of pests from destroying it. Rats and gophers LOVE to eat wiring. Maybe it tastes like licorice to them? Running your wiring in conduit will prevent these beasts from damaging the wires and possibly your components.
Conduit path: How will your wires get from A to B? What wires go to what conduit? Having an audio expert plan this path for you will ensure that your project gets off to a good start.
Landscaper: You will probably want to hire someone to handle the conduit, trenching and re-fill and cover. You will want to make sure that the conduit isn't too small, too big, has too many bends, etc. This is where your audio design professional (US!) comes in. We can help plan and design this work. Got tile or concrete everywhere? It can be easily cut with the wires run underneath!
Equipment: The audio/video components and electronics that allow your outdoor audio to function need to go somewhere. One of most popular web searches re: outdoor speakers is "outdoor speakers bluetooth", "bluetooth outdoor speakers" and "best bluetooth outdoor speakers" so we know that lots of people are wondering if you can do this stuff without equipment and components. Unfortunately, with outdoor systems that provide sound through a large outdoor backyard space, there aren't reliable solutions that can stay outside permanently, work via Bluetooth and fill up a large area. You will need a space inside the house, a structure or somewhere for components such as amplifiers, audio streamers, WiFi access points, etc. to be housed. This stuff also needs ventilation and enclosed outdoor cabinets can cause issues with heat so the end location for the audio/video stuff is important.
Design: Some of the elements that are important are form, function and audio theory. Here's a few things to consider.
Form factor: Our initial pictures highlight some of the types of outdoor speakers that we've installed recently. We've got Bollard lighting speakers, landscape outdoor speakers, in-ground outdoor subwoofers (the one that looks like a mushroom above) and also other types that look like planters and your conventional outdoor speakers either on the wall, posts or stakes (see below).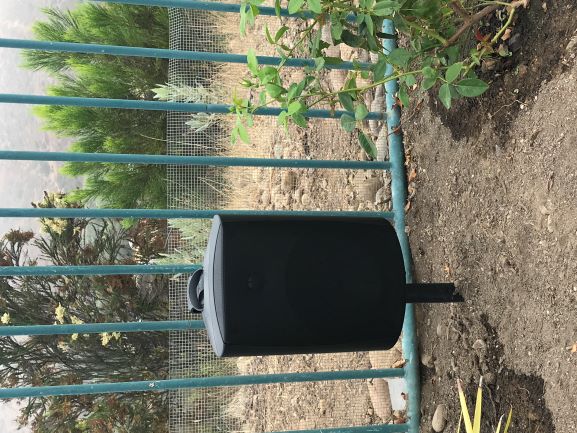 JBL outdoor speakers on stakes
Manufacturer: This isn't as important as it was 30 years ago as there are many quality manufacturers in this arena. You may have heard of outdoor speakers from Bose, JBL, Sonos and Sonance (these are our most popular web searches) but brands you might not have heard of make up many of today's outdoor audio solutions...Martin Logan, Episode, Origin Acoustics and Klipsch are some examples.
Audio theory: Speakers will sound better or worse, depending on their placement. Subwoofers will produce more or less bass, depending on where you put them. Let our professionals guide your audio design so you're getting all of the performance that you're paying for.
WiFi: Most of today's music services that people want to listen to such as Sonos, Heos, Musiccast, etc. all rely on WiFi for your phone or iPad to talk to the system. You need good WiFi and robust coverage to make this happen. Here's some WiFi ideas that you may find helpful.
Music sources: Many of today's audio systems rely on a streaming service as opposed to listening to cable TV, CDs, etc. Many people these days are looking for Sonos outdoor speakers as Sonos does a great job advertising and makes a good product. However, Sonos doesn't make an outdoor speaker solution. They do make a great streamer that we use frequently as the heart of the system. If you DO want to listen to cable TV or other sources, our solutions from Heos and Musiccast may be better choices. See below:
Confusion: Confused yet? Don't be! We design, orchestrate, install and support outdoor audio installations frequently and we'd love to enhance your life with audio. If you'd like to check out outdoor speaker solutions and need a hand in the San Diego or nearby areas, let us know and let's get you rocking!