URC SP-OD6 outdoor speaker pair (6.5" driver, 1" aluminum dome tweeter)
https://www.urc-automation.com/product/sp-od6-bl/
Klipsch AW650 outdoor speaker pair (6.5" driver, Tractrix horn tweeter)
https://www.klipsch.com/products/aw-650-outdoor-speaker
Martin Logan ML75AW outdoor speaker pair (7.5" driver, 1" titanium tweeter)
https://www.martinlogan.com/en/product/ml-75aw
NOTE: We aren't like many of the audio/video magazines that get $$$ for advertising so when they are listening to fishing line strung between two Dixie cups, they spout "OHHHHHHHHHH the highs were silky smooth yet detailed. The mid-range notes were airy, yet palpable and present…". If it sounds bad…we'll tell you.
NOTE 2: We had a late entrant to the party from Monitor Audio…more on that later.
Our listeners were Danny, Mark and Seth.
URC (company is Universal Remote Control) outdoor speaker pair: These are URC's initial offering into outdoor speakers. These are a conventional-style speaker with a dome tweeter (which gives you wider dispersion and can help people hear sound when they are not directly in front of the speaker) and standard bass driver.
Seth: "Geez…those are bad. The highs are WAY too bright and the speaker sounds really tinny. I would not buy."
Danny: "The highs are very clear and I like those a lot. The detail sounds good to me. Not too shabby."
Mark: "I don't like them."
Klipsch outdoor speaker pair: Klipsch has been popular for decades for their speakers that play LOUD and that provide a lot of impact. Their design uses a tweeter that focuses sound with a horn. This makes for more detailed sound in the 90 degree band where sound is focused as it "beams" like a flashlight. This can make for better intelligibility with vocals but doesn't do as well if you are trying to fill up a large area with sound with only a couple speakers.
Seth: "Good highs and lows. The mid-range is thin. These would sound better against a wall than out in the open (we sometimes install speakers on landscape stakes and this makes it so you don't get bass/low-midrange frequency reinforcement off surfaces). I think these are a good value."
Danny: "Good highs and lows. However, I like the high-end detail out of the URC over these. Good rap speaker.
Mark: "They're OK."
Martin Logan outdoor speaker pair: Martin Logan has been making very high-quality indoor speakers for decades. Some of these go up to $80,000/pair! These models are overbuilt with heavy cabinets (these are 2X the weight of the URC models), higher-end speaker components and fine details throughout. These have a conventional dome tweeter (wider dispersion to fill large areas) and bass driver.
Seth: "Very balanced sound throughout the whole spectrum of high/mid/low. I really like the detail in the mid-range and can hear instrumentation better through these than anything else I've heard."
Danny: "These are the best I've heard so far. Balanced. Vocals stand out and sound much more true than the others."
Mark: "These sound the best."
We also listened to outdoor speakers by Episode. These would be the result if Klipsch had a baby with URC. Fuller bass than the URC models but a slightly hollow sound.
Our winner…Martin Logan! Martin Logan was very happy to be our Grand Champion. However, you can't rest on your laurels in life or as a speaker champion. We had a late-comer to the party.
Monitor Audio CL80 outdoor speaker pair (8" C-CAM bass driver, 1" C-CAM tweeter)
https://www.monitoraudio.com/en/product-ranges/climate/climate-80/
Monitor Audio CL80 outdoor speaker pair: Monitor Audio is a British speaker company that has made excellent speakers for almost 50 years. They aren't as popular in the US as many other brands but audiophiles and others in the know REALLY appreciate their offerings.
Seth: "How are these things imaging like this? I have an entire wall of sound across the pair of these. That "wall" of audio isn't there when I put the Martin Logans in the exact same spots. Amazing detail as well. They are just a LITTLE lacking in bass but I think that reinforcement against a wall would take care of this. Absolutely the best I have heard.
Danny: Absent that day.
Mark: "These are the best."
DOWN GOES FRAZIER! DOWN GOES FRAZIER! We have a new champion and its name is the Monitor Audio CL80 outdoor speaker! As of this second, we have these on display in our audio showroom for auditions (by appointment only).
Here's a few elements and observations to consider:
Price may vary: You will see sales from time-to-time on these speakers that may determine what best works for you and your budget. Ex: The Martin Logans sell for $899/pair. If they are on sale at 25% off, it might make sense to go with them over the Monitor Audio models ($850/pair).
Bigger is better: Bigger speakers always sound better than smaller speakers as long as the quality of the drivers are similar. With that said, the Monitor Audio models are BIG (see attached picture). If you can go with larger models…do so. If you are limited on room, you may opt for other models.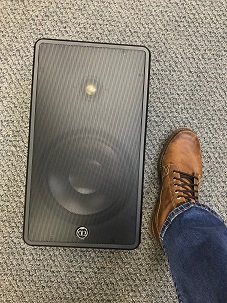 Install them near a reflective surface if possible: Placing any speaker near a reflective surface (wall, rock, etc.) gives you a noticeable increase in bass and fullness. In many instances, we install speakers on landscape stakes. This may be better for aesthetics but there may be a decrease in bass and low-midrange when you do.
Want even better audio quality?: Want higher-end audio for your outdoor entertainment area? We've got it. Our solutions from Origin Acoustics (see our Bollard speaker systems) and landscape audio options from Origin, Martin Logan and Episode sound insane! However, these options can range from $3K-30K and we wanted to concentrate on $1K and less for this article.
Our listening content included:
Led Zeppelin – "Dazed and Confused – Live at the MSG"
Covet – "Nero" from the Technicolor album
Sting – "I Burn For You – Live – 2011 Remix"
Deftones – "Needles and Pins"
DMX – "Lord Give Me A Sign"
Diana Krall – "Peel Me A Grape"
Want better outdoor speakers? Give us a call as we are truly the outdoor audio experts in San Diego and So Cal. Let us transform your outdoor living space with audio and great sound.