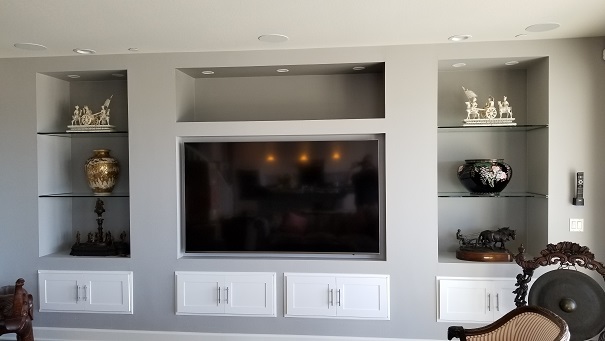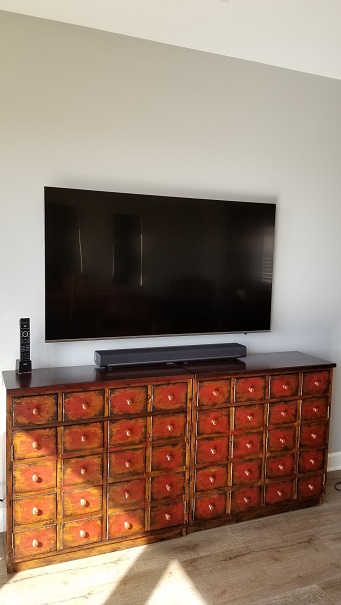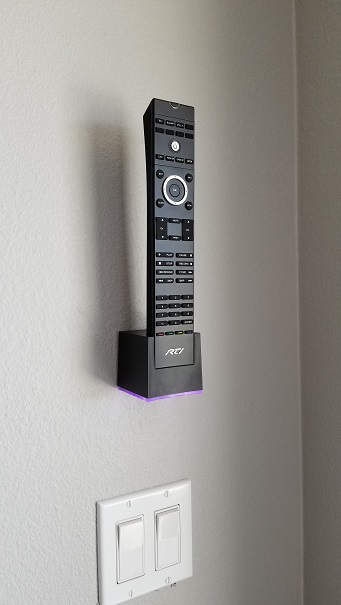 Just seven or so miles inland from the beautiful beaches of Oceanside, CA lies the pleasantly rural city of Vista, CA and the location of this Project of the Day. This project was one that we see on a semi-regular basis. It involves a newly purchased house that is going to go through some remodeling, new appliances and fixtures are going to be purchased, new texture and paint is going to be applied to every wall, new cabinets and flooring and carpet throughout, and most importantly……all new Audio/Video and Smart Home Automation gear to be installed. Once completed, this newly remodeled house transforms into a forever home, one that our customer can enjoy with her kids and her grandchildren for many years to come.
Let me take you into this project now. Our part in it started with collaboration with the contractor hired to get the house completed. A custom wall was being built which was to be the home for a new 82" Samsung TV along with custom shelving and lighting for decorations, and cabinets for all the surround sound gear and audio/video devices. Everything had to be precise as the customer wanted this front wall in the Family Room to look excellent and really stand out. As you will see below, that mission was accomplished. Once the construction was finished it was time for our team to make the magic happen and pump audio/video/smart automation life into the home! Here was my scope of work: Install (5) in-ceiling speakers and (1) subwoofer for surround sound capabilities, mount 82" TV on-wall perfectly centered in allocated TV niche, install/setup all audio/video gear in new cabinets, program universal remotes to control systems throughout the house, install/setup a Smart Lighting System, install surveillance cameras and setup the customers phone/iPad for camera viewing, install on-wall iPad docking/charging station centrally in the home for security camera viewing and smart lighting control, install multiple other TVs throughout rooms in home, and install/setup music steaming devices in multiple rooms for seamless crystal clear music throughout. Sound like a lot? Like I said earlier, we handle projects like this pretty regularly and they always turn out great. Here is the gear we provided for this fantastic project:
Samsung TV UN82MU8000            
Yamaha RX-A770
Episode Signature in-ceiling speakers
Sunfire HRS8 Subwoofer
RTI RP-4 processors 
RTI T1-B+ Universal Remotes
Lutron RA2 Select Lighting
iPad Launchports
Samsung TV UN65MU8000
Samsung TV UN55NU8000
Ring Cameras w/ Solar
Ring Doorbell Camera
SONOS Playbar                             
SONOS Play5                                   
SONOS Play3
I would say the most important element of this project that I want to highlight is the level of precision carried out by our highly qualified home theater installation team. It was extremely important to our customer that everything look very clean and precise. She didn't want one single wire showing or for anything to look like it was out of place. Basically, she wanted everything to look as if it custom-built into the house and not an add-on that was thrown together after the house was completed. After a few long days of measuring twice-cutting once, so to speak...we finished. The result was perfect, at least those are the words that our customer used. Using the RTI Universal remotes, she is able to easily control the TV and surround sound system with a single button press, she can look at all her Ring Security Cams from her phone or the iPad we installed on the hallway wall, she can turn on/off her Lutron lights from her phone/iPad so she doesn't have to wander around in the dark trying to find the light switch in the middle of the night, pre-selected lights turn on automatically when she pulls into her driveway if it happens to be after sunset, she can stream crystal clear music from all her music streaming accounts (Pandora, Amazon, Apple Music, etc) in multiple areas of her home. I was very happy we could deliver exactly what our customer had envisioned. One more thrilled customer and one more awesome project completed by Aire Theater Designs.
Vista, CA home theater installation is here! Aire Theater Designs proudly serves all of San Diego County, CA including Del Cerro, Allied Gardens, Talmadge, Kensington, Hillcrest, Mission Valley, Fashion Valley, La Mesa, El Cajon, Blossom Valley, Lake Murray, North Park, Balboa Park, Clairemont, Kearny Mesa, Mission Bay, Mission Beach, Pacific Beach, Ocean Beach, Point Loma and Downtown San Diego. We also gladly serve those in North San Diego County which includes Carlsbad, San Marcos, Vista, CA, Elfin Forest, Oceanside, Escondido, Encinitas, Cardiff CA, Torrey Pines, Carmel Mountain, Coronado, Solana Beach, Alta Del Mar, Del Mar, Olivenhain, Fairbanks Ranch, Rancho Santa Fe, 4S Ranch, Santaluz, La Jolla, Poway, and Rancho Bernardo. Blossom Valley, Alpine, La Mesa and El Cajon...we're here too.