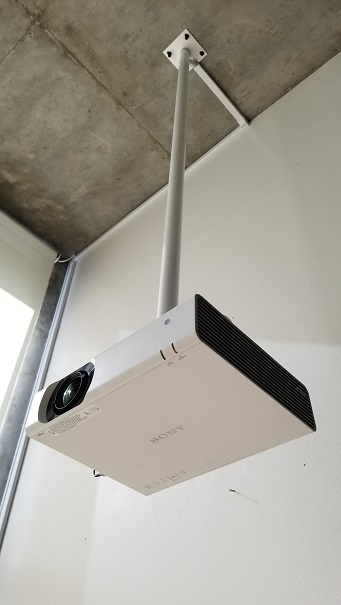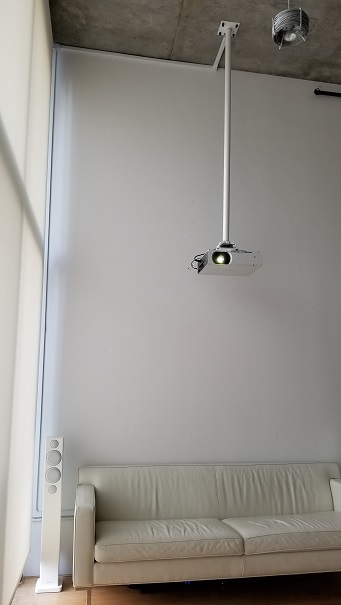 Today's project took our home theater installation team to downtown San Diego. Right around the corner from the San Diego Padres' Petco Park, our customer lives in a 7 story building. Working downtown has its challenges in itself, but even more so when you are working on the 7th floor of a building. We have to deal with things such as 2-hour parking meters, gaining entry into secured locked lobby doors, running up 7 flights of stairs with a fiberglass 10' ladder because it doesn't fit in the elevators, etc. The biggest challenge that we faced on this job in particular though is the fact that all the walls and ceiling are made of super-dense concrete and that the ceiling was 15' high. Extra care needs to be taken when mounting anything to concrete to ensure the safety of our customers and the integrity of the install. There are different obstacles and challenges we face on every job and that is what makes our job so gratifying and just plain cool when all is said and done. We gladly and enthusiastically face these challenges because that is what we do and what separates us from the rest of the San Diego smart home companies out there (we think).
Let's dive in to some of the particulars of this project. My scope of work was to: mount a projector that would hang down from a 6 ft. pole which would be mounted to the concrete ceiling, install wire molding that would run from the projector pole, across the ceiling, across the top of the wall and ceiling, then down the corner of the wall and over the gear location, run the appropriate cables from gear to projector through the wire mold, set up the audio/video receiver/tower speakers/subwoofer, and program a universal remote to control everything.
Here is all the great audio/video equipment we rounded up for this install:
Sony VPL-CH370 projector
Monitor Audio Radius 270 tower speakers
Definitive Technology SuperCube 2000 subwoofer
Yamaha RX-V383 Audio/Video receiver
Chief projector mount w/ pole
Optical HDMI cables
URC MX990 universal remote w/ URC MRF350 RF base station
The primary challenge of this project was going to be mounting the 6 ft. pole to the 15 ft. high concrete ceiling securely and safely, all the while keeping the aesthetics in mind and in line with the customer's wants. This was a little tricky and to be honest, a little nerve-racking atop a 10' ladder drilling into concrete above my head. Once this was done we were able to use secure concrete anchors and get the pole mounted along with the projector. It turned out great and looked incredibly clean and precise. After the mount and running the cables in the wire mold, the rest of the audio/video project was a piece of cake. The audio/video system with just 2 speakers and a subwoofer (normally we add at least 5 speakers in a surround sound set-up but this room didn't allow for this) sounded FANTASTIC! We were able to finish in the one day and didn't need to use the 2nd day that we allocated for this install, saving our customer some money in labor (always a good thing!). In the end I was very glad with how clean it all turned out but more importantly, our client was thrilled and extremely happy.
San Diego Home Theater specialists are here! Aire Theater Designs proudly serves all of San Diego County, CA including Del Cerro, Allied Gardens, Talmadge, Kensington, Hillcrest, Mission Valley, Fashion Valley, La Mesa, El Cajon, Blossom Valley, Lake Murray, North Park, Balboa Park, Clairemont, Kearny Mesa, Mission Bay, Mission Beach, Pacific Beach, Ocean Beach, Point Loma and Downtown San Diego. We also gladly serve those in North San Diego County which includes Carlsbad, San Marcos, Vista, CA, Elfin Forest, Oceanside, Escondido, Encinitas, Cardiff by the Sea, Torrey Pines, Carmel Mountain, Coronado, Solana Beach, Alta Del Mar, Del Mar, Olivenhain, Rancho Santa Fe, 4S Ranch, Santaluz, La Jolla, Poway, and Rancho Bernardo. Blossom Valley, Alpine, La Mesa and El Cajon...we're here too.