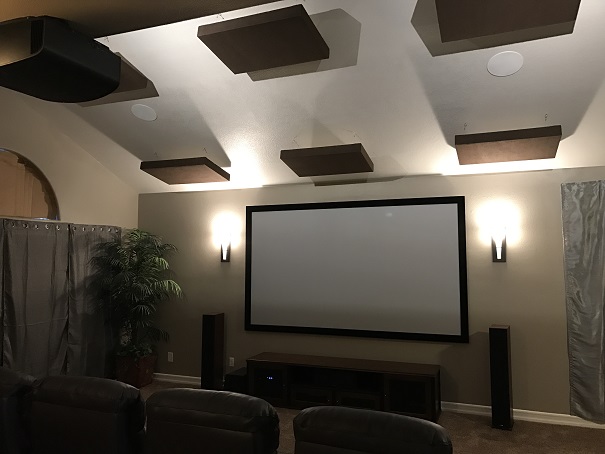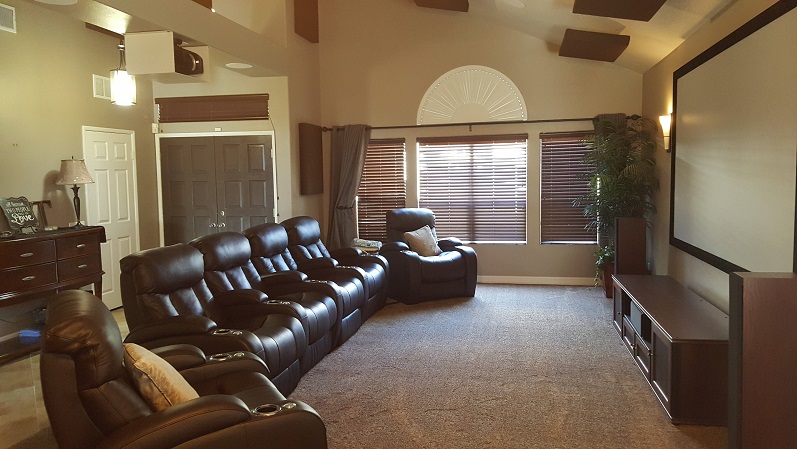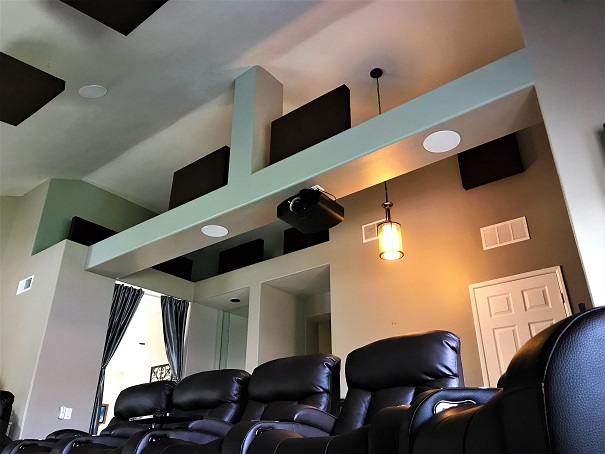 Right in the middle of Temecula Valley's renowned Wine Country lies the residence of this Project of the Day.  I am extra proud of this job as it definitely had its challenges and had, what I like to call, a Big Cool Factor to it.  We were presented with an idea… a vision the customer had of transforming the Living Room in his house into a Theater Room for the whole family to enjoy.  This is the thing movie fanatic's dream of, a theater built into your home!  How great is that?!  Being that the customer enjoyed crystal clear picture and great sound when watching movies, we had to design a killer system that looked and sounded the part of an actual movie theater. We nailed it right on the head, as well as throwing in a couple extras we surprised our customer with!  Let me take you into this spectacular project now so you can get a feel for what it took to get it done, and how it all turned out upon completion.
Our scope of work: Mount the projector, mount the fixed projector screen on-wall, build audio/video gear furniture piece, install all gear into furniture piece and setup, install (6) in-ceiling speakers for Dolby Atmos setup, setup tower speaker and center channel speaker, program a control system, mount (14) acoustic panels, and finally, and also the surprise, install and setup an Alexa for voice system automation.  Here is the list of all the great products we provided for this Custom Home Theater System:
Sony 4K Projector
Dragonfly projector Screen
Yamaha RX-A2060 audio/video receiver
Oppo BDP203 Blu-Ray player
Monitor Audio Silver center channel speaker
Monitor Audio in-ceiling speakers
URC Total Control processor
URC Total Control universal remote w/iPad universal remote
Wattbox line conditioner
Salamander Synergy audio/visual furniture
Paradigm tower speakers
GoldenEar 12" powered subwoofer
As you can see, we had excellent gear to make this dream project happen.  Projects like this always have their obstacles to overcome though.  The biggest obstacle we had to deal with was how and where we wanted to mount the acoustic panels for the best acoustic results.  You see, the room was pretty live, meaning sound bounced around pretty bad, which is very bad for quality sound.  By carefully designing a layout for the 3'x4' panels, we were able to improve the acoustics of the room DRASTICALLY.  It was awesome.  The 6 panels that we hung from the ceiling were the most tedious for sure.  I wanted to create a really cool look and feel to the room and still deliver the sound dampening performance that we needed.  So I hung them from the ceiling at a slight angle, using thick piano/mirror wire and hooks.  It turned out looking spectacular.  Once everything was said and done, the customer couldn't have been more thrilled.  The crystal clear picture of the Sony 4K projector along with the Dolby Atmos Surround Sound setup made this living room turned movie theater look and feel like the real thing!  Yet another successful custom project completed for ATD.
~P.S.~ Do you see the cool looking beam that the projector is mounted to?  At the beginning of the project, none of that was there.  It was just a huge vaulted ceiling.  We worked hand-in-hand to complete the needed home theater design with the customer and the contractor so that the media room would deliver the look and feel the customer was looking for, yet also give us the functionality we needed for the home theater system.  Fun stuff!