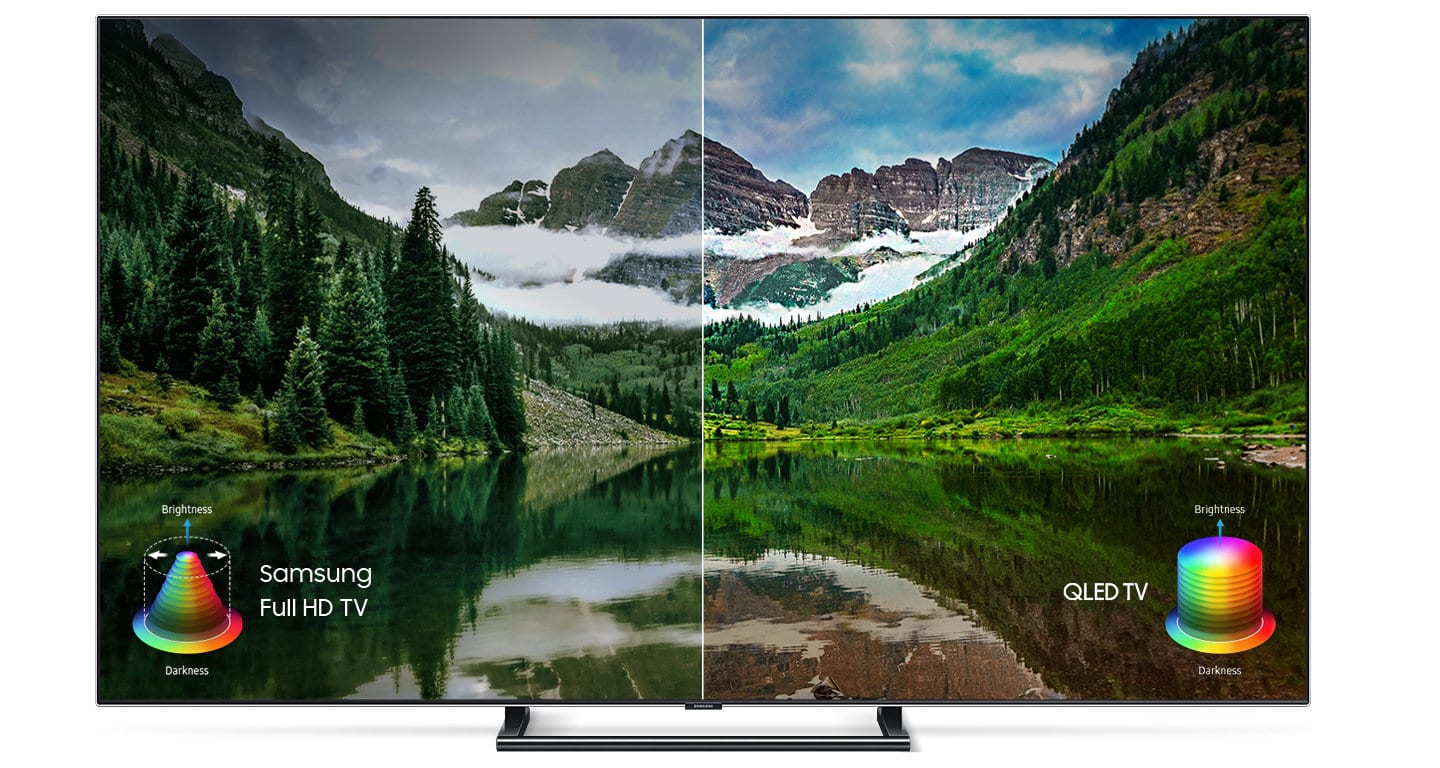 Samsung QLED TVs are found here! San Diego authorized Samsung dealer
Got a seating area relatively in front of your TV? Want a bright picture with incredibly vivid colors? Want an excellent picture but don't want to spend 1.5-2X the price for today's OLED TVs? If so, read on for the details about Samsung's Q series TVs. We proudly offer these in sizes from 49"-88" diagonally. NOTE: MANY OF THESE HAVE HUGE MARK-DOWNS BEFORE THE SUPER BOWL!
In our industry, Samsung has always been known for their incredibly bright LED TVs along with their eye-popping brilliant color capabilities.  In today's market, that has not changed. Samsung has stunned the industry again with their new line of TVs, creating new exciting proprietary technology that you can really see and enjoy.  The Q-Series TVs are arguably one of the best LED TVs on the market due to their newly developed Quantum Dot technology.  This technology really distinguishes the Q-Series TVs from any of their other LED TV models, and really, from any other LED TV on the market.  Here are a few of the key details that these amazing TVs offer.
The main defining feature is the Quantum Dots themselves.  Samsung Quantum Dots are nano-sized, cadmium-free, finely tuned particles that turn light into a brilliant billion+ colors.  Quantum dots are inorganic particles that resist wearing out so you can enjoy superb picture quality for years.  These dots allow for 100% color volume at full brightness.  Often times colors lose their vibrancy and feel in bright scenes or as the TVs brightness is increased, but is not the case with Samsung's Q Color.  With Q Contrast you get awesome depth and detail with super deep blacks which is really important to achieve a great looking life-like picture.  Q HDR (powered by HDR 10+) is what really brings the Q Color and Q Contrast together.  HDR10+ technology allows images, scene-by-scene, to be individually processed for an optimized visual experience – a perfect blend of the billion+ colors with depth and detail.  It truly allows you to see the content just as the creator or producer intended it to be seen.
Samsung truly raised the bar with its Quantum Dot Q-Series TVs.  They offer a visual experience that stands out from the rest.  We recommend this TV as a great option for most situations.  The only drawback to this TV is while viewing from an angle.  There is a noticeable drop in color brilliance and vibrancy in this situation.  If your seating arrangement is relatively straightforward and in front of the TV, this is an excellent 4K TV option.  If you in fact do have some seats at an angle to the TV, we do offer an alternative for that particular arrangement.  Please give us a call so we can get you set up with one of the superb Samsung Q-Series TVs today!
San Diego QLED TV experts Aire Theater Designs proudly serves all of San Diego County, CA including Del Cerro, Allied Gardens, Talmadge, Kensington, Hillcrest, Mission Valley, Fashion Valley, La Mesa, El Cajon, Blossom Valley, Lake Murray, Friars, North Park, Balboa Park, Clairemont, Kearny Mesa, Mission Bay, Mission Beach, Pacific Beach, Ocean Beach, Imperial Beach, Pt Loma and Downtown San Diego. We also gladly serve those in North San Diego County which includes Carlsbad, San Marcos, Vista, Elfin Forest, Oceanside, Escondido, Encinitas, Cardiff by the Sea, Solana Beach, Alta Del Mar, Del Mar, Olivenhain, Rancho Santa Fe, 4S Ranch, Santaluz, La Jolla, Poway, and Rancho Bernardo. Blossom Valley, Alpine, La Mesa and El Cajon...we;re here too.