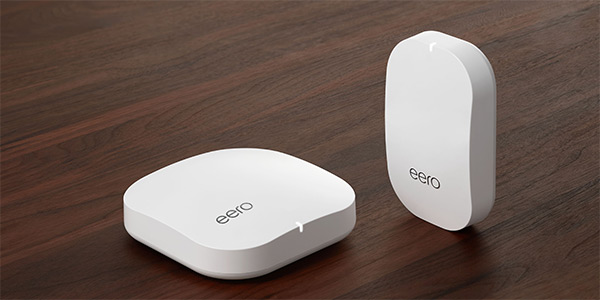 Want better WiFi San Diego? Eero Pro is the answer!
What are 3 things that we do as humans in the year 2018? In our opinion, these are eat, sleep and rely on WiFi. Unfortunately, many of us aren't doing too well with #3 and have to deal with BAD WiFi coverage, drops in WiFi signal and slooooooooooooow playback with Netflix and other streaming applications. In the past, getting solid and reliable WiFi could cost thousands of dollars. We've become fans recently of a newer WiFi company that may have finally gotten it right. This company is called Eero and they occupy a new place in our WiFi line-up.
For our clients, we want WiFi to be robust, to be easy to manage and to be reliable. You may have read our earlier article on Apple vs. Eero where we weren't big fans of Eero's products:
https://www.airetheaterdesigns.com/blog/item/175-san-diego-eero-wifi
Eero recently came out with a Generation 2 line-up of products and we were anxious to test them out. There were some things we liked about Eero previously but at that time, we felt that they weren't quite ready for prime time. Present day: Regarding our 3 needs above:
Robust: We hooked up one of the Eero Pro WiFi router units in our showroom and set it up as our main router. We then walked out our front door, travelled downstairs and plugged a 2nd unit into an AC outlet. We then started walking outside our business wondering just how far we could get from our store while maintaining good WiFi speeds and coverage. We got about 80 YARDS from our office and still had decent speeds. This was way above our expectation and got us excited about further testing.
Easy to manage: All network products lose a WiFi signal or drop connection with your wired Ethernet network from time-to-time. This is just a part of WiFi life. However, until you get into BETTER>BEST level WiFi products (this means $$$ in the thousands), there isn't a way to easily determine what products are working and which aren't. If you're not a techy guy/gal, this can be very frustrating. However, Eero has solved this! Eero provides an app that allows us as WiFi professionals to monitor your network and to see if any units aren't functioning! Here's an instance of what happened the other day. Example: I got a notification the other day that one of our clients had an issue with their WiFi network. This was AUTOMATICALLY sent from Eero. I called this client and let her know that one of her 3 Eero units was off-line. After being amazed for a minute or two, she mentioned that they had unplugged it while they were painting. She also mentioned that her WiFi wasn't great in the other areas and now she knew why. This type of visibility allows us to provide much better service to our clients.
Reliability: What do you do when Eero units need to be power-cycled? You do NOTHING! As long as it isn't the piece wired to the modem, the Eero units power-cycle themselves AUTOMATICALLY! Take it from someone that answers MANY phone calls every day with the same response; "Unplug it…wait 30 seconds and then plug it back in"…this is extremely helpful to ensure that you as a client have a reliable and non-frustrating Internet experience. See our link below about power-cycling.
https://www.airetheaterdesigns.com/blog/item/190-computer-help-san-diego
After our time with Eero...we're sold and we're now dealers. If you want better WiFi, let us help you make the right choice regarding your WiFi products and installation. NOTE: These things don't install themselves. Our network specialists can make this EASY for you. Life's too short for bad WiFi…give us a call. Aire Theater Designs – Better audio, video and WiFi.