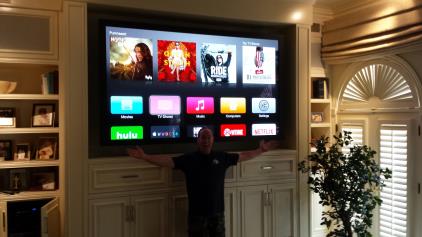 Fairbanks Ranch Surround Sound Installation - 103 inch plasma television
We love our job and like to point out cool elements of what we do. This particular project utilized a Panasonic 103" plasma TV (along with multiple surround sound systems, a home theater, outdoor audio and video screens, MANY MANY MANY speakers and RTI universal remotes in each room to make things behave). If you aren't familiar with this behemoth, it is the biggest plasma TV ever sold commercially and if you aren't a competitive weightlifter, you aren't budging the thing. It comes in at over 500 pounds! It provides fantastic brightness and contrast for someone that wants a BIG picture but doesn't want the image to get washed out like conventional projection systems tend to do during the day.
If you live in Rancho Santa Fe and would like assistance with any of the below (or you want a 103" TV), feel free to give us a call. We sell all of the below at competitive prices and better yet, we come to you!
Surround sound
2 channel audio
Flat screen installation
Dedicated home theater design and or/installation
Universal remotes
Smart home installation and home automation
Security cameras
Improved wireless network or whole-house WiFi
We are Rancho Santa Fe and Fairbanks Ranch specialists at providing better audio, surround sound, home theater, smart homes and home automation!
Fairbanks Ranch surround sound and Fairbanks Ranch Home Theater specialists are here! Aire Theater Designs proudly serves all of San Diego County, CA including Del Cerro, Talmadge, Kensington, Hillcrest, Mission Valley, Fashion Valley, La Mesa, El Cajon, Blossom Valley, Lake Murray, North Park, Balboa Park, Clairemont, Kearny Mesa, Mission Bay, Mission Beach, Pacific Beach, Ocean Beach, Point Loma and Downtown San Diego. We also gladly serve those in North San Diego County which includes Carlsbad, San Marcos, Vista, CA, Elfin Forest, Oceanside, Escondido, Encinitas, Cardiff CA, Torrey Pines, Carmel Mountain, Coronado, Carmel Valley, Solana Beach, Alta Del Mar, Del Mar, Olivenhain, Fairbanks Ranch, Rancho Santa Fe, 4S Ranch, Santaluz, La Jolla, Poway, and Rancho Bernardo. Blossom Valley, Alpine, La Mesa and El Cajon...we're here too. Home by Pardee, Shea, Lennar or other builders? We can help!