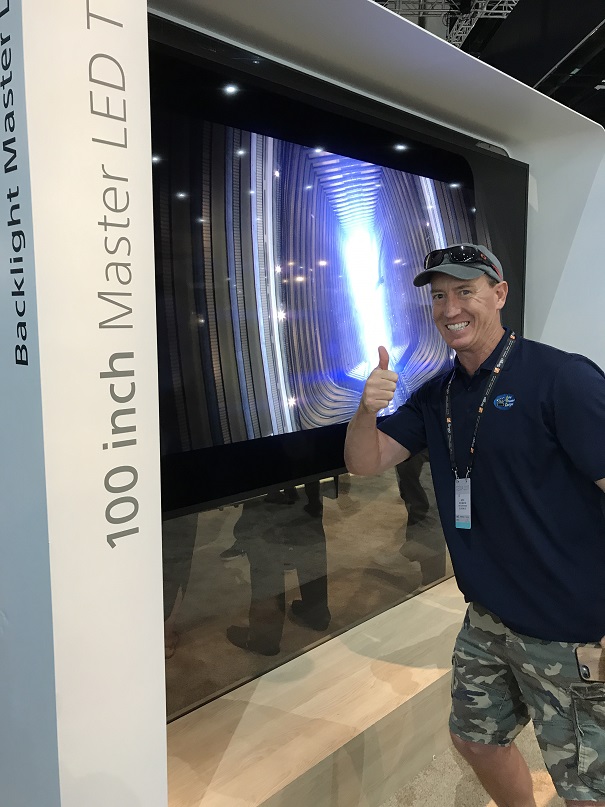 Sony 100" 4K LED TV - One of the biggest TVs you can buy!
Ready for a BIG TV? Do you have any interest in getting the biggest TV you can buy? How about the INSANELY HUGE HD display that the Dallas Cowboys rock in their stadium? It's a 1680" screen that cost $40 million from start to finish to make and install. I know what you are saying...probably too big for your Great Room or Family Room right? How about this then? Our entire team got to see firsthand Sony's 100" XBR100Z9D TV and it looked amazing! It also has a much more reasonable price tag of just $59,999.99. If that is still too big or the budget is too ridiculous, here's some other options to up your TV game. NOTE: Some of our "Best Buys" are highlighted.
Sony:
77" XBR77A1E OLED 4K TV: $17,999.99
75" XBR75Z9D reference 4K LED TV: $8,999.99
85" XBR85X850D 4K TV: $5,999.99
Samsung:
75" QN75Q7F Quantum Dot 4K TV: WAS $5,999.99 / NOW $3,999.99
82" UN82MU8000 4K LED TV: WAS $4,999.99 / NOW $3,799.99
LG:
77" OLED77W7P Reference OLED 4K TV: $14,999.99
77" OLED77G6P High-End OLED 4K TV: WAS $19,999.99 / NOW $10,999.99
86" 86SJ9570 BIG and BAD 4K TV: WAS $7,999.99 / NOW $6,999.99
Want the biggest TV you can buy? You're in the right place. Let San Diego's BIG TV experts steer you towards video alchemy as well as a heck of a GIANT TV. We've been helping clients with "Better Audio, Video and Home Automation" for almost 12 years. NOTE: TV pricing changes from day-to-day. Check with ATD for up-to-date prices.