2020…this year has really been a bummer. One of the only good things we've seen from it are some of Sonos's new products! Sonos has some fantastic new products for 2019 and 2020 that have made listening to your favorite music more impactful, easier and better-sounding than ever. Listed below are two of our favorite new Sonos products; the Sonos AMP powered streaming amp and the Sonos ARC reference soundbar.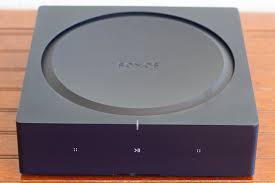 Sonos AMP - $649.00: This piece has become our go-to when powering areas of audio, especially when these areas are separated from where all of the audio/video equipment is housed. In the past, you would need to walk to where all of the equipment was located, pick your music, push a few more buttons to make speakers in other areas play and then walk back to the area you wanted to listen in. Now, you can be in any room with speakers, touch a few buttons on your phone and you're rocking! This is great for outdoor areas or large homes where the equipment is located in a room/closet that is far away.
The included 125 watt X 2 channel amplifier is powerful enough to drive most speakers on the market. In fact, this will make most existing audio systems sound MUCH better than they currently do. This is because many existing whole-house audio set-ups are using amplifiers that deliver 5-30 watts/channel to the speakers. This increase in power from using the Sonos AMP will in most cases, give you better bass, clearer highs and more-defined sound. NOTE: If you already have amplifiers or a surround sound receiver, you can use the Sonos PORT streaming device to provide these streaming services without the power that the AMP provides. The Sonos AMP also includes the Sonos "brain" which gives you access to almost every app known to Man such as Spotify, Pandora, iHeart, Apple Music, etc. You can use Sonos AMPs to power different areas of the house or landscape. If you opt to do this, each area can either have its own source (ex: one room could have "The Smiths" on Spotify while another room has "The Beatles" station on Pandora) OR you can touch a button and all of the areas are playing the same thing! This is great for gatherings or parties.
NOTE: When using the AMPs in large homes or in spacious backyard settings, you need to ensure that your WiFi network is sufficient to provide adequate range and bandwidth. See our article HERE that discusses a great WiFi network.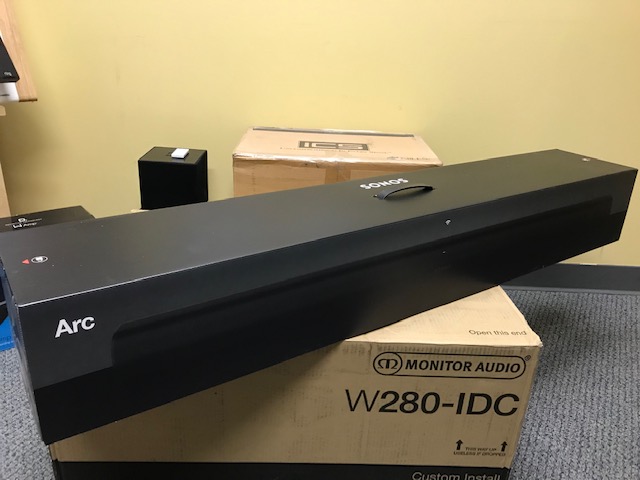 Sonos ARC - $799.00: The Sonos ARC is their new soundbar for 2020 that replaces the Sonos PLAYBAR model which was their staple for many years. This 8 woofer, 3 tweeter, 11 channel marvel sounds fantastic, allows you to play the Sonos music sources detailed above and can be incorporated into surround sound set-ups with the separate Sonos SUB subwoofer and Sonos ONE rear speakers. The limitation of most soundbars in the past is that they have frankly, sounded middling at best. Thin mid-range, minimal bass and operational issues have been the norm (the need to power cycle cheapy soundbars is very common…this is when they lock up, won't do anything and you have to unplug them/plug them back in to get them to work). This isn't the case with Sonos. The Sonos ARC can provide GREAT sound in a soundbar format, which can be cheaper and easier to wire than a conventional surround sound system. We give it two thumbs up!
Looking to see how Sonos can enhance your life with music? Call us! We are the experts on Sonos 2020 products AND everything they've ever made! We also have Sonos on display in our by-appointment only San Diego showroom.
Sonos experts are here! We've been selling Sonos since it came out! Aire Theater Designs proudly serves all of San Diego County which includes Del Cerro, Talmadge, Kensington, Hillcrest, Mission Valley, Fashion Valley, El Cajon, Blossom Valley, La Mesa, Lake Murray, Friars, North Park, Balboa Park, Clairemont, Kearny Mesa, Mission Bay, Mission Beach, Pacific Beach, Ocean Beach, Point Loma and Downtown San Diego. We also gladly serve those in North San Diego County which includes Carlsbad, San Marcos, Vista, Elfin Forest, Oceanside, Escondido, Encinitas, Cardiff CA, Solana Beach, Del Mar, Cielo, The Bridges, The Crosby, The Lakes, Torrey Pines, Alta Del Mar, Carmel Mountain, Carmel Valley, Coronado, Fairbanks Ranch, Rancho Santa Fe, 4S Ranch, Santaluz, La Jolla, Poway, and Rancho Bernardo. Need help in Murrieta, Wildomar, Temecula, Fallbrook or Bonsall...we're there too. House by Pardee, Shea, Lennar or other builders? We can help!