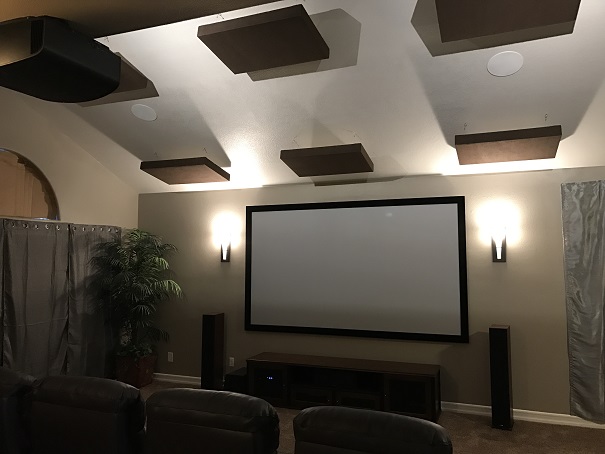 Home Theater w/Acoustic Panels and Dolby Atmos
"Best Home Theater in San Diego"...That's a lofty title, isn't it? We want to bring up a point about today's home theaters and smart homes. In most cases, the best home theater doesn't necessarily have as much to do with the quality of the components as much as it does the actual set-up, calibration and then the reliability. We're going to focus on the reliability and follow-up aspect here. When you add a home theater or smart home solution to your house these days, we feel that it is VERY important to go with a company that will be around in the future and that has methods to help you remotely. Here's a couple quick points about us that address this.
"Are you going out of business" - Our recommendation for a home theater company would be one that has been around locally for a long time AND that has some form of brick & mortar presence or established showroom. Without either of these factors, it is very likely that these businesses won't be around for the long haul. We have seen dozens of these home theater companies go out of business over the last decade. If you opted to go with one of these audio/video "businesses", you may now be lacking crucial support or warranty options.
With us...no such issues. We've been around since 2006 and have a by-appointment showroom here in San Diego.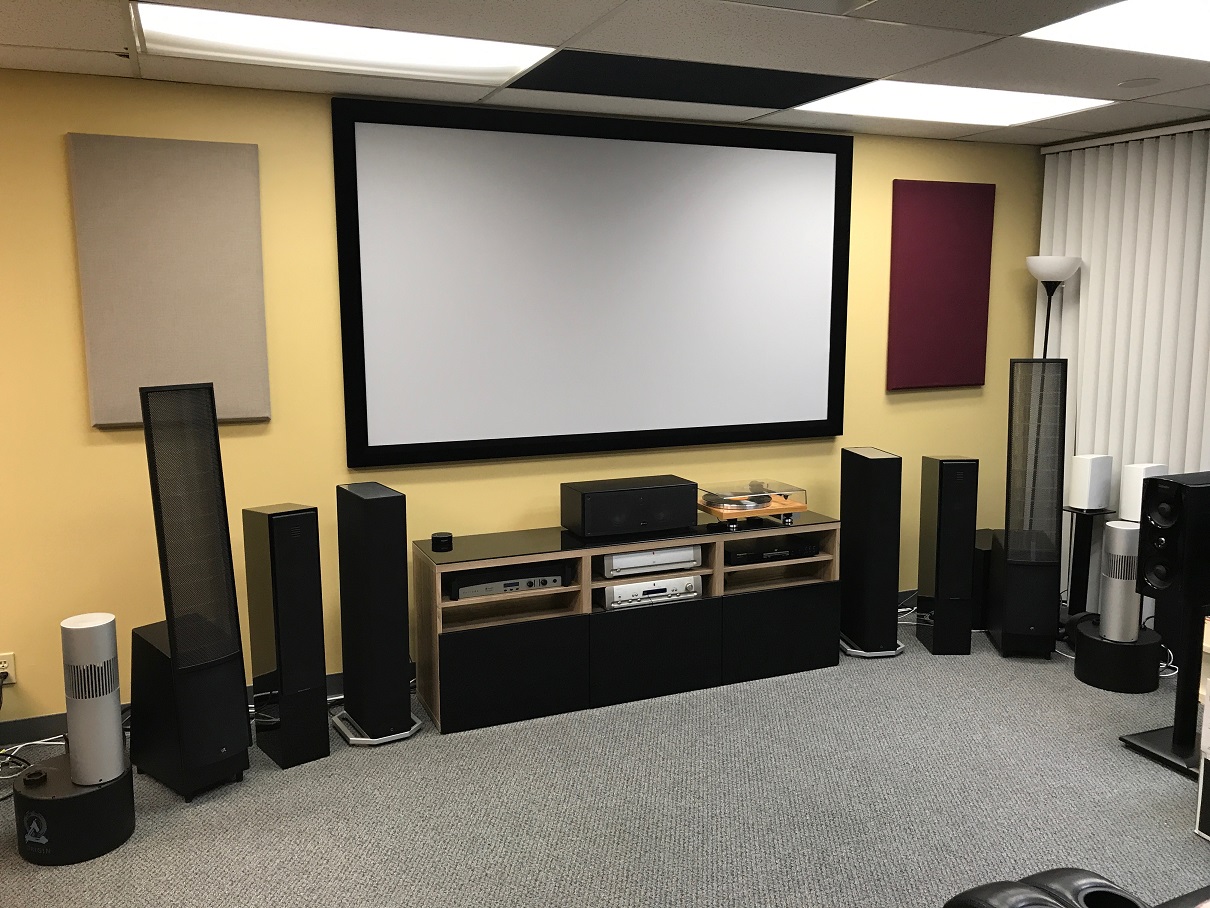 Home Theater Showroom with Def Tech, Monitor Audio, Martin Logan, Episode, Origin Acoustics and more!
"My XYZ stopped working" - Today's systems and devices are amazing in what they provide but unfortunately aren't anywhere as near as reliable as they were in the past. There are two components to this. First, most devices today rely on your wired or WiFi network. For this reason, insufficient network strength, WiFi drop-outs or provider issues can make it where your audio/video/home automation equipment just won't function. For this reason, we only install WiFi systems that let us see remotely what is going on with your system. Netflix won't work...we know why. Remote control stopped functioning...no problem. iPad won't connect...here's the solution. This eliminates all of the guesswork and normally lets us address isssues in minutes...not hours or days.
We also have the ability to either power-cycle components automatically or we provide a simple way for you to reset the power simply to all of your components. The biggest issue we see from day-to-day is certain components locking up due to power issues. This includes cable boxes, satellite boxes, DVD players, remote control processors, Smart TVs, etc. Without knowing what cable to pull out, this can turn into a total nightmare. Our automatic or self-managed solutions make this a breeze! See link below.
https://www.airetheaterdesigns.com/blog/item/236-audio-video-troubleshooting-and-help-with-netflix
There are a BUNCH of other reasons that we call ourselves the best home theater company in San Diego. Interested in finding out how we can help you? Give us a call!
The best home theater company in San Diego is here. Aire Theater Designs proudly serves all of San Diego County which includes Del Cerro, Talmadge, Kensington, Hillcrest, Mission Valley, Fashion Valley, El Cajon, Blossom Valley, La Mesa, Lake Murray, Friars, North Park, Balboa Park, Clairemont, Kearny Mesa, Mission Bay, Mission Beach, Pacific Beach, Ocean Beach, Point Loma and Downtown San Diego. We also gladly serve those in North San Diego County which includes Carlsbad, San Marcos, Vista, Elfin Forest, Oceanside, Escondido, Encinitas, Cardiff CA, Solana Beach, Del Mar, Cielo, The Bridges, The Crosby, The Lakes, Torrey Pines, Alta Del Mar, Carmel Mountain, Carmel Valley, Coronado, Fairbanks Ranch, Rancho Santa Fe, 4S Ranch, Santaluz, La Jolla, Poway, and Rancho Bernardo. Need help in Murrieta, Wildomar, Temecula, Fallbrook or Bonsall...we're there too. House by Pardee, Shea, Lennar or other builders? We can help!