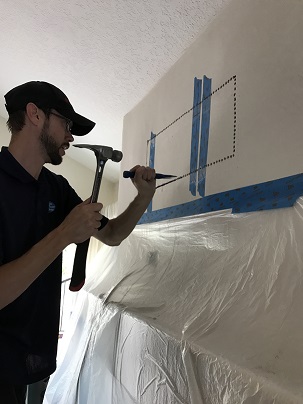 Flat screen installation on concrete
Reason #7 why we offer the best home theater installation in San Diego: Remote monitoring and troubleshooting.
This home theater stuff has changed a LOT over the last 20 years. It used to be that when we were setting up a home stereo system, we would get your tape deck, turntable and receiver in place and the maintenance consisted of dusting your components every couple years. Now, it is a totally different world with firmware updates, software updates, voice control, power-cycling, Wi-Fi compatibility and 50 other things that can make your audio/video system get out-of-whack. Here's what we do to keep your smart home and stereo components working and to keep you smiling.
Remote visibility: We install Wi-Fi systems from Eero, Luxul and others that allow us to "see" what is going on from afar. This lets us troubleshoot remotely when you are having issues and allows us to fix most issues right over the phone. See link below about a recent fix we performed for one of our clients.
Power resets and our friend BOB: Power-Cycling.
Q: How do you become an IT professional? A: Learn how to pick up the phone and say "Did you unplug it from the power?" Almost every one of our troubleshooting calls are fixed by some form of unplug-it-and-plug-it-back-in-again. However, how do you know what to unplug with all of those cables? Our remote IP-controllable power pieces and our BOBs make this EASY. See link below.
EASY audio/video troubleshooting
This surround sound and smart home stuff should be fun. If it has been frustrating for you in the past, give us a call and find out the many reasons that we provide the best home theater installations in San Diego. Better audio, video and smart homes start here.
The best Home Theater in San Diego experts are here! Aire Theater Designs proudly serves all of San Diego County, CA including Del Cerro, Allied Gardens, Talmadge, Kensington, Hillcrest, Mission Valley, Fashion Valley, La Mesa, El Cajon, Blossom Valley, Lake Murray, North Park, Balboa Park, Clairemont, Kearny Mesa, Mission Bay, Mission Beach, Pacific Beach, Ocean Beach, Point Loma and Downtown San Diego. We also gladly serve those in North San Diego County which includes Carlsbad, San Marcos, Vista, CA, Elfin Forest, Oceanside, Escondido, Encinitas, Cardiff by the Sea, Torrey Pines, Carmel Mountain, Coronado, Solana Beach, Alta Del Mar, Del Mar, Olivenhain, Rancho Santa Fe, 4S Ranch, Santaluz, La Jolla, Poway, and Rancho Bernardo. Blossom Valley, Alpine, La Mesa and El Cajon...we're here too.