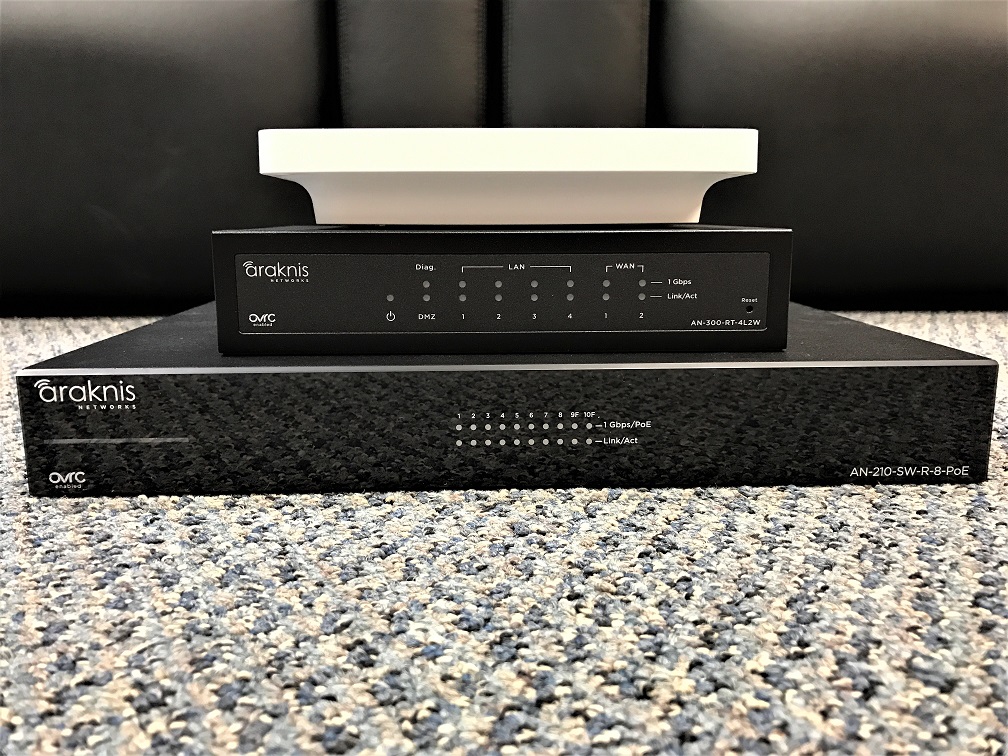 Use Hughesnet with one of our Araknis routers and access points for better WiFi
We have received some frantic calls recently concerning Internet service.  Some of these people bought new homes and found out afterward that the area they moved to didn't have cable service.  They were only able to get Dish or DirecTV for their TV service and DSL for their internet with a max of 3 Mbps download maximum (in some areas, internet speeds can be even lower).  There was another person who called who said that they literally had NO solution for internet at all.  Rancho Santa Fe...you hear about the beautiful homes and large properties but did you know they have the slowest Internet in San Diego? Additionally, some communities that have older homes also have older outdated lines and cables running through the streets, delivering incredibly slow internet speeds and cable issues.  Fortunately, there now is a solution.
There is a company by the name of HughesNet which provides satellite internet.  That's right, I said satellite internet……different from satellite TV.  It is the #1 choice for satellite internet and the company has an A+ BBB rating.  HughesNet services homes from coast-to-coast and EVERYWHERE in between.  So if you are in one of the situations I mentioned above, we have you covered! HughesNet just recently came out with their new service, Gen5.  This gives their customers speeds of up to 25 Mbps download and 3 Mbps upload.  This is enough speed to handle your streaming needs such as Pandora, Netflix, or Hulu and more than enough to browse the internet and check your emails and what not.  The service plan includes a dual band WiFi router that can get you going on WiFi right away.  Aire Theater Designs can then come in and beef up the WiFi signal so that you are getting maximum coverage across your entire property.  And the best part of all is the low monthly cost.  They have plans with the 25 Mbps download speed that start at a low price of $49.99/month.
So wherever you live, not matter how rural it may be…..YOU DON'T HAVE TO LIVE WITHOUT INTERNET.  Give us a call and we can help you get Internet in your home right away.  If you have incredibly slow internet speeds and don't have a wired option in your home for faster speeds, allow us to help orchestrate a HughesNet install today.  Happy streaming everyone!
San Diego audio video company Aire Theater Designs proudly serves all of San Diego, CA which includes Del Cerro, Allied Gardens, Talmadge, Kensington, Hillcrest, Mission Valley, Fashion Valley, El Cajon, Blossom Valley, La Mesa, Lake Murray, Friars, North Park, Balboa Park, Clairemont, Kearny Mesa, Mission Bay, Mission Beach, Pacific Beach, Ocean Beach, Imperial Beach, Pt Loma and Downtown San Diego. We also gladly serve those in North San Diego, California which includes Carlsbad, San Marcos, Vista, Elfin Forest, Oceanside, Escondido, Encinitas, Cardiff by the Sea, Solana Beach, Del Mar, Rancho Santa Fe, 4S Ranch, Santaluz, La Jolla, Poway, and Rancho Bernardo. Need help in Murrieta, Wildomar, Temecula, Fallbrook or Bonsall...we're there too.