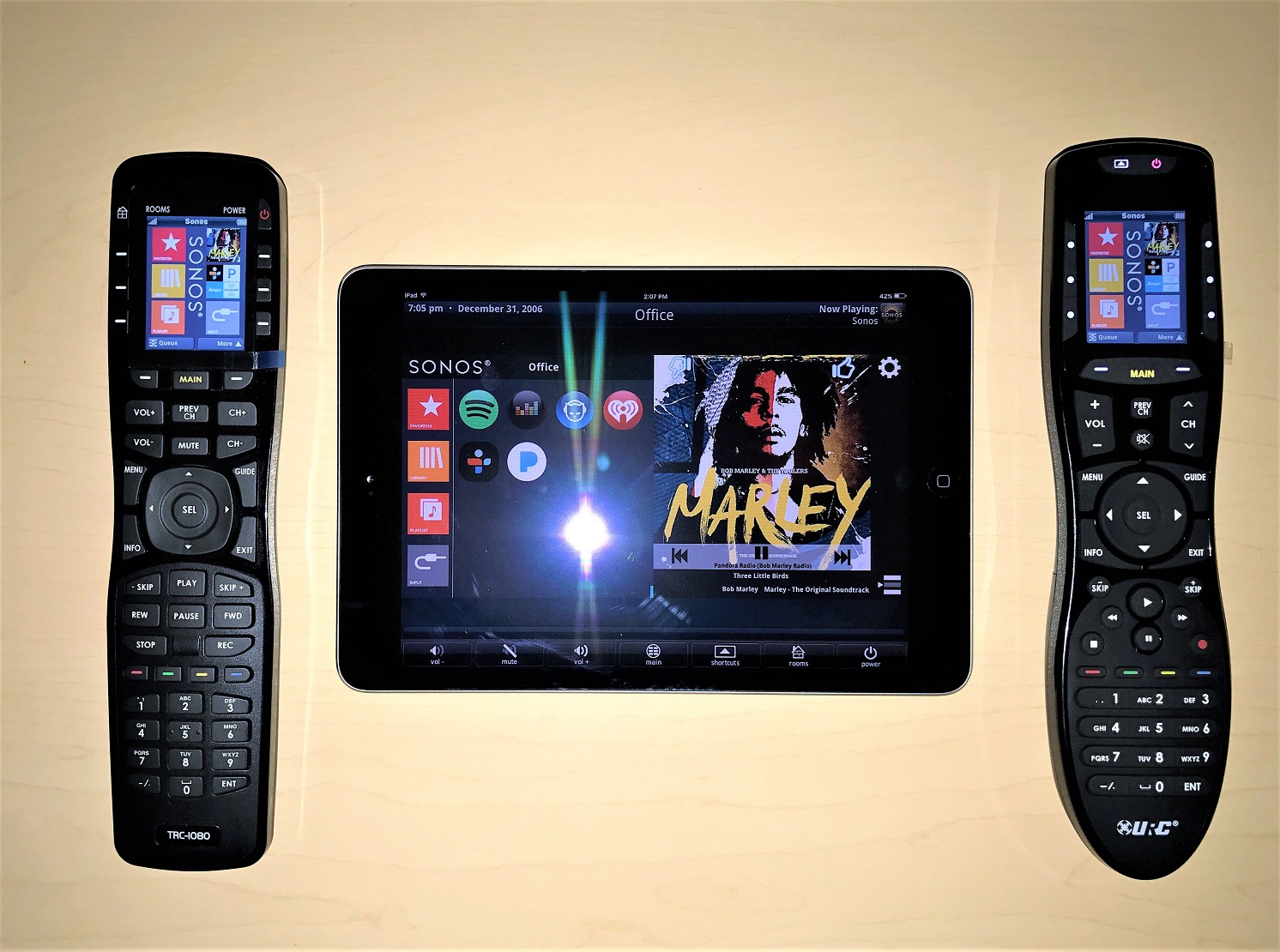 Come experience URC Total Control in our San Diego showroom - TRC1080, TRC820 and iPad app
There is a lot of useful and FUN stuff that the pieces above can accomplish. Here's what URC's Total Control universal remotes can do for you and your family:
Simplify your audio/video systems: Tired of juggling 7 different remotes to make your surround sound operate? Is it a 50/50 proposition that your whole-house music will work when you try to turn it on? If so, you need URC Total Control. ONE remote will make everything in your system work flawlessly. Ex: You push the Total Control button listed "Cable TV" and your TV turns ON, audio/video receiver turns ON, satellite box turns ON, DVD player turns OFF (because the housekeeper accidentally turned it on), TV goes to the correct input, audio/video receiver goes to the right input, audio/video receiver goes to the correct sound mode and the URC remote now has all of your TV-watching functions such as your DVR, recorded list, etc. EASY! We also provide cheat sheets and off-site management with your system so if something isn't working as expected, we can take you through it on the phone.
Home Automation: Adding a URC Total Control system provides a "gateway" to home automation. URCs advanced processor allows you to add and integrate things such as:
Nest Thermostats
Lutron lighting
Ring doorbell cameras
Pool and jacuzzi controls
Sonos whole-house music systems
"Integrating" means that these elements all work in concert so you don't need to open 9 different apps to make your systems behave.
Ex: When you pull into your driveway, your whole-house music system goes to your favorite Pandora station, the lights turn on to the desired levels and the Jacuzzi starts heating up WITHOUT LIFTING A FINGER. This is home automation and the addition of URC Total Control allows for this.
Alexa Voice Control: URC Total Control and Alexa work in tandem to provide voice control for your surround sound systems, whole-house lighting and more. Make controlling your smart home a breeze without even touching a remote or iPad.
Ex: "Alexa...turn on Bob" triggers your lights on, turns on your surround sound system and fires up your Pandora Bob Marley station. For one of our particular clients with 8 children, having your hands free for other things is very convenient.
Like the idea of simplifying your smart home or adding smart home elements? Give us a call and let San Diego's URC Total Control dealer of choice show you what today's home automation can do for you. NOTE: We have this on display in our San Diego showroom. Call for an appointment.
San Diego URC Total Control dealer and home automation company proudly serves all of San Diego County especially the communities and cities of Central San Diego County which includes Del Cerro, Allied Gardens, Talmadge, Kensington, Hillcrest, Mission Valley, Fashion Valley, La Mesa, Lake Murray, Friars, North Park, Balboa Park, Clairemont, Kearny Mesa, Mission Bay, Mission Beach, Pacific Beach, Ocean Beach, Imperial Beach, Pt Loma and Downtown San Diego. We also gladly serve those in North San Diego County which includes Carlsbad, San Marcos, Vista, Elfin Forest, Oceanside, Olivenhain, Escondido, Encinitas, Cardiff by the Sea, Solana Beach, Del Mar, Rancho Santa Fe, 4S Ranch, Santaluz, Alta Del Mar, La Jolla, Poway and Rancho Bernardo. We aren't forgetting about our East County friends in El Cajon, Blossom Valley, Lakeside and Alpine. Need help in Murrieta, Wildomar, Temecula, Fallbrook or Bonsall...we're there too.