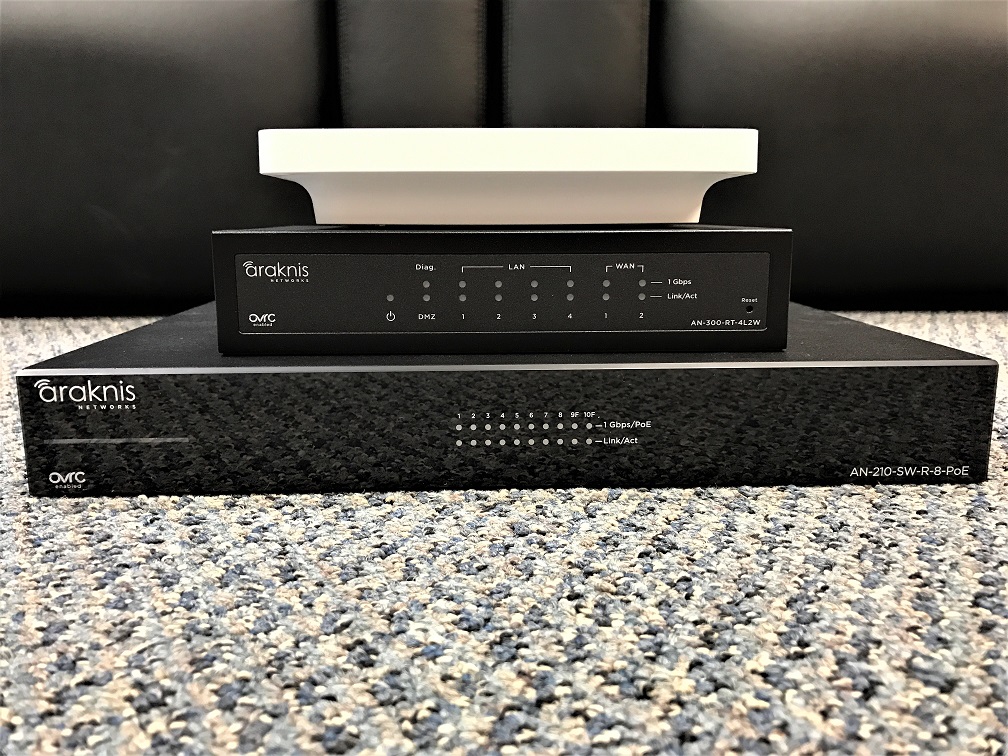 Araknis WiFi access points, switches and routers make for a fantastic Internet experience
"AAAAARGGH!" Here's a quote we hear a lot lately from people that hate their wireless networks.  In actuality, wireless Internet is NEVER the preferred medium and you want to go with a hard-wired connection when possible. However, the convenience of wireless is tough to beat and has become more and more popular. To ensure good wireless performance in your house:  
1) CHOOSE A QUALITY WIRELESS ROUTER
The wireless router supplied by the cable company is rarely a good choice. Selecting a better router from companies like Apple, Luxul or Ruckus will make a BIG difference in your range, speed and capabilities. Our client Marlena had us change out her cable-supplied router for a better one yesterday and just e-mailed us with "Having WiFi all over the house is amazing". Quality routers make for a quality network as long as they are optimized correctly. Read on.
2) OPTIMIZE YOUR NETWORK
As more and more devices become wireless, all of these competing devices make it increasingly difficult to get a quality wireless signal. This can cause websites to take a long time to load, streaming services like Netflix or Amazon to drop out or other computer issues. Did you also know that your neighbor's network and devices can affect how things work in your home? Sound scary...no problem! Our technicians are trained to delve deep into your network to ensure that issues such as competing wireless channels, 2.4 Ghz noise, insufficient network speeds from the provider, etc. are dealt with promptly and accurately so that your wireless network ROCKS!
NOTE - UPDATE AS OF 12/18/2018
Here's a product that has been a great addition to our line-up! Eero WiFi pieces provide security, robust WiFi AND let us troubleshoot issues from afar. See article below.
https://www.airetheaterdesigns.com/blog/item/225-eero-wifi-san-diego
Is your wireless network driving you crazy? Let us help. We solve network and WiFi problems every day for our clients. Aire Theater Designs is San Diego's choice for wireless network solutions.

San Diego Home Theater Installers Aire Theater Designs proudly serves all of San Diego County which includes Del Cerro, Allied Gardens, Talmadge, Kensington, Hillcrest, Mission Valley, Fashion Valley, El Cajon, Blossom Valley, La Mesa, Lake Murray, Friars, North Park, Balboa Park, Clairemont, Kearny Mesa, Mission Bay, Mission Beach, Pacific Beach, Ocean Beach, Imperial Beach, Pt Loma and Downtown San Diego. We also gladly serve those in North San Diego County which includes Carlsbad, San Marcos, Vista, Elfin Forest, Oceanside, Escondido, Encinitas, Cardiff by the Sea, Solana Beach, Del Mar, Rancho Santa Fe, 4S Ranch, Santaluz, La Jolla, Poway, and Rancho Bernardo. Need help in Murrieta, Wildomar, Temecula, Fallbrook or Bonsall...we're there too.