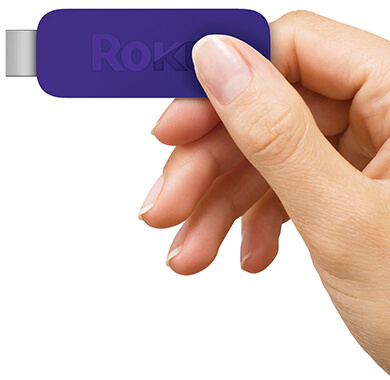 If you go to your local big-box store, you may find yourself staring at a number of these "streaming sticks" that are on the market. These devices allow you to access apps such as Netflix, Pandora, Amazon and even do things like turn your TV into a fireplace. However these sticks are often NOT the way to go. If you have a TV with NO stereo or universal remote, these are a good option. A suggestion would be in a Guest or Master Bedroom where you have TV, cable and nothing else hooked up. Here's why you DON'T want to buy a streaming stick:
When these sticks are hooked up to your surround sound system, you won't get sound if the stick is hooked into the TV. The sound will only come through the TV...not your audio/video system.

Extra cables must be purchased and installed to make the sound pass through to your speakers. The salesperson at the store probably never mentioned this.
Today's streaming sticks don't work with universal remotes. If you work in the circus and enjoy juggling multiple remotes...it's great! For most normal humans, extra remotes are not much fun.
So what's a person to do if you want to access all of these services? We recommend adding a Roku streaming device (not the stick) or an AppleTV. The Roku2 is the model that we recommend to get you all of these streaming services while playing nicely with your surround sound system or home automation set-up. These devices also work better than doing streaming through the TV (see our earlier post about why you SHOULDN'T use the TV to stream content).
There are specific advantages and disadvantages of an AppleTV vs. a Roku. Have questions about which streaming device is best for you? Call us and let San Diego's AppleTV, Roku and surround sound professionals give you the scoop.
San Diego Home Theater and Surround Sound Installers Aire Theater Designs proudly serves all of San Diego County including Del Cerro, Allied Gardens, Talmadge, Kensington, Hillcrest, Mission Valley, Fashion Valley, La Mesa, El Cajon, Blossom Valley, Lake Murray, Friars, North Park, Balboa Park, Clairemont, Kearny Mesa, Mission Bay, Mission Beach, Pacific Beach, Ocean Beach, Imperial Beach, Pt Loma and Downtown San Diego. We also gladly serve those in North San Diego County which includes Carlsbad, San Marcos, Vista, Elfin Forest, Oceanside, Escondido, Encinitas, Cardiff by the Sea, Solana Beach, Del Mar, Olivenhain, Rancho Santa Fe, 4S Ranch, Santaluz, La Jolla, Poway, and Rancho Bernardo. Need help in Murrieta, Wildomar, Temecula, Fallbrook or Bonsall...we're there too.