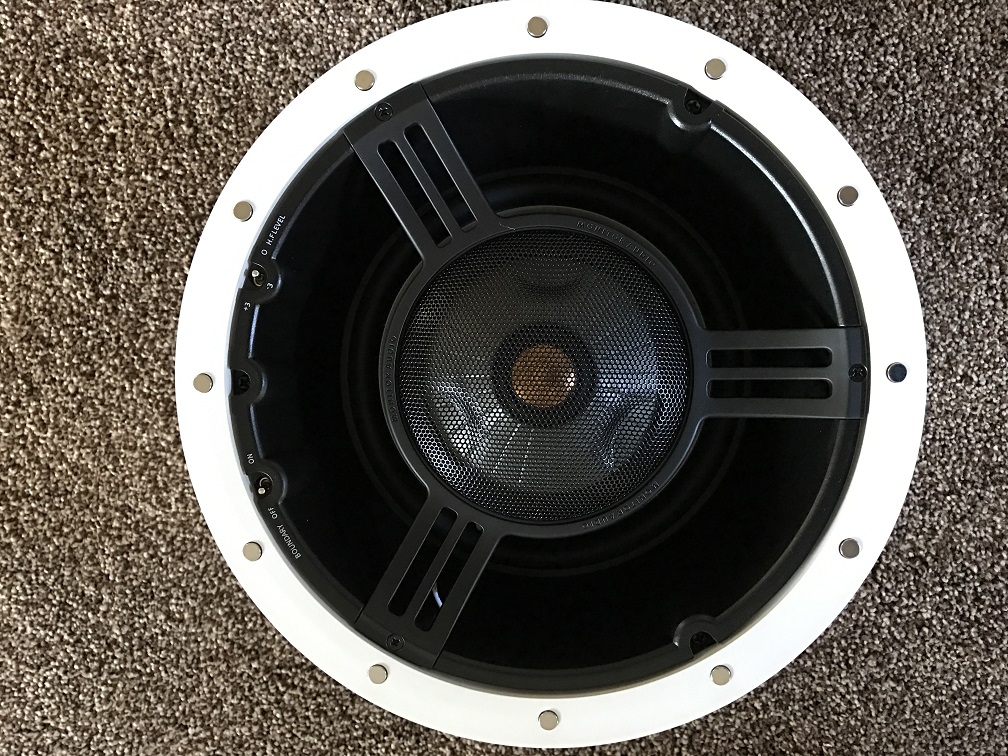 One speaker of MANY in a recent whole-house audio project
I just finished a really cool whole-house audio system for one lucky customer down in La Jolla and I felt the need to share a little piece of it with all of you. You may be wondering what these awesome sleek looking boxes are. Allow me to help a little, they are not…….paper weights. LOL! They are, in fact, RTI's AD-8 and AD-4 whole-house audio amplifiers. What does that even mean, you may ask? Let me fill you in. With these 2 amps, my customer has the ability to play music in 12 different areas of his house. Not only that, he has the ability to individually turn an area on and off and individually control the volume in each of these areas. Pretty cool huh!?! I even have it all programmed into his iPad. All he has to do is go to the RTI home automation app on his iPad and select the "House Music" page I programmed and WHAM!, he has full control of each area with individual power on/off buttons on the screen for each area and volume slider bars for volume in each area. It truly is easy to use and, quite frankly, just plain cool.
For example, the client could be out on his deck thinking "I'd like to listen to the Eagles right now." He could then grab his iPad, push "House Music", "Deck" and then listen to his favorite Eagles music from his computer. Phone rings? Press "Pause" on the iPad and the music stops. Want to really crank the volume! Turning the volume to level 500 and any other system command can all be done from anywhere (even outside while sipping a margarita) with the iPad!
So that is the install I was on today. Very fun easy-to-use stuff that the customer absolutely loved. Have any of you been wanting to get music throughout your house? If you already have a system, would you like one that is EASY to use? If so, please give us a call! Why can't you be the next lucky customer that gets an RTI whole-house audio system?
Projects like this are fun and it's what we do every day. If you're interested in enhancing your life with music, movies or home automation, give us a call and let San Diego's whole house experts show you what's available today.
San Diego Whole House Audio and Surround Sound Installers Aire Theater Designs proudly serves all of San Diego County including Del Cerro, Allied Gardens, Talmadge, Kensington, Hillcrest, Mission Valley, Fashion Valley, La Mesa, El Cajon, Blossom Valley, Lake Murray, Friars, North Park, Balboa Park, Clairemont, Kearny Mesa, Mission Bay, Mission Beach, Pacific Beach, Ocean Beach, Imperial Beach, Pt Loma and Downtown San Diego. We also gladly serve those in North San Diego County which includes Carlsbad, San Marcos, Vista, Elfin Forest, Oceanside, Escondido, Encinitas, Cardiff by the Sea, Solana Beach, Del Mar, Olivenhain, Rancho Santa Fe, 4S Ranch, Santaluz, La Jolla, Poway, and Rancho Bernardo. Need help in Murrieta, Wildomar, Temecula, Fallbrook or Bonsall...we're there too.