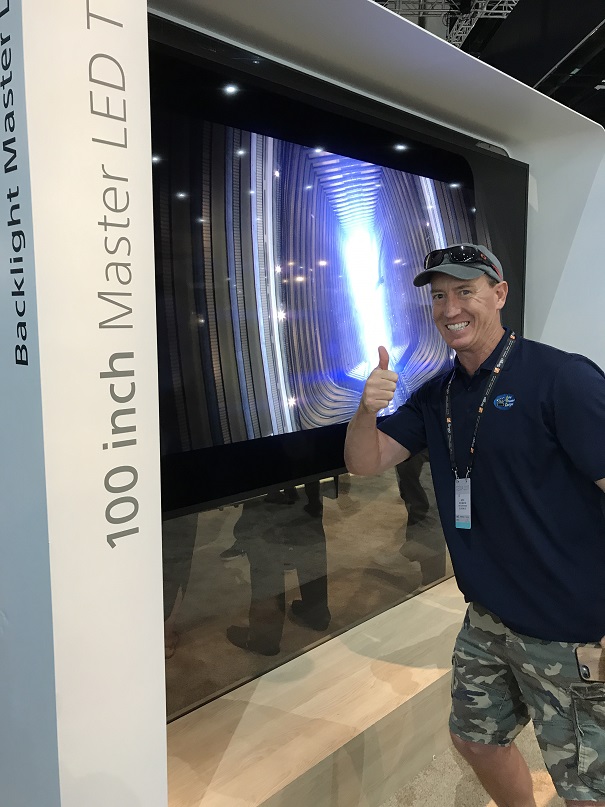 Sony vs Samsung TV - Which will get our thumbs up?
Without a doubt, Samsung and Sony have some of the best TVs on the market right now. The technology that each of these companies are utilizing and mastering is remarkable and just plain 'ol EXCITING. The picture quality and color creation of these TVs is out-of-sight, amazingly realistic, eye-poppingly clear, bright, etc. I could go on and on. Let me tell you a little bit about each manufacturer's technology and hopefully this will help you decide which is best for you.
Samsung flat screen TVs have always been known for their incredibly bright display paired with a super-wide color spectrum. In their BETTER LED models, Samsung touts technologies such as Dynamic Crystal Color which produces millions of additional color shades compared to other Standard HD TVs. They also possess Ultra Slim Array technology which controls lighting for deeper blacks and brighter whites, etc. In Samsung's Premium Q-Series line, utilizing Quantum Dots, they developed tech such as Q-Color for over a billion color shades and 100% color volume (zero color-brilliance sacrifice at 100% brightness), Q-Contrast for deep blacks, and Ultra Black Elite anti-reflective coating to further achieve deeper blacks. All of this is with absolutely no chance of picture burn-in. Incredible! One notable downside to the Q-Series TV in general is the loss of color brilliance when viewing from an angle or from the side. If your TV room is set-up in such a way where everyone is pretty much viewing straight on or at least close to it, the Samsung Q series can be a great choice. If you have seats that are off-axis, read on for the advantages of Sony OLED.
Sony is known for their incredible ability to achieve an absolute natural color and lighting balance. Their Triluminos Display technology helps create a very life-like realistic experience and feel. For the ultimate in picture quality, check out the incredible depth, contrast and realism of the picture on Sony OLED TVs. Contrast is a GIGANTIC factor in providing a quality TV picture and thanks to Sony's OLEDs paired with their Pixel Contrast Booster technolgy, ultimate blacks and bright whites are created resulting in an incredibly detailed and accurate looking picture. All of this is achieved using Sony's super powerful X1 Ultimate Picture Processor. This is the best-looking TV and technology we have seen to date.
All the above aside, as a quick recommendation:
If you want the BEST TV possible, choose Sony OLED.
If you have seating that is off-axis from the TV, choose Sony OLED for the BEST picture or Sony's 850F series.
If you want the brightest TV for the money AND you sit in front of the TV, choose Samsung Q series.
If you want the most natural colors, choose Sony vs. Samsung.
Here's some of our IMO recommendations:
Best: #1 – Sony OLED (A9F, A8F)
#2 – Samsung QLED (Q9FN-Q7FN)
Better: #3 – Sony X900F XBR
#4 – Samsung NU8000 OR Sony XBR850F
If you REALLY want your home theater room or surround sound area to ROCK, add a surround sound receiver and home theater speakers. On a limited budget? We'd recommend adding a surround sound system with a modest TV over using a GREAT TV with no sound.
Still have questions about Samsung vs. Sony? Call us and we can go over which flat screen, OLED, LED Q-series or TV option is best for you!
Sony vs Samsung...ask our TV experts! Aire Theater Designs proudly serves all of San Diego County which includes Del Cerro, Talmadge, Kensington, Hillcrest, Mission Valley, Fashion Valley, El Cajon, Blossom Valley, La Mesa, Lake Murray, Friars, North Park, Balboa Park, Clairemont, Kearny Mesa, Mission Bay, Mission Beach, Pacific Beach, Ocean Beach, Point Loma and Downtown San Diego. We also gladly serve those in North San Diego County which includes Carlsbad, San Marcos, Vista, Elfin Forest, Oceanside, Escondido, Encinitas, Cardiff CA, Solana Beach, Del Mar, Cielo, The Bridges, The Crosby, The Lakes, Torrey Pines, Alta Del Mar, Carmel Mountain, Carmel Valley, Coronado, Fairbanks Ranch, Rancho Santa Fe, 4S Ranch, Santaluz, La Jolla, Poway, and Rancho Bernardo. Need help in Murrieta, Wildomar, Temecula, Fallbrook or Bonsall...we're there too. House by Pardee, Shea, Lennar or other builders? We can help!