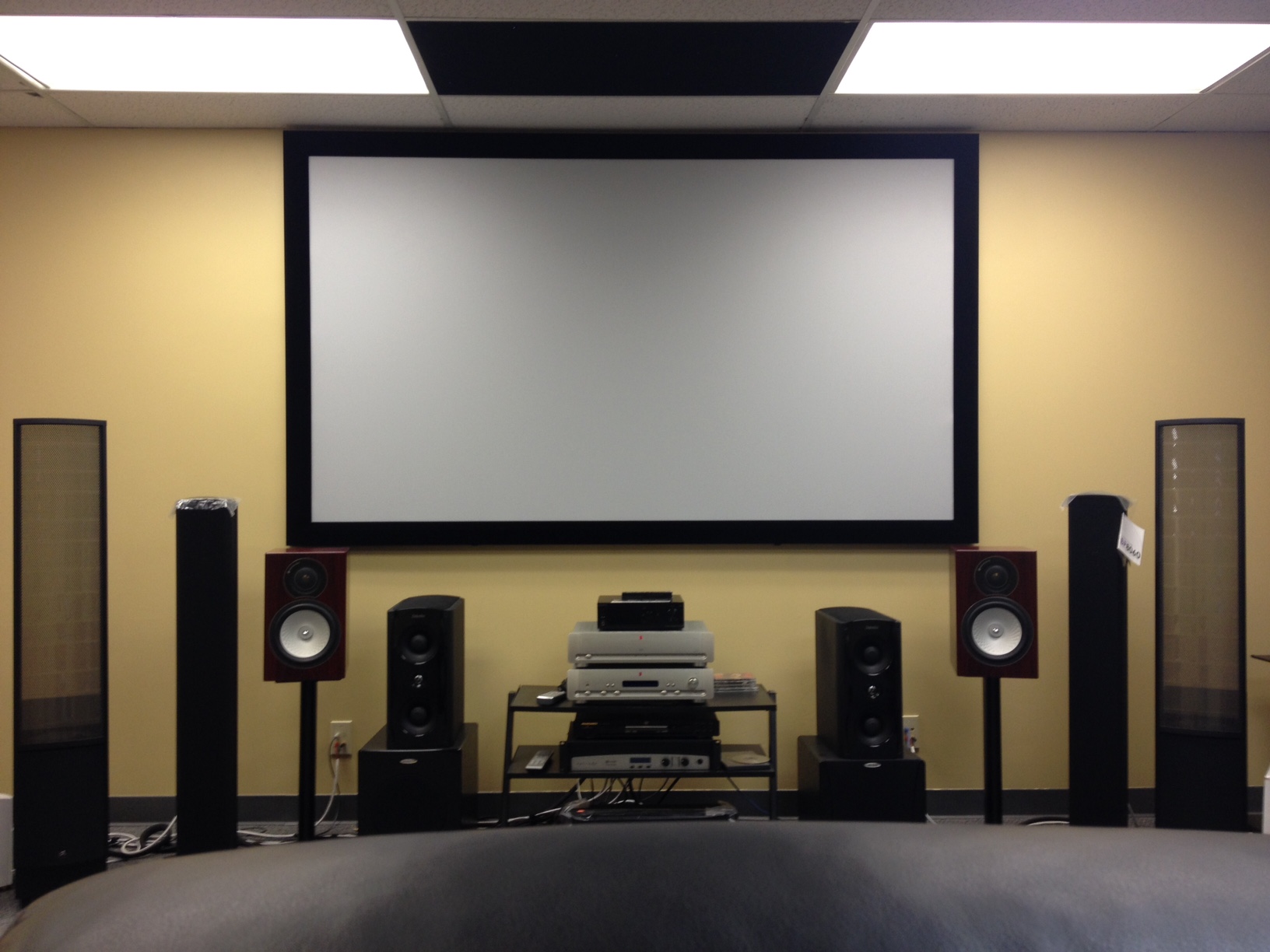 Bose vs Definitive Technology - What provides the best sound for the dollar?
Disclaimer: The information below is our professional opinion only.
I'm almost willing to bet that if you walk up to 100 random people and ask them if they have ever heard of the company Bose, at least 95 of them would say yes. Bose invented the "small speaker" category, they have a great product and they are extremely good at advertising and providing customer support. We used to be the certified installers for Bose for all of Southern California so we are very familiar with their product line-up. However, times have changed and there are small speaker offerings that we feel are a better option for the buck. One brand is an award-winning speaker company called Definitive Technology.  Let's dive in, shall we?
Bose Acoustimass 6 System:
                                - (1) 2.5" Twiddler full-range speaker per speaker
                                - (1) 5.25" powered woofer (subwoofer)         8"Wx13"Hx22"D
Bose Acoustimass 10 System:
                                - (2) 2.5' Twiddler full-range speakers per speaker
                                - (2) 5.25" powered woofers in the subwoofer enclosure             8"Wx16"Hx25"D
Now let's look at a few items from Definitive Technology (also called Def Tech) in comparison:
ProMonitor 800:
                                - (1) 4.5" driver, (1) 1" aluminum tweeter, (1) 4.5" passive radiator
ProMonitor 1000:
                                - (1) 5.25" driver, (1) 1" aluminum tweeter, (1) 5.25" passive radiator
SuperCube 2000 Subwoofer:
                                - (1) 7.5" powered woofer, (2) 7.5"ultra-low bass radiators        approx. 10" cube dimension
SuperCube 8000 Subwoofer:
                                - (1) 11" powered woofer, (2) 12" ultra-low bass radiators         approx. 16" cube dimension
The Def Tech speakers are going to sound far more full and detailed than the Bose speakers for a few reasons.  The ProMonitors have markedly more driver surface area which directly helps achieve more full mid/low range frequencies and they have the separate metal tweeters which give the speaker great clear detailed high frequencies. With the passive radiators (which supply more bass) added, these speakers throw out nice full-range sound that fills the room nicely. Once you have decided which ProMonitor you like, you then get to pair them with one of Def Techs excellent subwoofers (which are MUCH smaller in size then the Bose units).  All the subwoofers in the Definitive Technology SuperCube line deliver clean, precise, LOW frequencies that you can't get with a 5.25" driver like the Bose subwoofers possess. Another great thing about Def Tech is that you can piece these systems together as you see fit. For example, you can use the larger ProMonitor 1000 speakers with the smaller SuperCube 2000 Subwoofer.  However, if you like the smaller ProMonitor 800 speakers but want teeth-rattling bass you can add the larger SuperCube 8000 subwoofer (or either 4000/6000).  This allows you to make your own stereo "kit" to match your budget and desired quality level. When it comes to Def Tech vs Bose, we have to say that we feel that Definitive Technology scores a knockout!
Love Bose and need new speakers? Give us a call and let us show you how you can get more tunes for your bucks with Definitive Technology and some calibration from the best local speaker store, Aire Theater Designs.