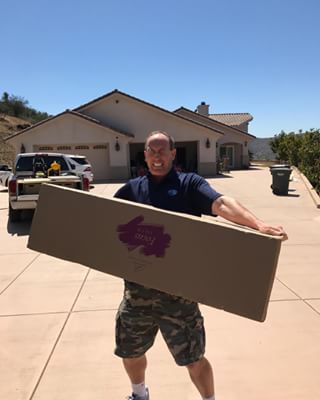 Surround sound installer hard at work!
Need a surround sound installer, San Diego? You're in the right place. Surround sound installation is what we do and we've worked on thousands of homes over the last 12 years. Here's a few reasons to go with us:
1) Quality of work: We have our own employees. Did you know that MANY surround sound companies in San Diego use subcontractors? The problem with this is when you need future support, these companies rely on 1-2 popular subcontractors to provide the troubleshooting. Being that they are ridiculously busy with many customers, it may be a month before they can get back out to your house. With us, you can always be assured of fast, reliable service as we have our own guys and don't depend on someone else's schedule.
2) Licensed, bonded and insured: You don't need to worry about accidents, lawsuits or injuries in your home as we have all of our licenses and insurances in place. License: #884707
3) WE'RE GOOD!: We've been doing this for a long time. Our experience and our constant focus on training assures that we will be quick, clean (see link below with room being covered in plastic) and that we will be sure to complete your surround sound installation correctly. We will then provide you with a cheat sheet, show you exactly how everything works and then put all of your notes to our cloud. This allows us to provide you with technical support YEARS after the installation (our client, JM, called us for service today…we haven't been out there for 7 years but we were able to help over the phone due to our cloud notes).
Looking for surround sound installation or other smart home installation services? Check out some of these related links.
https://www.airetheaterdesigns.com/blog/item/161-san-diego-flat-screen-installation
https://www.airetheaterdesigns.com/blog/item/215-san-diego-smart-home-installation-smart-home-information
https://www.houzz.com/photo/18914552-san-diego-pre-wire-proper-preparation-when-wiring-all-of-our-clients-furnitu-contemporary-home-theater-san-diego
Looking for surround sound installers San Diego? Aire Theater Designs proudly serves all of San Diego County CA which includes Del Cerro, Talmadge, Kensington, Hillcrest, Mission Valley, Fashion Valley, El Cajon, Blossom Valley, La Mesa, Lake Murray, Friars, North Park, Balboa Park, Clairemont, Kearny Mesa, Mission Bay, Mission Beach, Pacific Beach, Ocean Beach, Imperial Beach, Pt Loma and Downtown San Diego. We also gladly serve those in North San Diego County which includes Carlsbad, San Marcos, Vista, Elfin Forest, Oceanside, Escondido, Encinitas, Cardiff by the Sea, Solana Beach, Del Mar, Rancho Santa Fe, 4S Ranch, Santaluz, Torrey Pines, Carmel Mountain, Carmel Valley, Coronado, Fairbanks Ranch, Alta Del Mar, La Jolla, Poway, and Rancho Bernardo. Need help in Murrieta, Wildomar, Temecula, Fallbrook or Bonsall...we're there too. House by Pardee, Shea Homes, Lennar or other home builders? Call us!