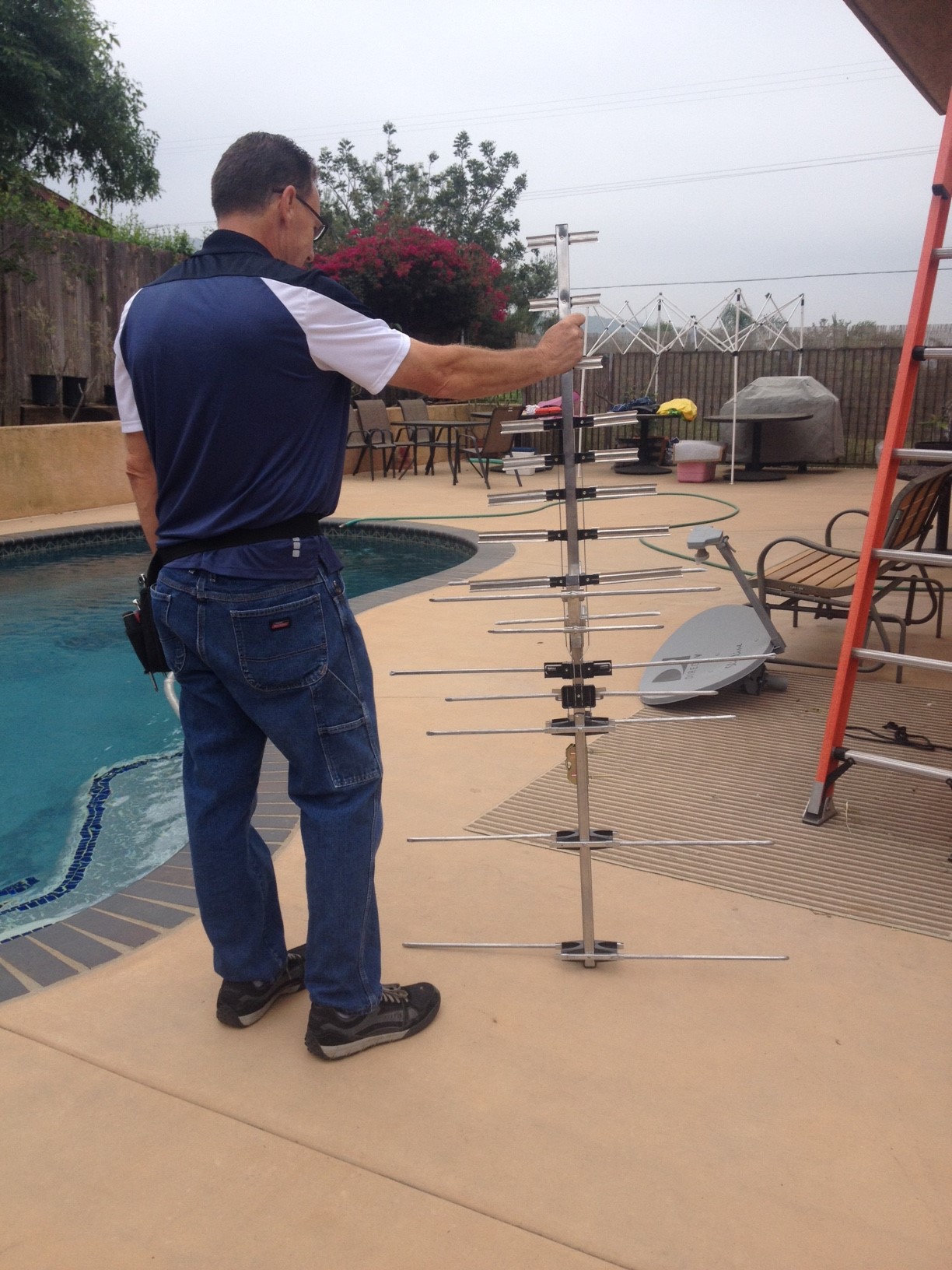 Cut the cord, San Diego, with a rooftop antenna!
You may have read Part One of our "Cut the cord" saga here: Cut the cord from cable, Part 1 It's now time for Phase 2.
We get most of our desired programs from streaming sources via a Roku streaming device and an AppleTV. The remaining portion of cutting the cord from cable entailed adding an off-air antenna to get our desired channels. The total cost for the antenna and installation was about $300.00. The model is a Winegard 7694 which does a good job at our location in picking up channels from 2 of the broadcasting sources (there are three...one in L.A. on Mt. Wilson, one on Mt. Soledad and one in Tijuana). The important channel or us was CBS for Charger games and the antenna pulled this in nicely.
If you have any form of surround sound system, you will need to connect additional cables from your TV to the audio/video receiver to be able to hear your antenna broadcast through your surround sound set-up. Once this was done, it was time to call Cox cable to tell them to "beat it".
I then called Cox and let my representative know approximately 321 times that I wanted to cancel cable and just keep Internet with them. This would save us roughly $85.00/month. After many "Let me put you on hold" periods, they finally came back to us and gave us our Internet AND cable for the same price as just keeping the Internet! We are now saving about $1,000/year and we are still getting all of the programs that we enjoy viewing.
We then added the Sling application through our Roku device. For $20.00/month, this cool app provides ESPN, AMC, TNT and a bunch of other channels. Now we've got all of the channels we want and the movie sources that we use daily. However, we aren't done yet. We may now shop our Internet options to see if we can save more compared to Cox. HOWEVER, we are big fans of Cox's reliability and Internet speeds and we really don't want to go with ATT or other solutions. We'll have a final update letting you know how this story ends.
Want more information about how to cut the cord San Diego? Wondering which streaming solutions are best? Stay tuned for details from San Diego's most helpful cord cuttingl company, Aire Theater Designs.
Cut the cord San Diego with Aire Theater Designs! We proudly serves all of San Diego County which includes Del Cerro, Allied Gardens, Talmadge, Kensington, Hillcrest, Mission Valley, Fashion Valley, El Cajon, Blossom Valley, La Mesa, Lake Murray, Friars, North Park, Balboa Park, Clairemont, Kearny Mesa, Mission Bay, Mission Beach, Pacific Beach, Ocean Beach, Imperial Beach, Pt Loma and Downtown San Diego. We also gladly serve those in North San Diego County which includes Carlsbad, San Marcos, Vista, Elfin Forest, Oceanside, Escondido, Encinitas, Cardiff by the Sea, Solana Beach, Del Mar, Rancho Santa Fe, 4S Ranch, Santaluz, La Jolla, Poway, and Rancho Bernardo. Need help in Murrieta, Wildomar, Temecula, Fallbrook or Bonsall...we're there too.