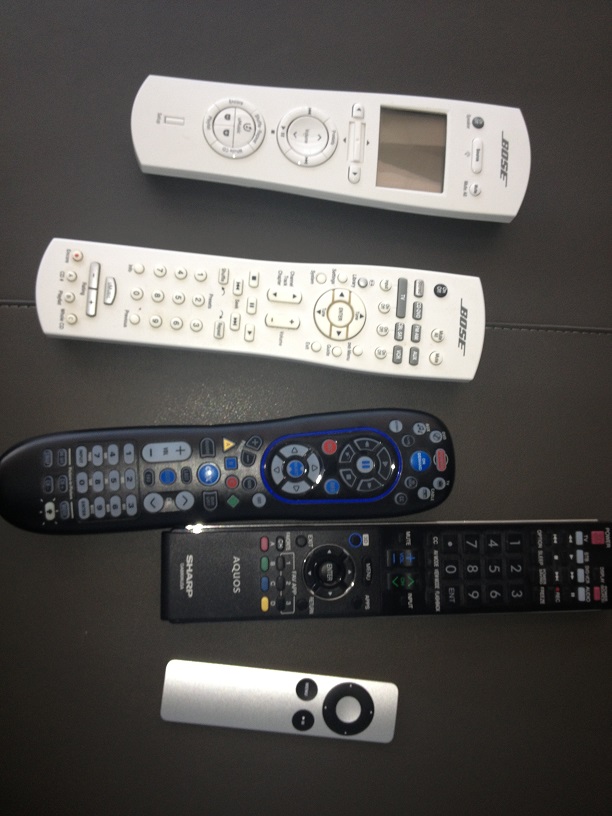 One URC MX780i remote replaced all of these - San Diego home automation 
One remote, two remotes, three remotes…
Where does it all end? How many remotes do you have? Let's start with one for the TV. Two for the cable or satellite box. Three for the Blu-ray player. Four for Apple TV or Roku or whatever streaming device you choose. Five for a gaming console such as Xbox1 or Sony PS4. Six for your receiver to turn on surround sound. The list goes on and on.  Now let's try to watch TV and see what's involved for this seemingly easy task.
1) Turn the TV on.
2) Change the TV to the correct input.
3) Turn the cable box on.
4) Turn the audio/video receiver on.
5) Turn the audio/video receiver to the correct source.
6) Sixth, turn the receiver to desired sound setting.
After three remotes, six buttons and lots of frustration you're probably ready to throw the remotes out the window. Why not let us at Aire Theater Designs simplify your life? We can program 1 remote with 1 button push to do ALL the above. A couple of our favorite remotes are the URC MX-780 or the step-up URC MX-980. We think you'll love them as much as we do. These are just one of MANY options we offer to make your life easier through technology and home automation.
Interested? Give us a call and find out why Aire Theater Designs is San Diego's home automation and universal remote expert.
San Diego Home Theater Installers Aire Theater Designs proudly serves all of San Diego County which includes Del Cerro, Allied Gardens, Talmadge, Kensington, Hillcrest, Mission Valley, Fashion Valley, El Cajon, Blossom Valley, La Mesa, Lake Murray, Friars, North Park, Balboa Park, Clairemont, Kearny Mesa, Mission Bay, Mission Beach, Pacific Beach, Ocean Beach, Imperial Beach, Pt Loma and Downtown San Diego. We also gladly serve those in North San Diego County which includes Carlsbad, San Marcos, Vista, Elfin Forest, Oceanside, Escondido, Encinitas, Cardiff by the Sea, Solana Beach, Del Mar, Rancho Santa Fe, 4S Ranch, Santaluz, La Jolla, Poway, and Rancho Bernardo. Need help in Murrieta, Wildomar, Temecula, Fallbrook or Bonsall...we're there too.