UPDATE: We have added video reviews about universal remotes on our Youtube page HERE. Please LIKE and SUBSCRIBE if you find it helpful!
In a nutshell, a GOOD universal remote will allow you to push ONE button and all of the commands above magically pop out of the remote, summon your surround sound system to behave and ta-da!...you're watching TV. Good universal remotes also ensure that the system can't get out of whack so if someone pushed a button they shouldn't have, one push of the universal remote puts everything back where it should be.
We say a "good universal remote" as many popular brands of remotes actually don't make the system behave if the wrong button gets pushed. Sounds odd, doesn't it? We agree but we've been fixing systems for years for clients that have these particular brands that don't allow systems to work flawlessly. We recommend two brands of universal remote. They are URC (Universal Remote Control) and RTI. Here's why.
In a nutshell, both these remotes have what we call "smart" or discrete codes. These codes allow the remote to know if elements of the system are out of whack. For example, if half of your components were ON and half OFF, these remotes from URC and RTI would know and would make sure everything is ON or OFF when you need them there. Some of the other brands on the market DON'T know so if you try to turn the system ON in the above instance, half of your components would still be OFF!
Now that you know what brand to buy, what remote is best for you? Here are some things to consider:
1) Screen size: Typically the more expensive the remote, the larger the screen and the easier it is to see the buttons. Here's an example of a GOOD remote (URC MX780i) next to a BETTER remote (URC MX980i). The difference in screen size is apparent.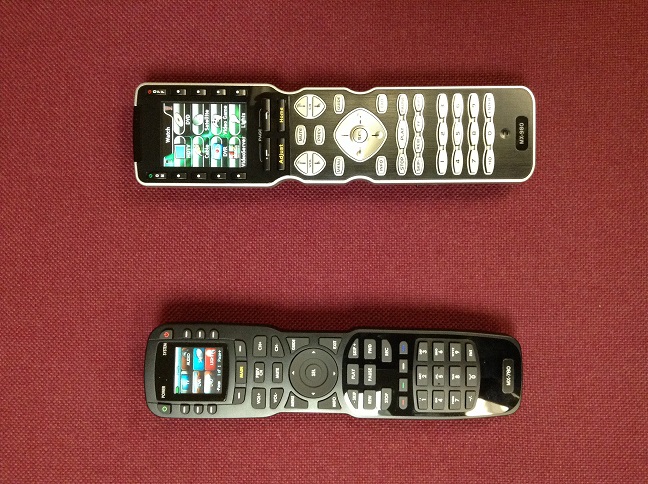 2) What will you be controlling? If it is a single room or a basic surround sound system with a few rooms of music in other areas, something like the GOOD or BETTER options above work great. If you are thinking about controlling elements such as lighting, smart home features, surveillance cameras, thermostats or other home automation systems, one of our BEST options may fit the bill. These typically include some form of iPad control and well as hand-held remotes.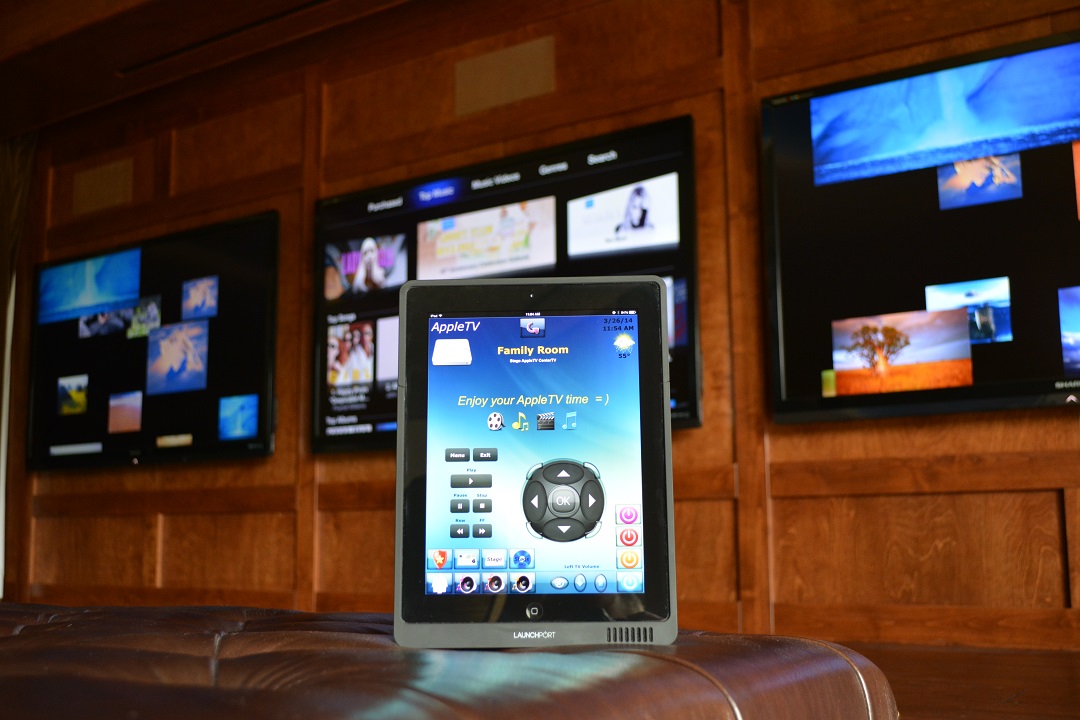 RTI iPad solution for dedicated theater, lighting control, thermostats, cameras and whole-house audio - Murrieta
3) Do you want to hide your surround sound equipment? All of our remotes have separate options so your cable boxes, receivers, Blu-Ray players, etc. can hide out-of-sight behind closet doors or cabinet fronts. You don't have to see any of the equipment!
Interested? Make an appointment to stop by our office. We've got many different models running our systems and we can recommend what will be best for your particular set-up. We are Aire Theater Designs, San Diego's URC and RTI universal remote experts. P.S. You now have smart home capabilities with most of today's remotes. Control your favorite smart features like lights, thermostats, shades, etc. in addition to your surround sound system!
San Diego Home Theater showroom Aire Theater Designs proudly serves all of San Diego County which includes Del Cerro, Allied Gardens, Talmadge, Kensington, Hillcrest, Mission Valley, Fashion Valley, El Cajon, Blossom Valley, La Mesa, Lake Murray, Friars, North Park, Balboa Park, Clairemont, Kearny Mesa, Mission Bay, Mission Beach, Pacific Beach, Ocean Beach, Imperial Beach, Pt Loma and Downtown San Diego. We also gladly serve those in North San Diego County which includes Carlsbad, San Marcos, Vista, Elfin Forest, Oceanside, Escondido, Encinitas, Cardiff by the Sea, Solana Beach, Del Mar, Rancho Santa Fe, 4S Ranch, Santaluz, La Jolla, Poway, and Rancho Bernardo. Need help in Murrieta, Wildomar, Temecula, Fallbrook or Bonsall...we're there too. House by Pardee, Shea or Lennar? We can help. We also serve Torrey Pines, Alta Del Mar, Carmel Mountain, Coronado, Fairbanks Ranch, Cielo, The Bridges, The Crosby, The Lakes.