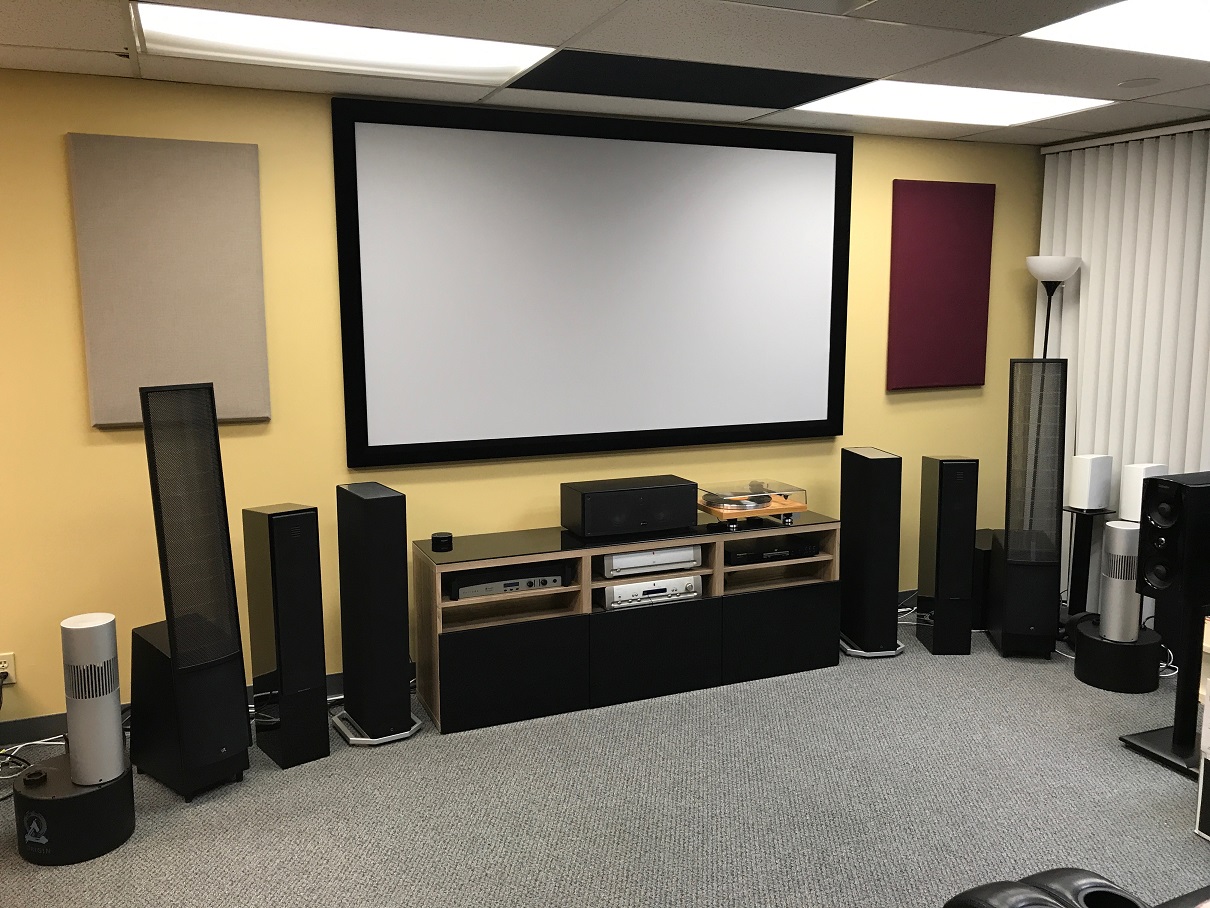 Definitive Technology, Martin Logan, Monitor Audio and Origin Acoustics on display
When we decided years ago what speaker lines to carry as a company, our decision was based on sound quality, speaker reliability and having brands that sound different from one another so that you, our client, could have three different options to easily determine what TYPE of sound is best for you. There is no BEST sound...there is only what is best to your ear. Here are our three main lines of speakers with a quick description of what they will do for you.
Martin Logan, Monitor Audio and Definitive Technology
First, the Martin Logan Electro Motion ESL (Electrostatic speakers) series uses an electrostatic material as the basis of their technology. This is a very thin electrically-charged material that allows the speakers to move faster so they are more responsive than conventional speakers. This allows the music to be heard the way the artist intended. They pick up every little detail of the instruments and isolate voices with amazing clarity. Sit back, enjoy a glass of fine wine, close your eyes and you will feel like the artist is right in front of you. There is no speaker at the price point that replicates their clarity.
Second, we love the Definitive Technology BP8060 tower speakers. These speakers feature "bipolar" technology with front and rear facing speakers. They also have built-in subwoofers in each tower which eliminates the need for separate subwoofers (this saves on floor space). This bipolar technology radiates sound forward and back for rich, life-like, room-filling, three-dimensional sound for every listener in the room. This is the way that we hear things in real life. The built-in subwoofers alleviate the need to purchase separate speakers. With life-like sound and DEEP bass, grab a craft beer and some friends and get ready to rock your night away. There is no speaker at the price point that replicates their wide, BIG sound and bass.
http://www.definitivetechnology.com/products/home-theater-speaker-systems/
Third but definitely not least, Monitor Audio Silver and Gold speakers use high end components such as ceramic coated drivers and proprietary compounds as the basis for their technology. These technologies create better rigidity for less distortion and a very crisp, clean sound. The detail and airiness that their speakers create is fascinating. You also get GREAT bass with their porting technology and rigid drivers. These things combine for a big sound in a medium size package. Did we mention the available beautiful real wood cabinets with choice of finishes like Rosewood or Ebony?. Add beauty and amazing sound to your room. Pour some Scotch, put in a Blu-Ray or stream some music and let go. Work stress...good bye!
http://www.monitoraudiousa.com/products/platinum/
If you're interested in enhancing your life with music, movies or home automation, give us a call and let San Diego's Martin Logan, Definitive Technology and Monitor Audio experts show you what's available today. Come and take a test listen. UPDATE: We have added Origin Acoustics and their landscape Bollard speakers to our line-up. If you're looking for outdoor audio, these outdoor landscape speakers deserve a listen.
San Diego Home Theater and Surround Sound Installers Aire Theater Designs proudly serves all of San Diego County including Del Cerro, Talmadge, Kensington, Hillcrest, Mission Valley, Fashion Valley, La Mesa, El Cajon, Blossom Valley, Lake Murray, North Park, Balboa Park, Clairemont, Kearny Mesa, Mission Bay, Mission Beach, Pacific Beach, Ocean Beach, Point Loma and Downtown San Diego. We also gladly serve those in North San Diego County which includes Carlsbad, San Marcos, Vista, Elfin Forest, Oceanside, Escondido, Encinitas, Cardiff by the Sea, Solana Beach, Del Mar, Olivenhain, Torrey Pines, Alta Del Mar, Carmel Mountain, Carmel Valley, Coronado, Fairbanks Ranch, Cielo, The Bridges, The Crosby, The Lakes, Rancho Santa Fe, 4S Ranch, Santaluz, La Jolla, Poway, and Rancho Bernardo. Need help in Murrieta, Wildomar, Temecula, Fallbrook or Bonsall...we're there too. House by Pardee, Shea or Lennar. We can help.