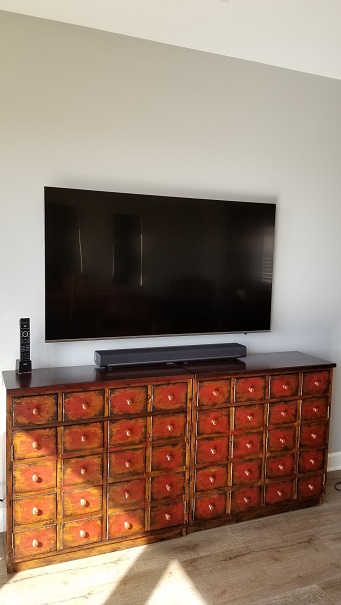 This time of year, many people look for gifts to augment their TV sound. Soundbars can be a good way to do this. However, soundbars can be the good, bad and the ugly if you go to one of the big-box stores as some of these speakers actually sound worse than the TV. At Aire Theater Designs, we only sell QUALITY stuff. Below are our GOOD, BETTER and BEST soundbar options for the season.
GOOD: Polk Audio 5000 series soundbar. The $399.99 option creates natural sound with deep bass that blows away the sound from your TV.
2 full-range drivers in center speaker

120 watt wireless subwoofer w/6.5" driver
BETTER: Sonos PLAYBAR soundbar. This $699.99 option provides a wide field of sound with very detailed accuracy. A GREAT option for movies and music.
Immerse yourself in sound with a 9 driver complement consisting of 6 drivers and 3 tweeters

Access to Sonos's streaming services. Listen to MILLIONS of songs easily with your phone, iPad or computer as a controller. This is the world's best jukebox!

NOTE: You can add deep, impactful bass with the addition of Sonos's wireless SUB subwoofer. Price :$699.99
BEST: Definitive Technology SoloCinema XTR soundbar. This $1599.99 option has no-compromise performance and build quality. Their claim is "great for the price of good"!
6 high-quality full-range drivers + 3 X exclusive aluminum dome tweeters

200 watts of amplification for soundbar

Aluminum enclosure to minimize resonance

250 watt wireless subwoofer w/8" high-excursion driver for DEEP bass
Here are some links:
http://www.polkaudio.com/surroundbar-5000-instant-home-theater/d/1210C3384
http://www.sonos.com/shop/products/playbar
http://www.definitivetech.com/products/solocinema-xtr
Looking where to buy a soundbar, San Diego? Call San Diego's leading dealer for soundbars and Sonos, Polk Audio and Definitive Technology. We'll happily get you on the right path to good sound.
San Diego Home Theater Installers Aire Theater Designs proudly serves all of San Diego County which includes Del Cerro, Allied Gardens, Talmadge, Kensington, Hillcrest, Mission Valley, Fashion Valley, El Cajon, Blossom Valley, La Mesa, Lake Murray, Friars, North Park, Balboa Park, Clairemont, Kearny Mesa, Mission Bay, Mission Beach, Pacific Beach, Ocean Beach, Imperial Beach, Pt Loma and Downtown San Diego. We also gladly serve those in North San Diego County which includes Carlsbad, San Marcos, Vista, Elfin Forest, Oceanside, Escondido, Encinitas, Cardiff by the Sea, Solana Beach, Del Mar, Rancho Santa Fe, 4S Ranch, Santaluz, La Jolla, Poway, and Rancho Bernardo.