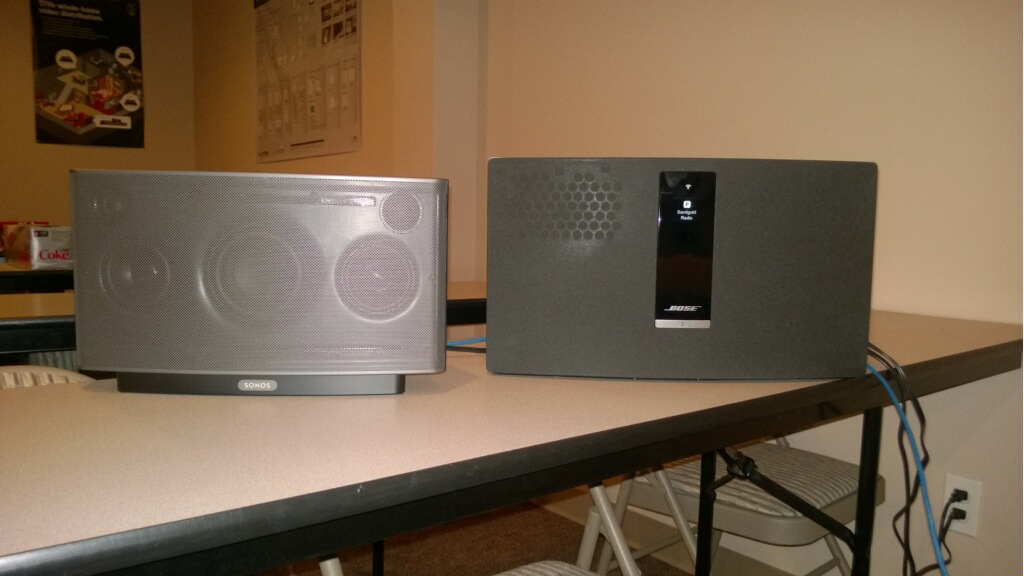 Sonos PLAY5 and Bose Soundtouch30


It's time for an Aire Theater Designs FACE-OFF! Our two contestants have entered the ring. In this corner:
Standing in at 17.1" tall, introducing the Bose Soundtouch 30 Wi-Fi music system!! (Applause and clapping)
aaaaaand in this corner, we have the premium wireless solution from Sonos, introducing...the Sonos PLAY5!!!! (Applause and clapping)
Our main focus for this face-off was audio quality. We initially tested the systems with Lindsey Stirling's "Phantom of the Opera". After playing the song on both systems, the winner was very apparent. The Bose system absolutely won the first battle. The Soundtouch 30 had a much fuller, richer sound than the Sonos. We also noticed that the lower mid-range sounded more natural on the Bose. Whereas the Sonos sounded forced, the Bose played all of the notes cleanly and without any hint of distortion. Our Install Manager Danny said, "I love this particular track. On the Sonos, it sounded OK. On the Bose...I got goose bumps."
Our second test was with Shai's "Comforter". This track is an excellent test of bass. Again, this battle was no contest. The Bose handled the deep bass notes at the start of the track handily. The Sonos PLAY5 had quite a bit of distortion on these same notes when we turned the volume up to about 70% on both units.
There are some benefit to a Sonos system. If you are planning on using Sonos for its variety of music sources and apps, it can easily be integrated into any stereo system via another Sonos unit (the Sonos CONNECT). Sonos also has more choices of music services including Rhapsody, iHeart, iTunes MOG, Sirius and others. To sum up our face-off.
Benefits of Bose Soundtouch: MUCH better sound, easier to use, can be programmed into universal remotes.
Benefits of Sonos system: Can be integrated into existing sound systems and has more music services. 
Want to talk to an expert about Sonos vs. Bose and the differences between today's WiFi music systems? Contact an ATD representative today with questions and let San Diego's leading Bose and Sonos dealer show you how music can enhance your life.
Torrey Pines Home Theater Installers Aire Theater Designs proudly serves all of San Diego County which includes Del Cerro, Allied Gardens, Talmadge, Kensington, Hillcrest, Mission Valley, Fashion Valley, El Cajon, Blossom Valley, La Mesa, El Cajon, Alpine, Blossom Valley, Lake Murray, Friars, North Park, Balboa Park, Clairemont, Kearny Mesa, Mission Bay, Mission Beach, Pacific Beach, Ocean Beach, Imperial Beach, Pt Loma and Downtown San Diego. We also gladly serve those in North San Diego County which includes Carlsbad, San Marcos, Vista, Elfin Forest, Oceanside, Escondido, Encinitas, Cardiff by the Sea, Solana Beach, Del Mar, Rancho Santa Fe, 4S Ranch, Santaluz, La Jolla, Poway, and Rancho Bernardo. House by Lennar, Shea or Lennar? We can help. We also serve Torrey Pines, Alta Del Mar, Carmel Valley, Carmel Mountain, Coronado, Fairbanks Ranch, Cielo, The Bridges, The Lakes and The Crosby