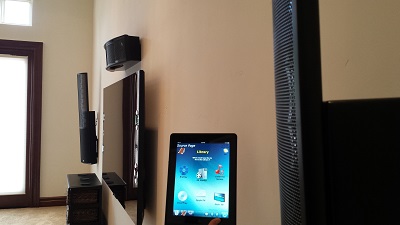 Surround sound system and installation with Martin Logan and iOS univeral remote
How Much Does Surround Sound Cost?
Does surround sound cost $100.00, $1,000.00, $50,000.00? It depends. Think of today's surround sound systems like a car. If you went to a dealership that sold every car on the planet and said "I want a car", you might get a $500.00 used jalopy or a $1.4 million Aston Martin. You would need to ask some questions or present a budget/needs to actually get something you want. Surround sound has just as many variances. The reason is that there are many levels of quality of devices, types of speakers, different system configurations, levels of system control, etc.  The build of your home can also determine how much surround sound installation costs as some homes are much more difficult to get wires from A to B.
Here are some things to consider:
Speakers: Your sound quality starts and ends with the quality of your speakers. If you want accurate, detailed true-to-life sound...buy better speakers. See link below for more details.
https://www.airetheaterdesigns.com/blog/item/222-best-home-stereo-system-san-diego
Ease of Use: When you have a surround sound system, you have MANY remotes. If you have a quality universal remote, just one button push on ONE remote will put everything on the correct input and setting. It will also ensure that nothing can get out-of-whack so you can enjoy your system without frustration. You will never exclaim "How do I turn on the TV" with one of our systems.
https://www.airetheaterdesigns.com/blog/item/158-san-diego-universal-remotes
Management: Are you a techy person? If so, you may be familiar with power-cycling components, enabling bridge mode on routers, optimizing WiFi download speeds, etc. If you're like 98% of our clients and you aren't, plan on adding pieces that provide better WiFi and that make power-cycling easy (this is when you unplug your misbehaving cable box, AppleTV, Roku, etc.).
https://www.airetheaterdesigns.com/blog/item/236-audio-video-troubleshooting-and-help-with-netflix
https://www.airetheaterdesigns.com/blog/item/213-better-wifi-san-diego
Components: Would you like to listen to streaming music through Pandora or Spotify? How about playing vinyl on one of our turntables? Want to get the best movie quality with one of our Blu-Ray players? Adding components will provide more entertainment solutions and fun but will have an associated cost.
You: Be frank and honest about your budget and what you'd like to accomplish. We are here as your audio/video advocate and our desire is to get you exactly what you want. However, if you don't let us know what you are comfortable spending or what you may like, you may end up with the equivalent of the jalopy or the Aston Martin presented above. With a car or a house, people bring up budget right away. We recommend looking at surround sound systems in the same light.
"Surround sound" typically costs $5K-15K (once you add a TV). Here are 3 different systems in a Good/Better/Best scenario.  These will give you a good idea of general costs of surround sound installation and systems for your home.  Please keep in mind that each of these scenarios can be tweaked to fit your specific needs or desires.
GOOD:
Yamaha 5.1 A/V Receiver: ($280)
 5 good in-ceiling speakers: ($875)
 Good Subwoofer: ($400)
 Basic Universal Remote w/ programming: ($500)
 Labor: ($1,000)
 TOTAL                                                            =    $3,055
BETTER:
Yamaha 9.2 A/V Receiver: ($1100)
 2 Front Floor-standing speakers: ($1,600)
 1 Center Channel speaker: ($700)
 4 better in-ceiling speakers: ($1500)
 Better Subwoofer: ($700)
 Better Universal Remote w/ programming: ($1000)
 Labor: ($1,250)
 TOTAL                                                            =    $7,850
BEST:
These systems can cost 6 figures. Please refer to one of the insanely high-end systems we created in one of our previous blogs. VERY cool stuff!
https://www.airetheaterdesigns.com/blog/item/204-best-home-stereo-system
Krell Illusion Pre-Amp: ($14,999)
5 Krell Solo 575 Mono Amp: ($34,999)
Martin Logan Neolith Loudspeakers: ($79,995)
Martin Logan Illusion ESL C34A Center: ($6,995)
Martin Logan ESL-EFX On-wall speaker: ($3,095)
Sony XBR-100Z9D 4K Ultra HD TV w/ HDR: ($59,999)
TOTAL                                                                            =    $200,082
The above will at least give you the idea of a few different price scenarios and what would fall in each surround sound system.  Hopefully this gives you a good reference of where you want to start for the new surround sound system you want for your home.  Ready to enjoy movie theater quality surround sound and amazing music with the family in your home? Start with a call to us. We are the home of San Diego surround sound systems and installation.
San Diego surround sound installation experts are here! Aire Theater Designs proudly serves all of San Diego County, CA including Del Cerro, Allied Gardens, Talmadge, Kensington, Hillcrest, Mission Valley, Fashion Valley, La Mesa, El Cajon, Blossom Valley, Lake Murray, North Park, Balboa Park, Clairemont, Kearny Mesa, Mission Bay, Mission Beach, Pacific Beach, Ocean Beach, Point Loma and Downtown San Diego. We also gladly serve those in North San Diego County which includes Carlsbad, San Marcos, Vista, CA, Elfin Forest, Oceanside, Escondido, Encinitas, Cardiff by the Sea, Torrey Pines, Carmel Mountain, Coronado, Solana Beach, Alta Del Mar, Del Mar, Olivenhain, Rancho Santa Fe, 4S Ranch, Santaluz, La Jolla, Poway, and Rancho Bernardo. Blossom Valley, Alpine, La Mesa and El Cajon...we're here too.